Why Being an In-N-Out Manager Is Better Than Being a Lawyer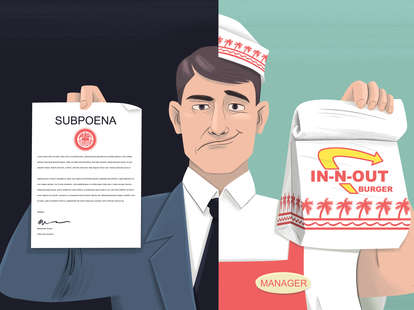 Which is the better job? Being the manager of an In-N-Out or working as a lawyer? If you're inclined to pick the latter, it's understandable -- lawyers receive a solid paycheck and spend their days in fancy suits. But being the manager of an In-N-Out can pay just as well (plus you don't have to deal with a dry-cleaning bill for all of those suits).
They might not get to expense dinner on a corporate card, but In-N-Out managers are privy to a wealth of benefits too. Perks to working at one of America's most popular burger chains include strong job satisfaction and even this rare unicorn known as "work-life balance."
While it might sound surprising, there's a number of reasons to skip that law degree and don an In-N-Out paper hat instead.
What it takes to do the job
Anyone who wants to become a lawyer does not have an easy path ahead of them. First, lawyers must watch every episode of Law & Order to get a feel for what it's like to do the job. OK, not really, but they must complete an undergraduate degree, which will likely leave them in around $25,500 of debt (and that's if they attend a cheaper public school). After that, a three-year law school program will set a student back about $140,616, according to The Wall Street Journal. That's seven years of work in order to be in $150,000 of debt.
The path to becoming an In-N-Out manager, however, is much quicker and way more affordable. According to its website, every single store manager begins as an hourly worker who is eventually promoted. Granted, even getting your foot in the door is competitive – most need a referral from a current employee to get an interview. A former employee warned Entrepreneur magazine that "the path to be a manager can be slow." But even if it does take seven long years (like it does to become a lawyer!), you'll get paid while you work, instead of racking up thousands of dollars of debt in the process.
The salaries of a lawyer and an In-N-Out manager
If TV and movies have taught us anything, it is that lawyers are rich and swimming in money. But the reality is a little different. According to US News, the average lawyer doesn't rake in millions of dollars each year. Instead, they take in about $114,790 on average each year.
While that is a decent six-figure salary, the OC Register reported in 2012 that the salary for an In-N-Out manager is actually $120,000. Yes, that's thousands of more dollars every year for way less years spent racking up debt. Even assistant managers get paid pretty well: An ex-employee said in a Reddit AMA recently that had he stayed at the job, he would've earned between $68-78,000 as an assistant manager. And while you have to work for about $11 per hour to start at the bottom of the (literal) food chain, at least when you get home you don't have to mail a check to pay off your student loan.
The fantastic perks of being an In-N-Out manager
If you work at a law firm, you'll likely get a benefits package that includes a retirement account, a health plan, bonuses, and a fancy company car with a cup holder that doesn't fit your damn travel mug! Sorry, been watching a lot of Better Call Saul lately. And those things are all well and good, but being an In-N-Out manager also has some substantial perks you might not expect. For instance, managers receive those same retirement accounts and health plans, plus three weeks of vacation each year (after you've worked 6+ years for the company). They also get tickets to sporting events and bonuses (including extra pay to help with the opening of new In-N-Out locations). But perhaps the best perk is the all-expense-paid trips abroad.
The free trips for In-N-Out managers began in the 1980s when one of the owners of the company set up a generous benefits package for supervisors, according to Bloomberg. "Managers who met their goals were sent on trips with their spouses, often to Europe in first-class seats." An In-N-Out employee said on IGN that once a year, every store's manager "gets sent somewhere crazy in the world" and receives a generous per diem worth thousands of dollars. A former employee wrote on HubPages that her managers were sent on free 12-day trips to Munich and Scotland. Not a bad way to see the world.
In-N-Out managers are probably happier than lawyers
No matter how happy the lawyers on Suits might seem, in real life, "lawyers are 3.6 times as likely as non-lawyers to suffer from depression," according to The New York Times. The NYT also found that lawyers who work as public defenders are more likely to report being happy than lawyers in more prestigious and higher-paying positions.
Despite the fact that the majority of In-N-Out employees do not earn $120,000 a year, the 500+ reviews from former and current workers about their experiences working for the brand tell a clear story. On the important workplace issues like work-life balance, compensation, advancement, management, and culture, employees rated them at more than four out of five stars.
So even while people are climbing their way up the Animal Style-covered corporate ladder at In-N-Out, they're still enjoying themselves. That explains why it recently won an Employee's Choice Award for one of the best places to work by Glassdoor this year.
Working at In-N-Out seems like an overall solid career choice
Being a lawyer is certainly not all it's cracked up to be. They're saddled with debt and unhappy. But working as an I-N-O manager provides fringe benefits you probably never knew about -- a six-figure salary, trips around the world, and job satisfaction. So if you're considering going to law school, you might instead want to see if an I-N-O is hiring near you.
Unless, of course, you hate ketchup with a fiery passion -- then maybe you should start prepping for those LSATs.
Sign up here for our daily Thrillist email, and get your fix of the best in food/drink/fun.
Lee Breslouer is a senior writer for Thrillist, and is never going to law school. Follow him to never doing the LSATs @LeeBreslouer.