17 incredible moments in Twinkie history
We don't normally consider zombies delicious, but when we heard Twinkies were coming back from the dead, we immediately wanted to eat their brains!!! threw a very classy party for ourselves. And as of this weekend, they are back, so we put together a greatest hits collection from Twinkies' 80+ year history. From Twinkie sushi to things involving Bill Clinton and space, these are the most noteworthy points on the Twinkie timeline.
1930: Twinkies make their glorious debut. Originally, they have banana cream filling.
1940s: A banana shortage during World War II prompts creator James Dewar to shut down that 'nana noise and switch to vanilla cream.
1958: This Howdy Doody spot aired. Hostess was a sponsor of the show throughout the '50s, so it hooked baby boomers on the sponge young.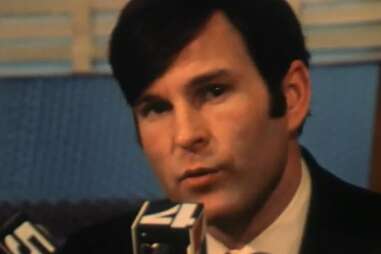 1979: Twinkistory takes an incredibly dark turn during the trial of Dan White, who killed San Francisco Mayor George Moscone and Supervisor Harvey Milk. His lawyer gets his sentence down to manslaughter by making the case that White was severely depressed, shunning his wife and gorging on junk food. It became known as the "Twinkie defense".
1979: That was pretty heavy, wasn't it? Luckily, the same year, Twinkies appeared in The Jerk as Navin's birthday treat.
1970s-1980s: Hostess mounts an ad campaign with Marvel and DC Comics, leading to several hilarious comic strips where Wonder Woman and Thor went on snack cake-themed adventures. Things almost got hairy when The Penguin captured all the Twinkie delivery men in Gotham City. (Click here for a bigger version.)
1984: Twinkies make psychokinetic energy accessible to the everyman in their famous Ghostbusters appearance, leading to a parade of misguided high school physics analogies.
1988: John McClane learns the essential ingredients of a Twinkie from his buddy Al Powell, an expert in all Hostess matters.
1989: The founding members of Wyld Stallyns forever change Genghis Khan's life when they hand him a Twinkie.
1995: A bunch of bored students at Rice University conduct a series of Twinkie experiments during finals week, including radiation and gravitational response tests. And you thought your 10mi Tour de Franzia was an impressive use of finals time.
1999: Twinkies are selected for placement in the National Millennium Time Capsule by Slick Willy.
2006: A Twinkie cookbook drops. It includes ungodly recipes for things like Twinkie sushi, displayed above.
2009: Woody Harrelson scours the zombie- and Jesse Eisenberg-infested nation for one last Twinkie.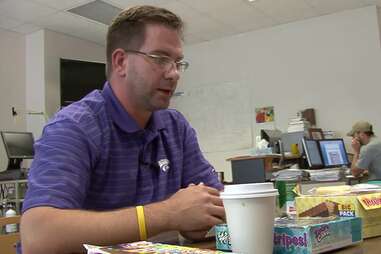 2010: A nutrition professor loses 27lbs on a "Twinkie diet", where instead of meals, he eats a Twinkie or comparable junk food every three hours. Seven-year-olds everywhere express a sudden interest in academia.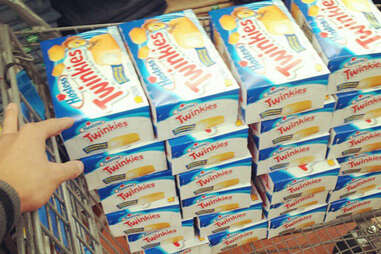 2012: Twinkie panic sweeps the nation as Hostess announces bankruptcy. People clear grocery store shelves, kids cry on YouTube, diehards pull their best "Schwarzenegger in Kindergarten Cop" facial expressions.
Later in 2012: Queen of composure Wendy Williams starts her own campaign to save them, hosting the first world record attempt for most Twinkies eaten in the process.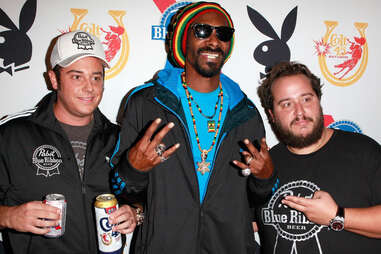 2013: The Metropoulos Brothers (aka the current owners of PBR) buy Hostess and promise to return Twinkies to shelves, mouths, and hearts in the Summer. Unlike most mall Santas, they are men of their word.