8 Innovators Who Are Changing the Food and Spirits Game
Seeing as our country was formed by a group of dudes who decided to dream up their own government, it's no surprise that the spirit of innovation is as American as eating an entire apple pie competitively. There's Benjamin Franklin! And Thomas Edison! And Otto Frederick Rohwedder! And thanks to new tech, people are able to invent in ways they never have before (hello self-driving cars and a lightbulb that helps you binge Stranger Things), and that's especially true in the food and drink industry. You may not have heard of the innovators behind vodka that's been distilled from fog or robots that are creating 3D printed food for astronauts, but they are out there -- and they might just be the next ones to revolutionize your kitchen.
Photo: Courtesy of BeeHex | Design: Jenna Bresnahan
Anjan Contractor, Jordan French, Chintan Kanuga, and Ben Feltner
Co-founders of BeeHex, Inc.
Austin and Houston, Texas
The innovation:
BeeHex's mission is to create new food experiences -- using robots -- to make customized food cleaner, healthier, and faster. It all started as a project for NASA. Anjan Contractor received a $125,000 grant to develop the first 3D food printer, so astronauts could finally eat delicious real food in space… and since there's nothing more delicious than pizza, BeeHex is now focused on robot-controlled 3D food printers to make everybody's favorite pie.
How it will change the way people eat:
CMO Jordan French says that right now their 3D pizza is mostly a dining and entertainment experience. "People really like to watch the action of the 3D food being printed," he says. "We're capitalizing on the excitement and fun factor which shows no sign of wearing off." However, he adds that ultimately 3D printing can help concession stands in more ways than just bringing in business. "It takes a certain amount of space and time to feed people and there are things that humans can't necessarily do with customization, cleanliness, and speediness. This technology can make everyone's life a little better and people can spend more time selling and interacting with people."
Why this technology will make a difference:
French hopes that one day, 3D food printers will be able to save lives. "We're veering towards 11 billion people on earth within this lifetime," he says. "That's a lot of mouths to feed. If there's a natural disaster, we can get in there with 3D food printers, assemble food and feed a lot more people based on what they need. And we can make it so it's appetizing and do it with ingredients that are conducive to that environment. Ultimately the huge impact in the long run is being able to sustain and feed the people."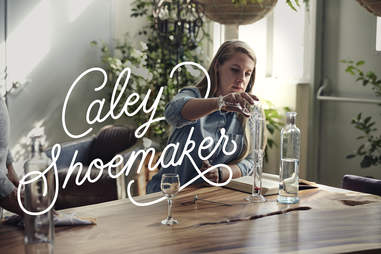 Photo: Sam Kweskin/Courtesy of Hangar One | Design: Jenna Bresnahan
Caley Shoemaker
Head Distiller at Hangar 1
Alameda, California
The innovation:
Hangar 1 created Fog Point, the first vodka made from fog -- yes, the white fluffy stuff in the air. To do this, they partnered with FogQuest, who installed fog catchers around the Bay Area to pull water out of fog that was then used to blend and cut the vodka. Bonny Doon provides the final ingredient: premium biodynamic wine from which the vodka is distilled.
Why it's important:
"A bottle of vodka is fifty percent water, so we use a ton of water in our process," Shoemaker says. "So I wanted to find a cool way to source water that was sustainable and different, but was also going to make a great tasting vodka, and would eventually be an opportunity for us to share something new with the agricultural community."
Shoemaker and her team did a lot of research to try to make this happen, which is when they stumbled upon FogQuest. "The people at FogQuest use big nets to passively, quietly, and inexpensively collect fog for agricultural use in South America. It's a technology that's actually very accessible, but that not a lot of people know about." After that, it was just a matter of setting nets up around the Bay in places like the Outer Sunset, Sutro Tower, and the Berkeley Hills.
How it's changing the industry:
Shoemaker didn't want to just stop there though. "As we got to the point that we decided we were going to make fog vodka, I thought this would be a great opportunity for us to take it a step further," she says. "[We] work with a winery that engages in biodynamic farming and dry farming practices and has the same sustainable mentality we do." Which is where Boony Doon wines came in.
For Shoemaker, 29, Fog Point was more than just making vodka using fog. "For us it was an opportunity to talk about the drought and to talk about a solution and other options for water collection instead of just focusing on what people are doing wrong." She adds, "A lot of people thought this was just a marketing ploy, and thought we just put two drops of fog in the bottle, but the only two things in the bottle are the fog and the wine."
The reaction was much better she expected. "When we did this we didn't know if anyone was going to like it, so to see that people have responded to it so well is exciting. As a distiller, it tells me that I can decide to do fun, innovative things and the consumer is excited to try new things and is willing to suspend the judgment of what traditional vodka should be and allow us to come up with cool, new stuff."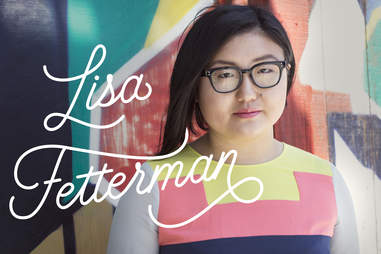 Photo: Monica Lo | Design: Jenna Bresnahan
Lisa Q. Fetterman
Inventor of the Nomiku Sous Vide Immersion Circulator
San Francisco, California
The innovation:
Lisa Q. Fetterman and her husband invented Nomiku, the first ever sous vide immersion circulator for the home in 2012. Before that an at-home sous vide immersion circulator simply didn't exist; now the market is growing faster than the microwave, which, it should be noted, was adopted faster than the computer, cell phone, or internet.
How did she come up with the idea?
"When I worked for the top restaurants in the world we'd use these huge hulking pieces of lab equipment to create the most amazing components I've ever tasted. I really lusted after one and at the time they were thousands of dollars," Fetterman says. "As I was saving up my friend Abe, who is now my husband, co-founder, and baby daddy, said we could just make one together, so we did! We started by making DIY open-source sous vide kits and we traveled to market spaces across America to teach classes."
Fetterman, 29, and her husband got their business off the ground by raising money through Kickstarter and used a second campaign a few years later to raise $750,000 to manufacture an even smaller, WiFi enabled Nomiku.
How Nomiku is improving the way we cook:
"I want everyone on earth to be skilled like a top chef. The worst is when I talk to people and they are proud that they can't cook; that's so sad that they can't be creative and nourish themselves," Says Fetterman. "I want technology to be able to turn people into their best selves and be able to take cooking into their own hands." If you need a little help in that arena, Fetterman's book (co-written with her husband) "Sous Vide at Home" comes out November 1st.
Donald Beamer, President/CFO
Mario Taylor, COO
Barry Givens, Co-Founder & CEO
Atlanta, Georgia
What's worse than waiting in line for 45 minutes at a crowded bar or concert for a single drink? Literally nothing. (Well, maybe not "literally," but you get the point...) Most high volume venues -- games, concerts, clubs -- have way too many thirsty customers to keep satiated. That's where the Monsieur comes in: this machine is like a soda fountain, but with alcohol. The Monsieur can mix nearly 65 drinks before needing a refill, at an average of 20 seconds per drink. We put those robotic bartending skills to the test by pitting the Monsieur against Jason Baron, co-owner of Bonnie Vee Cocktail Bar in NYC. Watch the video above to see who won the man vs. machine mixing match.
Photo: Courtesy of Industry City Distillery | Design: Jenna Bresnahan
Zachary Bruner
Founder of Industry City Distillery
Brooklyn, NY
The innovation:
Industry Standard Vodka from Industry City Distillery is the only vodka distilled in New York City. And while that's definitely cool, it's the technique that really sets this distillery apart. Zachary Bruner uses science to make spirits better. His vodka starts with a base of beet sugar before going through a highly tuned fermentation process to create flavors and textures that are unusual to the spirit. They then use a laboratory-grade still that was built in-house to separate those flavors into 30 different groups ("cuts"), before tasting each one and blending only the best into each batch of vodka.
They're also the brains behind Technical Reserve, America's highest proof spirit. Yes, you read that right. Technical Reserve is distilled to 191.2 proof, the physical maximum for natural ethyl alcohol distillation. It's highly refined and entirely neutral, which means it's perfect for making bitters or tinctures… though people also use it to do everything from cleaning laser cut mirrors to making perfume. As Bruner says, "Essentially, it's laboratory grade alcohol that you can buy in a liquor store."
The inspiration:
Bruner says Industry City Distillery's mission is to find ways of making delicious spirits in ways that make sense in an urban setting. "We look at distilling through not just the lens of tradition and how it's always been done, but trying to break it down into its component parts -- creating alcohol through fermentation, creating flavors and refining those through distillation."
It's definitely a different path to take considering so many of the popular craft spirits are made using techniques that are rooted in the past. Bruner says, "Making spirits is interesting because it's a field where you can still make a good living as a historical re-enactor because tradition has been so important in the production and marketing of things. If you look at the technology that was developed 150 years ago and what you're actually trying to do -- which is create alcohol, separate alcohol, find flavors, separate flavors -- there are a whole lot of ways to take advantage of newer technology that can create really great flavors and fantastic products, but that aren't being used in craft distilling."
How it's changing the spirits landscape:
Bruner says he sees a growing trend towards people caring about how things are made. "For a little while that manifested itself as a love of everything craft, but I think it's moving to a more nuanced perspective of wanting to know exactly how things are made, but also why it matters. People care about what's going on behind the scene and why that makes a difference -- not just because it sounds cool or it's the same way it's been done for 150 years. Does it matter that we use a third less power and a third less water than other systems? We let people make their own decision, but we try to do our best to be as efficient as possible with the constraints we have despite the fact that distillation is an inherently inefficient process."
Photo: Courtesy of Ramen Hood | Design: Jenna Bresnahan
Rahul Khopkar
Head chef at Ramen Hood
Los Angeles, CA
The innovation:
Ramen Hood is a 16-seat vegan ramen stall in Grand Central Market in L.A. that was started by Chef Ilan Hall. None of the chefs are actually vegan, but that wasn't the point. As Head Chef Rahul Khopkar explains, "The vegan lifestyle is healthier for you -- I don't think anyone can argue that -- but this was more about getting people who aren't vegan to realize you can eat food that is vegan and it's going to be filling and taste good." 
One of the most interesting ways Khopkar is doing that is with a insanely realistic vegan egg. "I don't actually like eggs in ramen," Khopkar, 31, says. "But it's one of those thing people expect in their ramen, so I knew we had to come up with something."
How does he do it?
The whites of the egg are made with unsweetened soy milk and agar, which is poured into an egg mold. The runny yolk is made with beta carotene, nutritional yeast, B-vitamins, and sodium alginate. "But then we put black salt in it which is what gives it the eggy flavor." The yolks are frozen, given a fresh calcium chloride bath to form a skin around the orb. Then, Khopkar dips them into hot water to temper them and keep them from melting at room temperature. "The white part only took four iterations before we had a texture we liked, but the yolk was much more difficult," explains Khopkar.
How innovations like this will change the way chefs cook:
"Smarter people than us have come up with much more innovative things," Khopkar says. "We just came up with something that mimicked an egg in both texture and flavor." He adds, "I don't think anyone who is innovative actually seeks to be innovative. Our goal isn't to change the landscape of making faux vegan food; we're just trying to make good food that's vegan, but with a different approach. It's about knowing what people like, seeing if you can make something with that flavor profile, but without the animal products."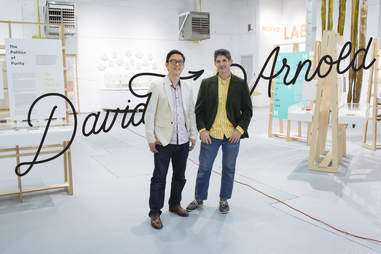 Photo: Shannon Sturgis/Courtesy of MOFAD | Design: Jenna Bresnahan
Dave Arnold
Founder and President of the Museum of Food and Drink; Owner of Booker and Dax
New York, NY
The innovation:
Dave Arnold is the visionary behind the Museum of Food and Drink (MOFAD), which is on its way to being the world's first large-scale museum with exhibits you can eat. Right now you can visit MOFAD Lab in Brooklyn, NY to see exhibit concepts that are intended to educate and encourage an appreciation of culinary history, connect people to what they eat, and create solutions to the food challenges of the 21st century.
Arnold is also an owner of Booker and Dax, a food science development company dedicated to inventing culinary products of the highest quality, as well as a bar in the East Village where new techniques and technologies are used in the pursuit of making delicious cocktails.
How he's using innovative technology at MOFAD:
"At The Museum of Food and Drink, we're trying to present topics in an innovative way, but our budgets aren't so high that we have to scramble," Arnold says. "We have a flavor exhibit that just came down where we repurpose a smell technology developed by the Monell Center, but we made our own interface so it's extremely interactive. They figured out a way to use proportional valves to deliver mixtures of precise odors in a repeatable and inexpensive way, but they were running it off of fairly sophisticated software that involved swiping a screen. We wanted to use old school arcade buttons though because it's actually more of an interactive experience when it's less screen-based and more physical." In order to educate people on the importance of smell in dining, visitors experienced food both through taste and the many variations of smell. Once they would try a food of all varieties (from fruits and veggies to cheese and butter), they would then go experience the complex combinations and variations of smell that helped to flavor the food, through an elongated hose with a nose piece.
What's up next:
"If you talk to anyone who plays in this realm of new techniques and you ask them what equipment they think is awesome, first they'll say the immersion circulator," Arnold explains. "But the next thing they don't want to live without is a centrifuge. Unfortunately, they're big -- they have the same footprint as a washing machine at about a third of the height -- they're heavy, and they're expensive, like 8 to 10K. So the next product I'm working to get out is a centrifuge that is small enough and cheap enough, but still useful enough that it could be used in a bar. I'm trying to make one that is more the size of a food processor and is under 1,000 bucks, but can still produce enough stuff to make it viable for a bar or restaurant because I want more and more people to start using centrifuge techniques on a professional level."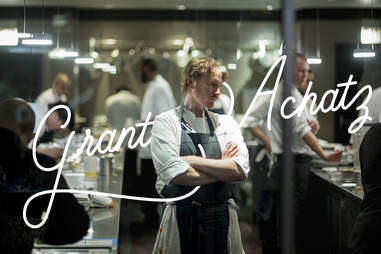 Photo: Matthew Gilson | Design: Jenna Bresnahan
Grant Achatz
Chef and Founder of Alinea, Next, The Aviary
Chicago, Illinois
The innovation:
Chef Grant Achatz doesn't just cook, he creates experiences, and his scientific approach to food has made him known as one of the most innovative chefs in the world. He was named Best Chef in the United States by the James Beard Foundation, his restaurants have garnered multiple Michelin stars, and he is perpetually being given accolades from food magazines throughout the world. This is in no small part because of Achatz' use of molecular gastronomy and the element of surprise in his dishes. In fact, he doesn't even cook in a traditional kitchen; rather, he prefers to think of it as a laboratory.
How he continues to innovate and surprise:
Achatz' most famous restaurant is Alinea, a three-star Michelin restaurant in Chicago that earned multiple James Beard Foundation Awards and a place on The World's 50 Best Restaurants list, and is where he started his most important experimenting. The dining experience consisted of 20+ courses, most of which involved some shock and awe aspect intended to delight and surprise diners, like an edible green apple helium balloon and the famous black truffle explosion (ravioli filled with liquefied black truffle). But Achatz threw that all out the window last year when he completely gutted the restaurant's interior and menu and started all over, this time with more restraint and less manipulation of the food, though still with an eye on combining food and science.
The innovation for this iteration of Alinea is about trying to evoke emotions as a way to enhance the dining experience and make it even more complex and nuanced. For Achatz, that means using elements like light and sound as a way to "season" dishes and by allowing the complexity to be in the simplicity. Diners have the option of dining with sensory ingredients, such as dining in the dark, or harsh light, in silence or loud music, and even moving around. It's a unique experience that continues to mesmerize all of the senses, including your smell, as he often pumps in scents which he's created in his lab to enhance the sense of being transported. However, don't get too used to anything Achatz is currently doing in the food and drink world because if there's one thing this game-changing chef has shown the world, it's that he'll never stop evolving and reinventing. He wouldn't know how even if he wanted to.