Chick-fil-A Let Me Invent the Most Ridiculous Sandwich Ever
My long-term relationship with Chick-fil-A -- specifically its nuggets -- began back when I was just a young Jason Lee wannabee Mallratting around my local food court. As I grew older, fast food became a guilty pleasure, but Chick-fil-A was an exception: something I could find along a highway that didn't taste like trash. When news of its conservative politics broke, I avoided the chain, but eventually bit an ethical bullet and returned to the flock.
So as a lifelong fan, I naturally jumped at the invitation to visit its Atlanta test kitchen and create a custom sandwich that was the opposite of Chick-fil-A's relatively healthy and genuinely tasteful take on fast food. This is the story of my journey to make that sandwich.
The "Eat Mor Chikin" HQ is located on Naturally Fresh Blvd
Chick-fil-A headquarters is a cloistered campus of buildings with guarded parking lots and vanity street names. When I entered the center for menu development, I was greeted by the type of receptionist who knows your name before you say it. She phoned for Amanda, Sr. Director of Menu Development, who had worked with the company for 20 years and could teach a master class in Southern hospitality. The vibe was cult-like, but I was ready to drink the Kool-Aid.
To understand the test kitchen, one must understand Chick-fil-A's history
In the hallway we passed a timeline that listed out menu landmarks: the breaded chicken sandwich launched in '64, nuggets in '82, breakfast in '86, spicy chicken in 2010, and a new grilled chicken sandwich in 2014. Development of each item usually takes two years, which is an incredible amount of time to spend on something that will be eaten in two minutes.
The original Chick-fil-A was called the Dwarf House. It opened in 1946, got its name from the small size (10 stools, four booths), and sold grilled chicken steak sandwiches because they cooked faster than bone-in cuts. The restaurant was open 24 hours a day to serve the late shift from nearby Delta and Ford plants. Closing on Sunday was initially as practical a decision as it was spiritual: founder S. Truett Cathy badly needed a day to rest.
Speaking of S. Truett, just before I reached the kitchen I met an older man in a suit strolling with a whistle-while-you-work look on his face. He gingerly introduced himself as Dan from customer service. As soon as I saw his name tag I realized that this was Dan Cathy, CEO and son of the founder.
Like when a grandpa pulls a quarter from your ear, I played along with the trick, making a minute of small talk before Mr. Cathy walked off to a meeting where he would make billion dollar decisions about the menu. To cement his man of the people image, I was later shown a video of Mr. Cathy riding a hoverboard. I lobbied hard to help it go viral, but it was the only time anyone from Chick-fil-A told me no.
I was the star of the test kitchen stage
When I arrived in the test kitchen, a team of roughly 15 cooks, engineers, and mid-level executives waited for me in red Chick-fil-A aprons and suits. I felt like a visiting foreign dignitary, with an entire staff held at attention.
By then it was 10:30am, but they didn't cut me off from breakfast. First, they offered me a coffee. It was great, but I already knew that because I'd ranked it the best in all of fast food. The team lead claimed that 50% of diners decide where to have breakfast based on the coffee, meaning it was crucial to nail a taste profile with high acidity and notes of fruit to attract Millennials, but still had bold enough flavors not to scare off the diner crowd. Chick-fil-A turned to the president of the Specialty Coffee Association of America for help, who also advised them on creating a direct trade philosophy that helped farmers earn five to 10 times more than if they were to sell on the commodity market.
When Chick-fil-A gives you lemons, you make lemonade. Literally.
After a few bites of a citrus jalapeño-marinated breakfast chicken sandwich, my guide, Amanda, slid a napkin and tiny unopened bottle of water on the table in front of me, a gesture that would be repeated at every station. Being so coddled made me nervous, and their hospitality had me falling into a rhythm of doing whatever they asked of me, which meant posing for photos while squeezing lemons... while hearing some hard Chick-fil-A facts.
The company goes through 250 million lemons a year, 1,200 recipes were necessary to settle on a formula for their revamped grilled chicken sandwich, and nearly every vegetable used is chopped daily on-site. Deliciousness and craveability were the buzzwords of the day. If I had a miniature Dasani bottle for every time they used them, I would have probably have a 50 pack instead of just a dozen.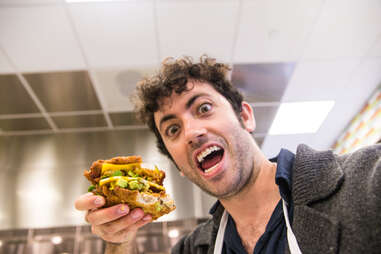 Meet my greatest creation, the "Chick-Thril-A"
We fast-tracked the two-year menu item development time to roughly 10 minutes. I pillaged their line station of the most gluttonous and fatty ingredients, starting with two signature breaded fillet buns, then candied bacon, avocado, cilantro, bok choy, fried pickles, waffle fries, fried onions, BBQ sauce, and Sriracha. I called it the Chick-Thril-A.
The double chicken patties did most of the talking, but the rest of the flavors still got a word in. The avocado added creaminess, the fried pickles bursted with acidity, and the cilantro and bok choy rounded out the bitterness. Candied bacon carried some sweetness and Sriracha added the requisite spice. Despite the kitchen sink mentality, I was proud of myself for making a surprisingly well-balanced abomination.
With three bites of my Chick-Thril-A in my stomach and a photo that would surely earn me double-digit Instagram likes, I felt accomplished. What they had in mind for dessert, though, was actually much more creative than using chicken patties as buns.
Chick-fil-A uses Oculus Rift
Hatch is a warehouse across the street from the test kitchen where a team of 40-odd designers envision, prototype, and test every aspect of the customer experience. That means building full-scale mock restaurants, optimizing employee workflow with foamboard counter models, and even using an Oculus Rift in perhaps the first instance on record of virtual fast-food reality.
If you took the Chick-fil-A styrofoam cups out of everyone's hands, you'd swear you were in a hip Bay Area design firm or architectural studio, and not the headquarters of an American fast-food restaurant chain known for its questionable politics.
Just like fast food, my experience was fleeting
The sandwich of my dreams quickly faded into the past, but I'll always remember the lessons it taught me. Although the Chick-Thril-A would never make it onto a menu, my custom sandwich had more in common with the mild-mannered nuggets I first fell in love with than just the breading and chicken. Eating them is a short-lived experience, but one that's been meticulously engineered to pound the pleasure center into a daze of deliciousness.
Sign up here for our daily Thrillist email, and get your fix of the best in food/drink/fun.
Dan Gentile is a staff writer at Thrillist. He'd like to thank Chick-fil-A for all its hospitality and all of its chicken. Follow him to doubling down at @Dannosphere.