You're already observing a holiday this weekend -- and it's one that (kinda) validates all those nights you pulled overtime. But while you're pouring out drinks in your demon boss's name for Labor Day, you should also take a moment to celebrate an equally important occasion: International Bacon Day. It's happening today, and gives you an excellent excuse to eat a pound of pork in one sitting. But rather than stick to the usual pile of strips, might we suggest these especially brilliant bacon creations...
We've been on Earth for more than two seconds, so we've seen plenty of bacon ice cream in our day. But none quite as captivating as this scoop, which even comes with a convenient recipe.
You know those Five Guys shakes that they said they'd never make, but are now testing in 23 locations? One of them is a bacon milkshake. You're welcome.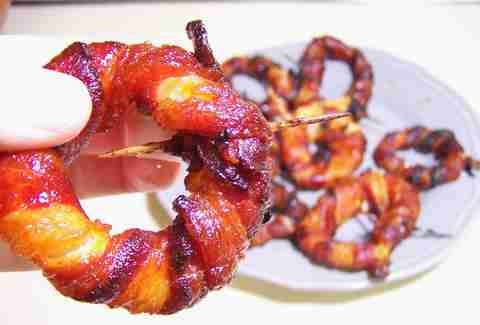 In a true sign of how backwards our economy is, "diamond rings" are still considered more valuable than these Sriracha-brushed, bacon-wrapped onion rings. Someone get us the Federal Reserve, because this situation needs to be remedied.
Good news: Viveltre's gourmet line of 'mallows was successfully Kickstarted through your hard-earned dollars. Even better news: that means you can finally eat Maker's and bacon marshmallows, just as Teddy Roosevelt intended.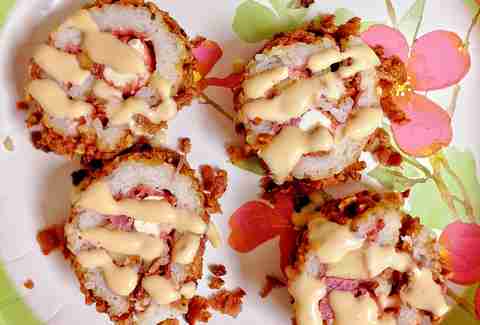 This pork roll (not that kind, Jersey) was brought into beautiful existence by a Redditor who's obviously going places. We're still not sure how it was left off this list of underrated sushi stuffings.
As Scrooge McDuck (probably) once said, "Everything tastes better when it's dipped in chocolate and edible 23-karat gold." That includes bacon, especially when it's coming from a place called Baconery.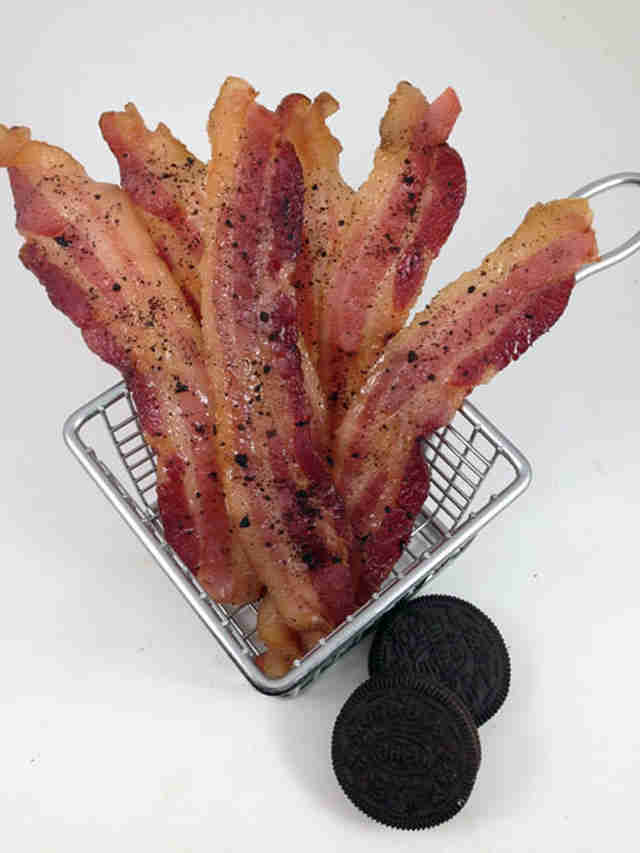 If you don't have the edible gold flakes to spare, you could always go the DudeFoods route and coat your strips in a gourmet Oreo glaze...
... OR cover them in crushed Doritos, because brown sugar glazes are overrated anyway.
Remember when Don Corleone's henchman told his buddy to leave the gun and take the cannoli? If it had been a bacon cannoli, the line would've been, "Leave everything, eat the cannoli immediately."
We're grateful for every single burger Slater's 50/50 has produced, but we send them a special thank you note once a week for this all-bacon beauty, the 'Merica Burger. It has original calligraphy and everything.
Kristin Hunt is a food/drink staff writer for Thrillist, and has managed to avoid mock bacon her entire life. Follow her to other accomplishments at @kristin_hunt.