We could spend this holiday being grateful for our family, friends, and sweet new Razor scooter, but screw that! Let's complain about the stuff we can't have. Namely these amazing international Christmas sweets, which make our candy canes look like the teeth-shattering sad sticks they are. Fröhliche freakin' Weihnachten to you foreign, chocolate-hoarding bastards.
CADBURY SNOW BITES, MOUSSE SNOWMAN, AND WINTER WONDERLAND
While we're over here rummaging for loose Cadbury Creme Eggs in a CVS bin, our British counterparts are strolling through aisles of seasonal bliss. White/milk chocolate trees? Vanilla mousse-stuffed choco snowmen? Chocolate balls with a "crispy white dusted shell" that might as well be snow? They've got 'em all, love.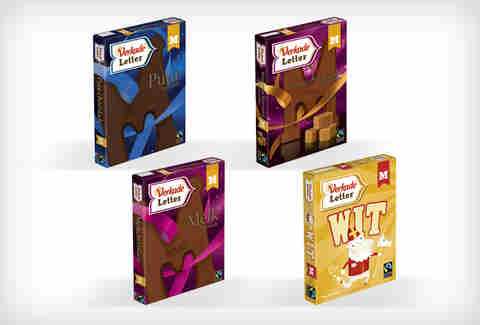 VERKADE CHOCOLATE LETTERS
The Netherlands are all about St. Nicholas Day, and all the uncomfortable blackface that comes with it. The kids shoes filled up for the occasion are often stocked with chocolate letters, which usually correspond to the sneaker-less child's first initial. Verkade is one of the bigger chocolate letter-makers in the home country and, as you can see, they sculpt a mean "M".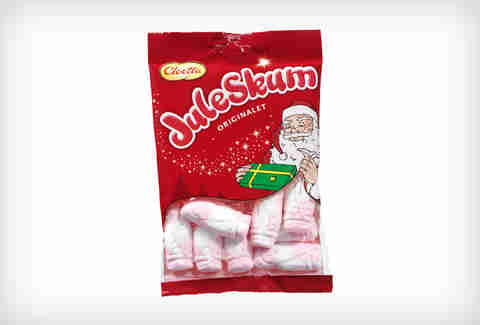 JULESKUM
Two-toned strawberry marshmallow Santas more your scene? Then cruise on over to Sweden, where the confectioners at Cloetta have been pumping out 'mallow Kris Kringles since the '30s. Nowadays, they ship about 1000 metric tons of this stuff across the country in two months, mostly via exhausted reindeers.
KINDER SURPRISE
We're cruelly denied these toy-bearing chocolate eggs all year-long, but the Germans had to add insult to injury by hawking this festive Xmas variety.
AERO CHRISTMAS TREE
Even though it's owned by Nestle, Aero's bars aren't really available in America, except in specialty stores for jacked prices, or Wegman's, randomly. But good luck finding this awesome seasonal variety that's minty, bubbly, and even color-appropriate.
CHICKEN BONES
O Canada... why the hell are you eating chicken bones? Actually, they're pink cinnamon candies stuffed with chocolate filling, and they're a very big deal around Yuletide. Ganong, Canada's oldest candy company, has been selling them for ages, so if you don't mind skipping an electric bill for the shipping costs, snap up a bag here.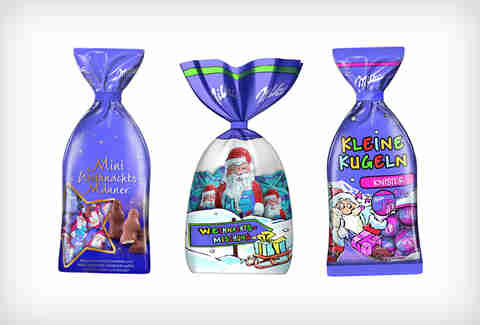 MILKA SANTAS, CHRISTMAS MIX, AND SMALL CRACKLE BALLS
Milka chocolate is magnificent, so their creme-filled milk chocolate Santas, "crackling" creme-filled choco balls, and mix of the two are all probably way better than whatever Dots put out for December. Step up your Christmas game, Dots!