Paid Content For
How to Bring International Flavor to Your Pantry Staples
Paid Content For
Photo: Shutterstock; Illustration: Samara Grossman/Thrillist
Photo: Shutterstock; Illustration: Samara Grossman/Thrillist
Whether you're uploading old travel pics or "hate-liking" posts of people quarantining with access to massive backyards, almost everyone wants to be somewhere other than their current GPS location right now. Thankfully, cooking has a way of transporting our senses to faraway lands -- and it all starts with rethinking our pantry ingredients (boxed broth can double as a base for pho and ramen, people!). Maybe home is impossible to visit right now, you miss Yaya's recipes, a trip abroad got postponed, or you're craving curry like you tasted in India. No matter the reason for wanting to cook like you're someplace else, pantry staples can act as your trusty passport. Here are six hacks that will help you cook like you've seen the world.
Dream up homemade ramen and pho
With the right add-ins, Swanson® Chicken Broth and a package of ramen noodles can easily become the base of homemade Japanese-style ramen. Pantry items like miso or soy sauce and sesame seeds will help with the flavor profile, then incorporate a few fresh ingredients like scallions, bok choy, and a soft-boiled egg for the finished dish. You can take the same broth and make Vietnamese-style pho, too. The key to this culinary switch is infusing the broth with the flavors of cinnamon, clove, and star anise; using rice noodles; and topping with fresh herbs like cilantro & basil, jalapeños, canned bean sprouts, and a lime wedge.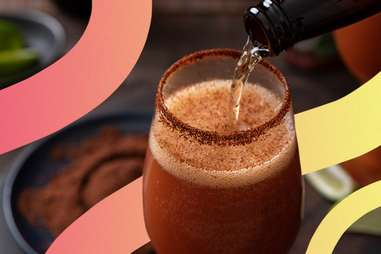 Cook a Mexican-style brunch
Eggs plus a few pantry items like Pace® Chunky Salsa, canned chiles, black or refried beans, corn, and tortillas are the perfect start to a south-of-the-border-inspired breakfast (no judgment if you make this for dinner, either). Use your bounty to whip up this migas-inspired scramble using leftover tortilla chips, huevos rancheros, or a simple Mexican omelette. Thanks to eggs, cheese, and heartier canned goods, there's no need to cook meat for these breakfast ideas, either -- minimizing cooking time and saving you money (and trips to the store). To really make brunch feel like an occasion, use V8® Original as the base of a savory michelada. Top it with a lime wheel, chili powder, and a few dashes of your favorite Mexican hot sauce for added heat.
Create a taste of the Caribbean
Just because you can't transport yourself closer to the equator doesn't mean you can't eat like you're at a Caribbean barbecue. If you have white rice, canned coconut oil or milk, kidney beans, and dried plantains on your shelf, you're halfway there. Switch up dinner with the help of dried spices in your cabinet to make your own jerk dry rub for chicken, fish, or shrimp (allspice, onion powder, and thyme will get you started). Plate the protein on top of rice and beans to compliment the flavors, and don't forget about salsa -- it's not just for tacos and chips. Add diced pineapple or mango plus fresh lime juice to Pace® Chunky Salsa and spoon over your chicken or fish for even more island flavor. Really lean into the Caribbean vibes by mixing up a Cuban-inspired mojito or a rum punch to go with it.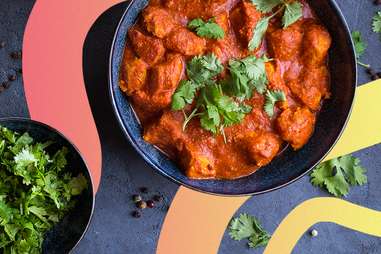 Get curried away
Try re-creating your go-to order from your favorite Indian spot utilizing ingredients you may already have in the house. The addition of curry powder, garlic powder, and ground ginger to a jar of Prego® Traditional Italian Sauce forms the base of Indian Butter Chicken (it also works with tofu and chickpeas if you want a meat-free alternative); or use a can of Campbell's® Condensed Cream of Mushroom Soup, curry powder, and milk for an easy chicken curry. Ingredients like chickpeas, hot chiles, basmati rice, kidney beans, coconut milk, and cilantro are other Indian pantry staples that can be used to add some international flavor to your meals. If you've got turmeric in the cupboard, you can also make a batch of warm golden milk to drink before bed.
Fire up a Southern-style barbecue
Even if you don't have the luxury of access to a grill (or, ahem, a backyard), you can still enjoy the flavors of a Southern barbecue. Thanks to pantry mainstays like baked beans, cornmeal, brown sugar, pecans, Worcestershire sauce, and even bourbon, endless barbecue-inspired recipes are within reach. For starters, Pace® Picante Sauce + brown sugar + apple cider vinegar = a spicy sauce for shredded barbecue chicken sandwiches (also a good excuse to use up leftover hamburger buns or bread). Using Pace® Picante Sauce as the base not only allows you to choose your desired level of spiciness, from extra mild to hot, but gives the barbecue sauce a thicker texture. Don't feel limited to barbecuing with chicken, either; brisket or jackfruit will be just as good with this recipe.
Mix it up with a Mediterranean night
Cooking Mediterranean-inspired food can feel like a time capsule to summer adventures on the Aegean Sea. Building blocks like canned olives, artichokes, roasted red peppers, tomatoes, chickpeas, and orzo are probably already in your pantry (bonus points if you have tahini, capers, and dried mint). Try your hand at recreating that Greek favorite spanakopita using Campbell's® Condensed Cream of Chicken Soup, puff pastry, frozen spinach, feta cheese, and onions. Or, use Campbell's® Condensed Cream of Mushroom Soup as the base of this Mediterranean-style roasted chicken that incorporates flavors of lemon, oregano, feta, and green olives. Don't blame us if you suddenly get the urge to plan a trip to the Greek islands post-dinner.