Up Your Grilling Game with these Marinades From Around the World
Everyone who steps foot to a grill should heed this mantra: Marinate your damn meats (well, not all of them… a marinated hot dog might be weird). Slapping your slab of protein across the grill's flames and properly cooking it is only half the battle. It's also necessary to imbue flavor (and lots of it) before your cut meets fire. Enter marinades.
The best part about diving into the world of marinating is discovering how universal the practice is. No matter your palate there's a marinade from around the world that marries meat (or veggies) and flavor to cause your taste buds to stand at attention. From a parsley-and-garlic flavor bomb to a pepper-based marinade that's beloved from Portugal to Africa, here's an (admittedly incomplete) international guide to marinades in order to take your grilling skills from novice to seasoned pro. Just make sure to set aside a period of time from 30 minutes to overnight to allow your meat of choice to sit in these delicious sauces, seasonings, and marinades.
Mojo Sauce
What it is: Ever had a Cuban sandwich with "mojo pork" listed as an ingredient? Well, then you've had mojo sauce. While it rooted in Spain's Canary Islands, mojo sauce is predominantly associated with Caribbean, particularly Cuban, cuisine. There are several different versions of mojo, but in all its forms the most visible element is the sour orange, as the acidic fruit provides the base for the sauce. In the Cuban iteration lots of garlic is also added; however, according to Cuban food blog Three Guys From Miami, oil isn't included in a lot of Cubans' mojo sauce if they're cooking with pork (the pig's fat provides plenty). They do insist that you add a bit of oil if you're using the mojo for beef, chicken, fish, or anything else that could dry out easily.
A solid pre-bottled version: Badia Marinade Mojo Criollo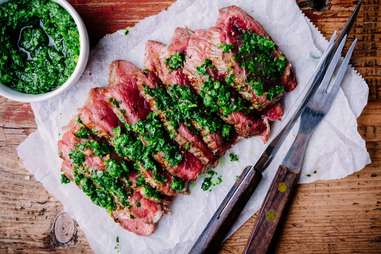 Chimichurri
What is it?: Argentina, the home of gauchos, the work of Jorge Luis Borges, and Lionel Messi's left foot, is responsible for gifting the world one of the great steak sauces: chimichurri. While origins of the word and sauce differ, chimichurri is present in Argentina in two varieties, green and red, and utilizes a mixture of dried herbs for its tangy base, which functions as both marinade and a sauce ideal for steak in particular. According to Steve Raichlen's bookPlanet Barbecue!: 309 Recipes, 60 Countries, the addition of cilantro and even parsley that's common in most North American varieties of the sauce isn't a traditional element in Argentina. However, if parsley is good enough for Argentine cooking legend Francis Mallmann, then we don't think it would hurt to add it to your own chimichurri sauce and marinade.
A solid pre-bottled version: Traditional Chimichurri Sauce by Axel Provisions
Saikyo Yaki
What it is: To be clear, saikyo yaki differs from other entries in this guide because it describes a process and not simply a marinade. Saikyo yaki originated in the Japanese prefecture of Kyoto and the process calls for a white miso to marinate fish strips overnight. Adherents to this marinating process call the white soy bean paste saikyo miso, and its utility can stretch behind simply flavoring fish, as it's equally as potent marinating beef and chicken, too. If you're looking for a quality recipe to make at home, Australian outlet SBS features acclaimed chef Tetsuya Wakuda's version here.
A solid pre-bottled version: Saikyo Miso "Takumi"
Al pastor marinade
What it is: Tacos al pastor are a handheld, pork-filled delight served from food trucks, stalls, and brick-and-mortar Mexican spots all over the world, and no one knows that more than Marissa Tunon of Chicago's Mercadito. "Being from Mexico City, tacos al pastor were almost on every corner," she said. "Just the smell of it makes me think of home. The mix of dry chilis, the acidity of the vinegar and sweetness from the pineapple makes for a really balanced marinade." But if you think this marinade is just for pork, think again! She noted that the marinade also works plenty well on veggies and fish. Fun fact: while this marinade is a Mexican creation, the whole spit-roasted meat thing originated from Lebanese immigrants to Mexico in the early 1900s.
A solid recipe to use: Tacos al Pastor
Piripiri
What it is: If you've been abroad, particularly to the United Kingdom or South Africa, you might've run into a restaurant chain called Nando's. Nando's -- which is currently making inroads stateside -- specializes in piri piri chicken, which utilizes the piri piri (a.k.a. The African bird's eye chili) for its distinctive flavor. Culinary Backstreets has an excellent history of the pepper and its resulting seasonings and marinades that's produced the internationally beloved chicken style, but its origins can be quickly summarized as the following: Originally from Brazil, the pepper made its way to Portugal's former African colonies Mozambique and Angola in the 17th century where it flourished because of the region's soil conditions. Africans and Portuguese alike utilized it in all manner of cooking, eventually bringing it back to Portugal in the 1950s as an oil and sauce. As a marinade or sauce, recipes vary but always include the pepper, as well as some sort of acid (like lemon juice). If you're looking to make a homemade piri piri marinade, we recommend following acclaimed chef and James Beard Award winner JJ Johnson's example.
A solid pre-bottled version: Nando's PERI-PERI sauce
"Huli Huli"
What it is: If we're going to be technical, it can only be Huli-Huli chicken if the poultry's made with the now-trademarked recipe and process by the Hawaiian style's inventor, Ernest Morgado. The late Morgado eventually began to sell a bottled sauce based off the recipe, according to Hawai'i Magazine, but the teriyaki-like marinade can not only still be found in the state at roadside barbecue shacks and elsewhere, but also achieved through chef's and home cook's own versions. Check the Hawai'i Magazine article for the publication's marinade or try Genius Kitchen's iteration here.
A solid pre-bottled version: NOH Foods of Hawaii Hula-Hula Cooking Sauce & Marinade (Buy it on Walmart)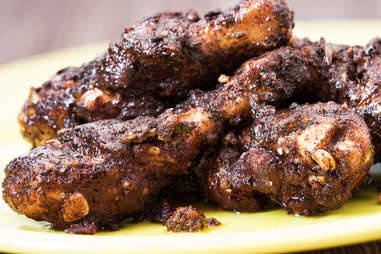 Jerk
What it is: In places where the Caribbean, and especially Jamaican, population is high, jerk is omnipresent. The term can refer to a number of things -- serving as an adjective, a noun, and a verb -- but it can trace its roots back to 17th century Jamaica. According to the Jamaica Observer, The Taíno, a formerly indigenous people on the island, created a meat seasoning and preservation method called charqui (which roughly translates to "jirk" in English), which was eventually adopted by escaped African slaves who joined them following the British invasion in 1655. The former slaves, who helped create Jamaica's Maroon population, would poke holes in their meat (a.k.a. "jerking") to allow more flavors to seap in while they cooked the meat underground, similar to Spanish and Mexican barbacoa. The Maroons used a variety of things available to them to season their jerk meat, but spicy Scotch bonnet peppers and pimento eventually formed the seasoning's foundation. Jerk marinade can either be dry or wet and tastes incredible on a variety of proteins.
A solid pre-bottled version: Walkerswood Traditional Jamaican Jerk Seasoning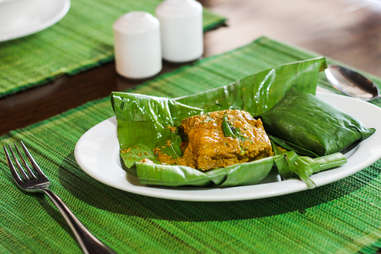 Paturi
What it is: Traditionally, paturi is all about applying a mustard-based marinade to seafood, wrapping it in a banana leaf, and steaming it. The marinade used in this process is a favorite of chef Sujan Sarker of NYC's Baar Baar. "It's from my hometown in Eastern India, and it's also popular in Bangladesh," he said. "What I love most about it is that it uses poppy seeds, which give it a refreshingly pungent flavor. The other ingredients that give it its distinct flavor are Bengal mustard paste and mustard oil, green chili, cilantro, ginger, turmeric, and freshly grated coconut."
A solid recipe to use: Paturi Steamed Fish
Inasal
What it is: If you explore street food around the world, you're bound to find plenty of marinated meats -- the Philippines is no exception. Filipino-American chef Anthony Sinsay of Seattle's Outlier grew up eating the popular dish chicken inasal (a staple of the city of Bacolod) at BBQs, and currently serves his take on it at his restaurant. And while you'll often find chicken paired with soy-based marinades, this is a delicious change of pace, featuring ingredients like lemongrass, garlic, ginger, and even lemon-lime soda. "I love this marinade because of its vibrant flavor, color, and how well the chicken takes that on," he said.
A solid recipe to use: Bon Appetit Chicken Inasal
Bagna cauda
What it is: Bagna cauda isn't a marinade, but that doesn't mean you can't use it as one. This Italian sauce is deceptively simple, delicious, and served warm so you happily dip veggies into it. Its major ingredients are anchovy, olive oil, lemon juice, and garlic. A lot of garlic. Florence, Italy-based chef Emiko Davies notes that the official recipe calls for one head of garlic per person. Yowza! Chef Joseph Voller of New Jersey's In Nido said that he puts it on basically everything. "It's a dip from Piemonte typically served warm with vegetable crudité, but we use it before grilling anything from meat to broccoli," he said. "It makes everything better."
A solid recipe to use: food52 Bagna Cauda
Kalbi marinade
What it is: Kalbi is synonymous with Korean BBQ, as the immensely popular short ribs are a staple of the family-style dining feast. At chef/owner Jennifer Kim's James Beard-nominated Passerotto in Chicago, her marinade for kalbi includes soy sauce, fresno chilis, pineapple juice, plenty of garlic, and sesame oil. "The acid in the pineapple helps to tenderize the meat, which is necessary since short ribs are considered a tough cut," she said. "It's a type of meat that should be marinated or braised." Ultimately, you don't need to prepare short ribs to enjoy this marinade. "It could definitely be used for other cuts of meat, or even in a stir fry," she said.
A solid recipe to use: Saveur Kalbi
Sign up here for our daily Thrillist email, get Eatmail for more food coverage, and subscribe here for our YouTube channel to get your fix of the best in food/drink/fun.