Allow us to change your feelings on the phrase "sausage fest" for the better, forever. We've rounded up 15 global festivals that honor, celebrate, and even venerate every form of meat, from prime cuts to cuts best not discussed in mixed company. If you hit every one of these, you will have lived a very full life.
Kansas City, MO October 5th
The single largest barbecue event in the world, the World Series sees 550 teams competing over four days for their chance to bring home the bacon in four meat categories for all levels of expertise. The Series is spread out over 54 acres; by the time it's over, you will be too.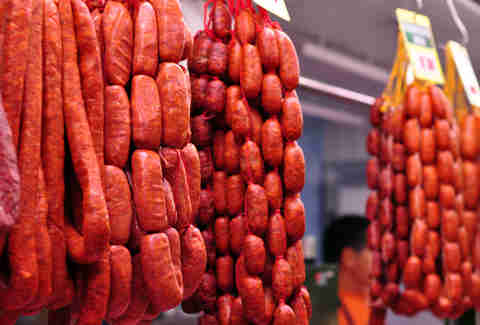 Vila de Crueces, Spain February
"The Exaltation of the Sausage" arose from the town's centuries old pig-market, and puts visitors into the chori-zone with all shapes and sizes of the legendarily spicy, smoke-cured link, which in Spain closely resembles salami. Amazingly, the sausage at the festival is free, so all you need to buy is a plane ticket to get there and a Shake Weight to get back in shape after your return.
Inti Raymi
Cuzco, Peru June
 The second largest festival in South America, this bash draws hundreds of thousands of people to celebrate, eat, and dance in the plaza of Cuzco, the same place the Festival of the sun has been celebrated since the Incans called the shots. The big centerpiece is the consumption of llama, a pack animal that doesn't figure much into Peruvians' everyday diet, but this one time a year, gets offered up to the god Inti, and to your belly too.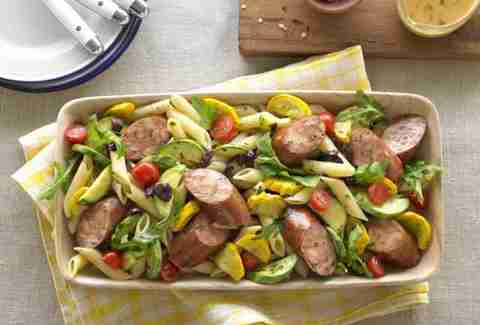 Your Kitchen, Anytime
Just because the boss isn't as jazzed about Incan New Year festivals as you are doesn't mean you can't spend those vacation days on throwing an outdoor sausage fest with Aidells. Stock your pantry (and your guests' faces) with their almost 20 varieties of chicken sausage, ranging from the classic Andouille to sun-dried tomato & kale with Parmesan.
Terlingua, TX November 1st
Once a year, this town of 58 -- no, there is not supposed to be a zero there -- grows by 10,000 and becomes a global center for chili excellence. The weekend sees not one, but two of the biggest cookoffs in the world simultaneously (The Tolbert-Wick Fowler is first, but the International Chili Championship is wilder). The "bowl of red" you'll find here is filled with spicy, tender chunks; and, unlike the Byron, IL fest you'll find below, there are no beans. 
Bucyrus, OH August 13th -15th 
Every year since 1967, "The Bratwurst Capital of America" has churned out as much as 27 tons of "Bucyrus style" links over a long weekend in August. As opposed to a beer brat, or "Wisconsin style", where the sausage is grilled and simmered in pilsner, the Bucyrus style brat is parboiled, grilled, and served on rye with mounds of mustard, sauerkraut, and chopped onion, a slobber-inducing sight that makes the Festival's beauty pageant redundant. 
London, KY September
This is nothing less than a celebration of the chicken and the man who made it famous, none other than local fowler Colonel Sanders -- yes, that Colonel Sanders. With over 250,000 visitors and the world's largest skillet (it's 10 feet across!), it might actually be possible to eat too much fried chicken here. Maybe.
Parada ng Lechon
Balayan, Philippines June 24th
Literally "Parade of Pigs", this crackling madness has gone down since 1571. Held after a two-week build-up on the Feast of St. John, it involves thousands of people roasting pigs to a delicious crispiness, getting those pigs blessed in an elaborate church ceremony, then dressing them up in full costume (wigs, funny hats, etc.) and parading them through town before butchering them and serving them up to all the celebrants. 
Tulsa, OK August
Fifty contenders. Two days. Two tons of steak. One team worthy of the high-in-iron throne. Just $20 gets you access to the competition and your name on a 16oz. cooked by one of the country's top meat-masters, which, because this is Amerca, may be picked up by car at their drive through.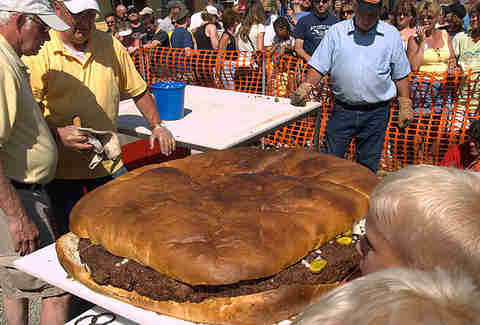 Seymour, WI August
In 1885, then 15yr-old "Hamburger Charlie" Nagreen arguably served up the first hamburger ever at the Seymour Fair, eventually prompting the Wisconsin legislature to declare Seymour the burger's official birthplace, erect a Hamburger Hall of Fame, and, in 1985, launch this festival highlighted by one seriously giant meatwich – the lynchpin patty averages 300lbs, but in 1989 it was a world record 5,520lbs.
Marlinton, WV September 27th
In case you're wondering "how is this legal?", yes, West Virginia law does stipulate to the legality of claiming and cooking roadkill – but, and this is important, none of the food served up at this off-puttingly named fest is actually roadkill. You can, however, expect to chow down on gravel-free, "road-kill inspired" cuisine like teriyaki marinated bear. Also, there is a Little Miss Roadkill pageant (that is not a joke).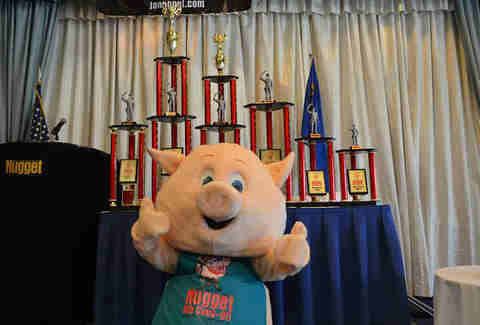 Reno, NV August
From six entries served up reheated from sterno burners to a Rib Village serving 500,000 visitors over six full days, the Nugget Rib Cookoff has come a long way since 1989. Every year the admission-free event serves up over 100 tons of ribs, many of them consumed by Joey Chestnut during the Rib Eating Championship (9.27lbs in 12 minutes).
Jokkmokk, Scandanavia February 5th-7th
Celebrating the 10,000 year old practices of Scandanavia's Sami people, this meat party brings together dancing, yodeling, and tons of cuts of reindeer, the animal that's been the community's bread and butter since before bread and butter were things (it's so integral to their culture only officially recognized persons of Sami descent are allowed to practice reindeer husbandry).
Waikiki, HI May 2nd
If you've got apprehensions, can 'em. The unofficial-official food of the Hawaiian islands (they eat 7 million cans a year), Spam's been treated right for 14 years at the Spam Jam, which draws 25,000 people and's spiked with tasty dishes from SPAM Pancake Sliders to SPAM Yakisoba.
Byron Turkey Testicle Festival
Byron, IL October 11
This balls-out festival has been celebrated since 1979, making it the oldest cojones con in the country (yes, in fact, there are other testicle eating festivals). On this day, Byronions serve up to 275 pounds of turkeys' other giblets and more than enough beer to help ameliorate the fact that… ha ha, you just ate turkey testicles. 
Alloway, Scotland January 25th
Best known in the States for having penned "Auld Lang Syne", Robert Burns was in fact a Scottish hero of the humanities, a poet renowned for his wit and wisdom. How, then, is he celebrated? With a giant pile of intestine, of course! Every January Burns' memory is honored with a toast to, and the consumption of, haggis, Scotland's national dish of sheep heart, liver, and lungs. Accompanied with whiskey and a reading of Burns' "Address to a Haggis", the collection of boiled meats encased in stomach is brought out to a bagpipe processional, and then served to all celebrants… whether they want it or not.