Is Chuck E. Cheese's still the magical wonderland you remember?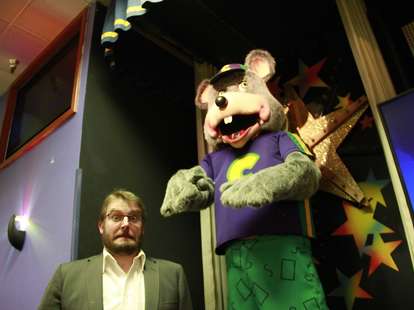 All photos by Andy Kryza
All photos by Andy Kryza
If the mood ever strikes you to eat mediocre pizza while watching an animatronic mouse absolutely kill a Marky Mark track, there is only one place to go: Chuck E. Cheese's. It's that magical wonderland where a kid can be a kid and totally get away with peeing in a ball pit. But is it as amazing as we remember it being that one time Ricky Pierce had his birthday party there?
Ever the stalwart journalists, we sent one of our editors (and our preschool correspondent, Sam) to the mouse's den to see if the magic was still there. Robots, pizza, and gastric distress ensued.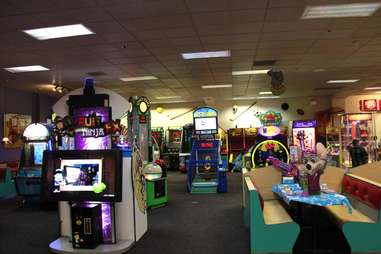 The games
This place is still an ocean of bleeping and blooping entertainment that ranges from Noro-carrying touchscreen games like Fruit Ninja -- the kiddie equivalent of the touch-screen fun you find at dive bars (sadly, no Erotic Photo Hunt) -- to skee-ball, air hockey, and a Batman-inspired Whac-A-Mole (sadly, no Erotic Whac-A-Mole).
Sam was totally into the classic games like air hockey, skee-ball, and Pop-A-Shot, in which the 4yr-old made two out of five. Dwight Howard has already hired him to help fix his foul shot.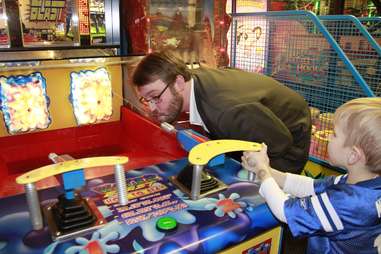 Sam's favorite game, by far, was Water Blast, where you use a water cannon to rack up tickets by soaking a target. Remembering all those times he was told not to drink the water -- and repeatedly asserting he is a "GD adult in America" -- Andy decided to take a sample, which resulted in an estimated 5hrs of gastric distress ("water blasts", as it were) that evening.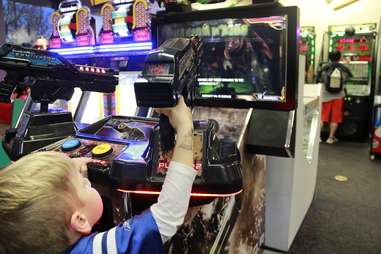 The most out-of-place game of the bunch was Terminator Salvation, which Sam kept running back to in an oddly prophetic quest to eradicate a robot threat in a place populated by animatronic mice, dogs, and chickens. Sam might just be John Connor.
The rides
There's also a ton of rides for kids that include Noah's Ark and a Barney go-kart that are pretty much just like the ones outside supermarkets. Sam was fond of this monster truck, and of pretending to mow the bigger kid down like a junked Buick.
The rides are, unfortunately, not made for grown-ups. And yet, the only "kids" who recognize characters from a TV show made in 1998 just graduated from college.
Andy's nostalgia took a swift kick in the privates when he discovered there was no ball pit anywhere on site. There was, however, this hamster-tube thingy that included slides that are not at all designed for a 200lb man.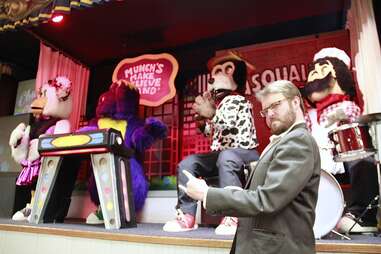 The life-sized animals
One of the trademarks of Chuck E. Cheese's, dating back to the days when it was known as ShowBiz Pizza Place, is its animatronic animal musical act: Munch's Make Believe Band. The group's repertoire included only The Beatles' "She Loves You" and Marky Mark's "Good Vibrations", which was sung as the out-of-date robots' jaws vibrated awkwardly to the two greatest songs ever written.
Up close, the band members sat motionless and dead-eyed between Marky Mark songs. Sam approached and asked if he could give Chuck E. a hug. Suddenly, his eyes shifted and his mouth started spasming. Both Sam and Andy ran away.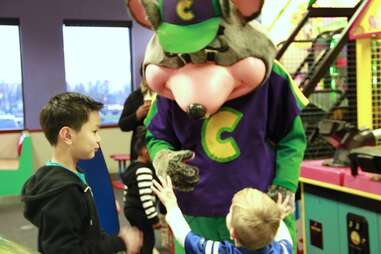 Luckily, the "real" Chuck came out and Sam got his hug. "How can he be here and playing with the band at the same time?" Sam asked. "That's Chuck E.'s cousin Buck E. on stage," Andy replied. Chuck responded with a thumbs-up.
The food
The pizza is exactly as Andy remembered it, but adult taste buds are very different than kids'. Kids, for example, would be pretty stoked if their pizza sauce tasted like it came from a can of SpaghettiOs. But damned if the cheese isn't as stretchy as it's always been, though it does pair perfectly with on-tap beers like Bud, Bud Light, and Michelob AmberBock. There's also a two beer per adult limit, which runs contrary to childhood memories of dads milling around with pitchers. But it also resulted in a lot fewer instances of middle-aged men yelling at their kids.
Chuck's cheesy bread used to be stiff, cracker-y, and parm-dusted slices of heaven. Now, they've taken a cue from Domino's and stuffed the sticks with mozzarella to create a greasy masterpiece that only gets better when you dip it in that SpaghettiOs sauce.
There's also a neon-lit salad bar full of beets, lettuce, cheese, and other stuff just in case you want to make sure you're RUINING YOUR KID'S BIRTHDAY.
The prizes
Most of the games spit out these little tickets, which you can exchange for magnificent prizes. With 40 tokens, Sam and Andy managed to reap 125 tickets. Off to the ticket booth with these riches!
For 5000 tickets, you can score a remote-controlled car (at 25 cents a game, that's a lot of skee-ball). For 600, for some reason, you can score a plush Duck Dynasty doll that's somehow creepier than the dead-eyed robot mouse. So what can 125 get you?
Skipping over a bunch of pencils and a set of those weird plastic Kanye glasses, Sam doubled down and scored a handheld, foam rocket launcher AND a whistle. Sam's father was extremely excited about these choices all the way home.
Andy's verdict
"OK, so the pizza is nowhere near as delicious as I remember, and there's no ball pit. But there are a ton of good looking (and exhausted looking) single moms, beer, and skee-ball. I'd totally go back."
Sam's verdict
"I didn't get pizza. I don't want to wash my hands. Can we go back tomorrow?"
Andy Kryza is Thrillist's national eat/drink senior editor, and has proudly lived vegetable-free since 2001. Follow his adventures/slow decline via Twitter at @apkryza.