Bloomberg/Bloomberg/Getty Images
Bloomberg/Bloomberg/Getty Images
The official opening day of the 365 by Whole Foods market in Los Angeles' Silver Lake neighborhood on May 25th brought with it the expected Trader Joe's-ian parking-lot messes, a long line to get in (and another to pay for food), and a constant flurry of bearded dudes and yoga pants-clad mommies bumping about the aisles. So, it was like Whole Foods. But cheaper. But is that actually true?
With around 10 new 365s popping up throughout the country this year (the next opens in July in Lake Oswego, OR, leading to theories about WF's Lake-based favoritism), we decided to hit the new store and an OG WF to compare apples to apples -- and other foods to other foods -- to see if 365 really does offer up a middle ground between Trader Joe's and Whole Foods.
Is it "half-paycheck" versus "whole" as some have been hoping, or more like "two-thirds"? And which sections offer the best deals? Here;s what we found.
Editor's Note: This story represents but a small sampling of what's available at either Whole Foods incarnation. Grocery stores are big, so we looked to represent staples and commonly loved items from the Whole Foods roster. Which is to say, not every leaf of kale is accounted for, and prices may vary between locations and days.
365-brand items
Whole Foods' famous "365" brand is, not surprisingly, everywhere at the new store, from dairy to packaged foods to snacks and toiletries. All of these items have set prices, hence you should find no difference in cost for the same items at the main store… right? WRONG. 365 English muffins, for example, are priced at $1.49 at 365, but $1.99 at Whole Foods -- labeled the "everyday low price." Milk also varies by 50 cents from 365 to WF. It may just be a case of new-store specials, so milk the saving while you can!
The verdict: Slightly cheaper
Bulk buys
Nuts, granola, and grains are displayed slightly differently at 365 versus Whole Foods. Both are held in clear plastic containers, but the receptacles vary in shape and size -- and in price. Blueberry flax granola, for example, goes for $3.99/lb at 365 while the same mix goes for a buck more at WF.
The verdict: The bulk of it (sigh) is cheaper, but by varying degrees of drastic
Produce
There are far more organic options at Whole Foods so the prices are naturally higher all around, but some of the same items vary as well. Bananas go for 19 cents each at 365 (so Trader Joe's!) and 69 cents at WF. Blueberries enjoy a big sale display at the entrance of each market as of this writing, but the prices are "berry" different (sorry): $2.50 a package at 365 and $3.99 at the Foods.
The verdict: Drastically cheaper
Booze
The hard stuff costs the same across the board at WF and 365, but like the cheese selection, the original store is simply more impressive stock-wise. The most expensive bottle of wine at 365 goes for about $20, but OG shoppers can get $30 and $40 bottles, or even pimp out with a bottle of Dom ($179.99).
The verdict: Same prices, limited selection
Cheese
The cheese selection at Whole Foods has always been fancy platter-worthy, and it can add up quick too, often costing more than the fine wine purchased to complement it. Some cheeses -- like Cowgirl Creamery's goat Brie wheels -- will run you in the neighborhood of 20 bucks or more. The cheese at 365 is less rich both in selection and price, with hunks averaging about $6 tops.
The verdict: Less fancy, but you can use those savings to pair it with better wine (from somewhere else)
Salad
Mark our words: 365's salad game is going to kill Trader Joe's. The same-size Caesar and Cobb running for about $5 goes for only $3.50 at 365! Whole Foods' salads may have more meats, greens, and things but they also cost you more green: upwards of 6.99.
The verdict: Way, way, way cheaper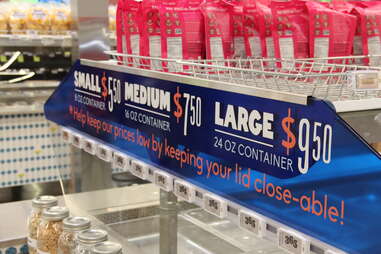 Hot bar
The hot food items and make-your-own salad options at 365 are on par with Whole Foods, and they even offer the same green containers. The big difference? Foods charges by weight, while 365 charges by containers ($5.50 for small, $7.50 for medium, and $9.50 for large). If you're an expert stuffer, the latter is preferable, offering both compact and cost-effective takeout.
The verdict: Big savings if you're good at Tetris
Meat
Whole Foods' butcher selection has always been a carnivore's delight, and 365's lack of the same is a drag. 365 does offer pre-packed meats, however, with hamburger patties going for $3.99/lb. Seasoned (and better-looking) burgers at Whole Foods go for $6-11 a pound. The differences in price and quality can be seen across the animal kingdom.
The verdict: The savings are as undeniable, but we miss our local Whole Foods butcher
Baked goods
The mouthwatering dessert case at Whole Foods has broken many a diet, and while 365's sweet and baked items aren't quite as tempting, the prices on some of them are. Sixty-five cents for small and $1 for large ones, plus $1 bagels and croissants that go for a quarter or more at WF. Conveniently located next to 365's coffee bar, the real blow from this case will be felt by Starbucks, which shares a parking lot with the new store in Silver Lake.
The verdict: Way cheaper, but with more limited choices
Flowers
"Flash Finds" are like Kmart blue-light specials, so they will always be less than the same at Whole Foods. As of opening, orchids are going for half the price of those at Foods.
The verdict: Essential shopping before housewarming parties from here on out
Sign up here for our daily Thrillist email, and get your fix of the best in food/drink/fun.
Lina Lecaro is the author of
Los Angeles's Best Dive Bars: Drinking & Diving in the City of Angels
and just spent an inordinate amount of time in the glow of LA's Whole Foods empire. Follow her back to the dark on Instagram and Twitter at @linalecaro.