Miss Ada

| Cole Saladino/Thrillist
Miss Ada

| Cole Saladino/Thrillist
Why Modern Israeli Food Is America's New Favorite Cuisine
There is, in my neighborhood -- the Mission district of San Francisco -- a restaurant called Old Jerusalem. It's been around seemingly forever, and its home-grown website states: "Old Jerusalem Restaurant is a flavorful adventure into the cuisines of the Middle East and Mediterranean." It serves food not unlike the Middle Eastern food I was introduced to as a college student on the East Coast. At Mamoun's, we swiped through pita through hummus and baba ghanoush; I didn't know what falafel was, exactly, except that it was delicious. Mamoun's was founded by Mamoun Chater, an immigrant from Syria, and opened in New York's Greenwich Village 1971 -- one of the oldest "Middle Eastern restaurants" in the US. And since then, when it comes to describing what it is to eat hummus and cucumber-tomato salads and the like, categorizing yourself in blanket terms like "Middle Eastern" or "Mediterranean" has been the norm.
But if you have eaten food at restaurants lately -- especially in cities like New York and Los Angeles -- you may have seen a new willingness to serve not just a general "Middle Eastern" cuisine, but Israeli food. Recently at Mh Zh (pronounced "mah zeh," and Hebrew for "What is it?"), which opened in LA's Silver Lake neighborhood earlier this year, eating charred potatoes off of paper bags, my friend Hrishi remarked, "Have you noticed how many Israeli restaurants are in LA right now?" "Why is that?" we wondered out loud. But not for long. Mostly we ate.
We were sitting with our spouses at a table on Sunset Boulevard, maxed out with plates and bowls for the four of us to share -- murky, spicy bowls of lamb ragu and mayocoba ful, a white-bean purée, which we dipped our chunks of bread into. There was a piled-high plate of probably the best frisée I've ever had. Last year in the financial district of San Francisco, a restaurant called Sababa opened. From Day 1, there were lines out the door. It bills itself as a "bright lunch café for Israeli basics."
It's something that's been happening across the US: more Middle Eastern and Mediterranean chains and restaurants, many of them explicitly billing themselves as Israeli. It's hard not to notice. Just this year, there was the opening of The Exchange Restaurant, part of the Freehand hotel in Los Angeles, whose menu "explores the multicultural flavors of urban LA through an Israeli lens." At Nur in New York, chef Meir Adoni's third restaurant, the menu is "Modern Middle Eastern" food with "nods to Israeli and Jewish cooking": on offer are a Jerusalem bagel, lima bean messbaha (a purée akin to hummus), and a dessert called Hills of Jerusalem. In Brooklyn's Fort Greene, Miss Ada opened this spring, helmed by Israeli-born chef Tomer Blechman, serves shakshuka and hummus alongside matbukha, a stewed tomato and roasted red pepper situation seasoned with a Middle Eastern spice blend called baharat.
Kismet in Los Angeles doesn't call itself "Israeli" outright, but it's "Middle Eastern" inspired -- though not the heavy fare of Mamoun's or Old Jerusalem. Israeli food's ascent has even extended to fast-casual dining: along with Sababa in San Francisco, there's Benjyehuda, an Israeli-inspired eatery that opened this year in Chicago's Lincoln Park. They're slinging familiar street food like shawarma and falafel, but proclaiming its Israeli bent.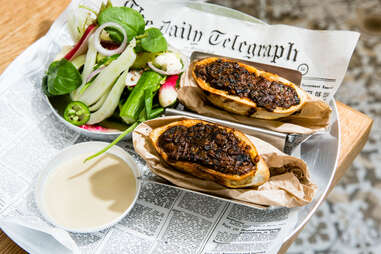 What all these restaurants have in common are fresh produce, and ingredients like labneh, za'atar, tahini. In many cases, they're also garnering critical acclaim and prestige, where their falafel-focused predecessors were relegated to late-night fare. At an Israeli restaurant today, regardless of price point or location, you'd expect to find dips and purées, breads as vehicles for those aforementioned dips and purées, abundant eggplant, and well-grilled meat -- if they're serving it.
Because meat often isn't at the forefront at these new restaurants. Across the board, menu items are colorful and healthy. "Israeli food is vegetable friendly," says Jessica Koslow, whose forthcoming Los Angeles restaurant, Tel, will have Jewish-California influences. "With the vibrant varieties of produce that finds life year round on the West Coast, I can see why it is taking off in LA." Along those lines, Israeli menus easily accommodate dietary restrictions: there's something for everything because there's frankly so much to choose from.
At many of these restaurants, the plates are to share. Do we love Israeli food because it's kind of like tapas? When Florence Fabricant highlighted tapas in The New York Times in 1997, she wrote, "Not so long ago, only a few places in Manhattan served tapas, traditional little plates of white bean salad or perhaps grilled chorizo. Now, more than a dozen restaurants have tapas on the menu, and at many, there's no telling what will be on those little plates." Or perhaps it's because Israeli food naturally fits into the sweeping dining trend of bucking the three-course meal?
While impossible to pinpoint one particular reason why Israeli food is taking off, but it doesn't hurt that it's pretty to look at. Search for the hashtag #IsraeliFood on Instagram, you'll see a vast array of food items: the long-O of a Jerusalem bagel geo-tagged to Oak Park, Illinois. Hummus and a salad at a restaurant called Chiche in Paris. A falafel burger in New Orleans. Pitas filled with things in London. A chef named Israel who lives in Israel and tagged some Chinese sheng jian bao he made with #IsraeliFood. Roasted cauliflower scattered with pomegranate seeds and tahini in Toronto. A search for "Israeli food" on Google Trends shows that the interest is on the rise and especially concentrated in California, New York, Florida, and New Jersey (compare that to the search term "Middle Eastern," which is more widely used).
Restaurants drawing influence from Israel aren't new, of course. In New York, Einat Admony, the chef-owner of a mini-empire, was among the first to cook the sort of fresh, produce-driven Middle Eastern fare that takes center stage on menus today: originally from Tel Aviv, she started a falafel restaurant in New York in 2005, followed by the more generally Middle Eastern restaurant Balaboosta in 2010, and finally Bar Bolonat -- "an exuberant celebration of modern Mediterranean and new Israeli cuisines" -- in 2014.
Yotam Ottolenghi, the London chef born and raised in Jerusalem, popularized beautifully piled salads at his deli Ottolenghi in 2002, and extended his reach even further with his cookbooks, co-written with his partner Sami Tamimi: Ottolenghi sold over 100,000 copies. Jerusalem came out in 2012, and reads like a blueprint for some of these new restaurants: shakshuka and fattoush and a wealth of recipes for eggplant, all beautifully scattered with herbs or adorned with gem-like vegetables.
Though Israeli chefs have been working in the US for years now, "I don't think anybody really owned the fact that it was Israeli food," chef Michael Solomonov, who's also the subject of a new documentary called In Search of Israeli Cuisine, says. "They would put Yemenite spice here and there, but I don't think they accepted that it was Israeli food maybe because it just wasn't a thing. They didn't want to really own it yet. But I think they do now."

The initial reluctance is probably due to the fact that Israeli food is just not that easy to define, says Uri Scheft, owner of Breads Bakery in New York and Lehamim in Tel Aviv, and the author of Breaking Breads: A New World of Israeli Baking. "It's in constant movement, still developing. And there are so many different cultures in a very small land."
"Israeli food" is an overwhelming term to sum up because Israel, as we know it today, has only been a nation since 1948. It is a young nation that has only had 60 or so years to develop its cuisine. And the first decade was spent in the poverty and simplicity of the austerity period in the 1950s. Rationing was strict, and therefore people were only focused on cooking for basic nourishment and not for pleasure or celebration. There is one food, however, that is purely Israeli -- ptitim. Also known as Israeli couscous, it was developed in the early years of the nation when rice wasn't available. So wheat was turned into something roughly resembling rice.
Israeli food today encompasses the traditions of over a hundred cultures that have been in Israel and in Palestine, or moved from the diaspora to modern-day Israel. There are foods from Bulgaria, Romania, North Africa, Yemen, Ethiopia, Georgia, the Balkans, Lebanon, Syria, Cyprus, and Turkey -- just to name a few. To call a dish "Israeli" can ruffle feathers when credit isn't properly given to a dish's country of origin; at the same time, origins are often murky or tangled. And there are Jewish culinary considerations, too, of keeping kosher, though Israeli cooking isn't always synonymous with kosher cooking, especially in a secular city like Tel Aviv.

For Solomonov, who opened Zahav -- "a modern Israeli restaurant" -- in Philadelphia in 2008, the exacting parameters of Jewish cooking were a departure from the French cooking he'd learned -- they were a way to be creative: "I was born in Israel, but I grew up eating shrimp. Up until I started cooking Israeli food, trayf and bacon and pancetta and the mixing of milk and meat were things that I did all the time." He ran away from all that. "I've sous-vided food before. We don't need to do that now. It's not cool. Those aren't the things that are exciting."
"For us it was important to not open a Mediterranean restaurant -- or Middle Eastern or Jewish or Ashkenazi," Solomonov explains. "We wanted all of those things in one place. We wanted people to experience the Israel that I know, cuisine-wise."
Not long ago in America, we called all pasta "spaghetti." We thought Chinese food was just chow mein and fried rice and fortune cookies. And this is a progression too: where we once lumped many countries' cuisines under the blanket terms of "Middle Eastern" and "Mediterranean," and thought that meant falafel and hummus, we're now using the term "Israeli food." As a category, it's both focused and broad. The country itself is small -- about the size of New Jersey -- but there are cuisines nested in it like dolls. And while "Israeli food" may be too big of a term to give proper due to the wealth of cuisines contained within it, but it also focuses our attention on the array of food found in a single country -- food that's distinctly delicious. It's a step, at least, toward learning more.
I ask Solomonov why he thinks Israeli food is catching on now. "The people that are eating right now are trying to celebrate diversity," he says. "The people who are cooking right now are saying, 'Look, it's OK to be American but still hang on to my heritage.' Ten or 15 years ago, Israelis would leave, go to Europe or Asia or the US, and then go back to Israel and say, 'I'm going to make European or Asian or American food and open it up in Israel.' And now people are saying, 'Look at what we grew up with!' I think that the same thing is happening in the States. People are more willing to celebrate their cultures and hang on to their identity."
"They're ready to celebrate the fact that all these cuisines happen, and there's a tapestry and a melting pot and this sort of living, breathing thing because there are always people immigrating to Israel." He adds: "In five years, Israeli food in Israel will be different than it is right now. And how cool is that? It's so exciting. It makes us part of it. People are excited to celebrate it. I think it works really well in a place like the US because we're used to that. Everybody here comes from somewhere else, too."
Sign up here for our daily Thrillist email and subscribe here for our YouTube channel to get your fix of the best in food/drink/fun.

Rachel Khong is a writer and editor, formerly of
Lucky Peach
. She's the author of
Goodbye, Vitamin
and
All About Eggs
. Follow her on twitter @rachelkhong.