This late-night burger is covered in poppers and peppers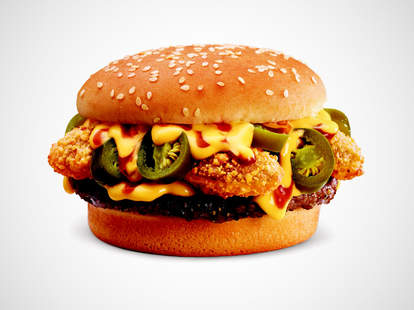 After blowing the doors off bacon with their bacon-everything burger, Jack in the Box is turning up the heat with the new Hella-Peño Burger. And we mean heat. Don't go thinking they just added some jalapeño slices to a burger... Well, they did do that, but they also crammed in a bunch of cheese-filled jalapeño poppers with a cheesy taco sauce. This burger is obviously featured on Jack's Munchie Meals, alongside stoner luminaries like the Stacked Grilled Cheese Burger. That means you can only order one between 9pm and 5am, but really, popper burgers were never meant to be consumed before sunset. Pro tip: they're best eaten while listening to "Hook".
Kristin Hunt is a food/drink staff writer for Thrillist. Her preferred late-night snack is a toss-up between tater tots and chicken nuggets. The dinosaur kind. Follow her at @kristin_hunt.