<a href="https://www.flickr.com/photos/belkus/6271893872" rel="nofollow" target="_blank">Maja Kucova</a>/Flickr
<a href="https://www.flickr.com/photos/belkus/6271893872" rel="nofollow" target="_blank">Maja Kucova</a>/Flickr
"Jerk" isn't just what you say when some guy cuts you off on the highway and you've got kids in the backseat who aren't ready for pro-level angry epithets. It's also some of spiciest, most flavorful food on the planet, whether you're eating it in its Jamaican homeland or saucing up your own chicken to eat while watching Homeland, which is apparently good again! To fill you in on this cuisine before you fill up on it, we've put together probably the handiest jerk guide ever produced. Enjoy.
Where did jerk come from?
Jerk got its start with the 1655 British invasion that firmly established The Who as the most overrated band of all time… er, drove the Spanish out of Jamaica. Spanish slaves escaped to the mountains, joining up with Jamaica's first inhabitants, the Arawak Indians, who'd been smoking and slow-cooking meats for thousands of years. Indian cooking techniques melded with African spices and seasoning, and together they adapted to Jamaica's natural resources. Boom. That's where the jerk comes from.

Is it called "jerk" because of Steve Martin?
Sort of! Some believe "jerk" derives from the Spanish "Charqui," used to describe dried meat. Others say the name is tied to the act of jerking, or poking holes in the meat to fill it with spices prior to cooking.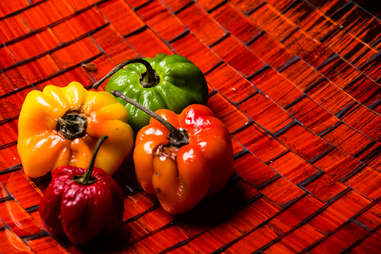 What are the essential ingredients?
Pimento wood and Scotch bonnet peppers. Scotch bonnet brings the heat like Michael Mann used to before he started making terrible movies with some guy from a People magazine cover, while pimento produces distinctively fragrant smoke. Where the wood is not available these days, the spice made from the dried, un-ripened fruit from pimento trees substitutes nicely.
What does one jerk?
You can jerk most anything worth eating. Obviously chicken is kind of a big deal in jerk world, with pork coming in a close second, but goat, lamb, beef, rabbit, fish, shrimp, lobster, various vegetables and even some fruits regularly get the treatment.
What goes with jerk?
Jerk being hot and spicy, you'll want something on the opposite end of the incendiary spectrum to balance things out. In Jamaica, that something is often festivals, sweet fried dumplings closely related to Johnny Cakes. Hard dough bread, also sweet, and the flat and very filling cassava bammy are also typically served with jerk, with washing down coming courtesy of Red Stripe or coconut water, 23 varieties of which can be purchased at the Kingston Whole Foods.
Where are the best places to get jerk?
In Jamaica, jerk huts are scattered all over the island, though the best vendors are in Boston Bay in Port Antonio (above). The Boston Bay Jerk Center, in particular: "My favorite is Micky's shack. They also sell their jerk sauce by the bottle and it's the best I've had anywhere," says photojournalist Lebawit Lily Girma, who basically knows everything there is to know about eating and drinking in Jamaica. Another notable local ("nocal"? no, maybe not), Zickie Allgrove from Island Runaways, also swears by the Center, and two other choice spots: JoJo Jerk Pit in Kingston and Ossie's Jerk Center in Negril.
The most popular name in jerk, especially in MoBay, is Scotchie's. There's a lot of heated debate over whether or not they're the best, but the guys who run the place got their start in jerk cooking in Boston Bay, so the authenticity is definitely there.

Another good MoBay option: the Pork Pit. More centrally located in MoBay proper (Scotchie's is out closer to the resorts), the Pork Pit specializes in the other white meat, though its original white meat (chicken) can hold its own as well.
Can I get jerk in America?
You know it, son. A growing number of festivals have popped up recently, the best being the oldest: The Grace Jamaican Jerk Festival, held each November down in South Florida. Music and entertainment on three stages, domino competitions, and more than 30 different jerk booths, one even featuring jerk sauce shipped in directly from The Boston Bay Jerk Center.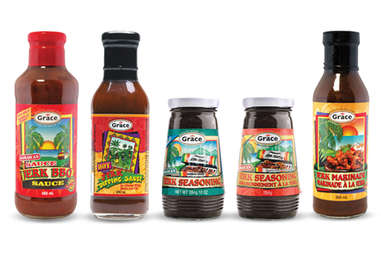 Can I buy the sauce and just put it on things in my refrigerator?
Hells yes. Brands vary by flavor and heat, but most agree that Walkerswood is the best and most authentic. It's named for a small town nestled in the hills of St. Ann's Parish, where in the late-'70s farmers banded together to found Walkerswood, the enterprise, to create local employment. They became the first company to export jerk seasoning overseas, and also they don't think your Chuck Norris looking at Playboy joke is funny at all.

Busha Browne is another small brand that's ginormous on flavor. Their farms and factory, also located in St. Ann, produce a wide range of sauces, seasonings, and spices in small batches using production techniques dating back 200 years.
Another solid brand for jerk sauce, and just about any other commercially made Jamaican food product: Grace (officially GraceKennedy Limited), which started in 1922 as a small trading company, but's now publicly traded with 60 subsidiaries in the Caribbean, North and Central America, and the UK. Even though you can find it in Walmart, their jerk sauce maintains a seriously down home flavor.

Do you have a recipe for me?
Of course. Making your own sauce is an easy, two step process that only gets complicated depending on how intent you are on mixing, matching, augmenting, or subtracting ingredients to achieve the perfect level of heat and flavor. Here's the basic recipe from Jamaicans.com:

INGREDIENTS:
1/2 cup Pimenta (allspice berries)
1/2 cup packed brown sugar
6-8 garlic cloves
4-6 Scotch bonnet peppers
1 tablespoon ground thyme or 2 tablespoons thyme leaves
1-2 bunches scallions (green onions)
1 teaspoon cinnamon
1/2 teaspoon nutmeg
salt and pepper to taste
2 tablespoon soy sauce to moisten
METHOD:
Step 1: Put all your ingredients in a food processor or blender and liquefy.
Step 2: Bottle your sauce and keep it in your fridge.

When you're ready to cook something up, just grab 2-3 tablespoons of your special sauce and rub it all over your meat. Add a little oil as you're rubbing to keep things moist, then let it sit and marinade (preferably overnight, but an hour will do in a pinch.) Cook it up on your grill, but do it slowly. Great jerk takes time, so make sure your grill isn't too hot or you'll burn off all of the flavor.
Do they make jerk ice cream?
Apparently so! And now you officially know everything you need to know about jerk.
Steve Bennett is the Editorial Director of UncommonCaribbean.com and thinks jerk ice cream -- or really jerk anything -- is a terrific idea.