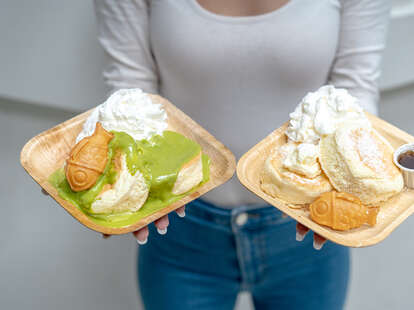 The Impossibly Fluffy Japanese Pancakes You'll Soon Be Obsessed With
Jiggly Japanese pancakes are taking over your Instagram feed. Here's why.
The first thing you notice upon arrival at Gram Cafe in Harajuku is that the air smells like butter and sweet maple syrup. It's just the thing to get you in the mood for their best-selling item, premium soufflé pancakes—stacked three high—that jiggle and dance captivatingly as they're placed in front of you.
Eating at Gram was one of the best pancake experiences I have ever had in my life. The cafe limits their servings of fluffy soufflé pancakes to only 60 people per day, at designated times, which requires diners to line-up early (at least an hour or two to guarantee a spot) and request a coveted meal ticket to ensure they get one of the pancakes that are currently filling up Instagram feeds. You might be skeptical, but the pancakes are well-worth the effort.
Is it a soufflé? Is it a pancake? It's a delicious mix of both. The pancakes are slow cooked on low heat and whipped full of air, resulting in a fluffy texture befitting of a cloud or pillow. They're delicious in their simplicity, relying only on high-quality ingredients, technique, and a bit of butter and syrup to make the pancakes shine.
It's been disputed among Japanese food bloggers who originally began the fluffy pancake trend, but since Gram began serving up their version of soufflé pancakes in Osaka, where they originated, the eye-catching pancakes—and their own storefronts—has exploded with popularity. Gram has opened up shops in Hong Kong, Thailand, and its first US location opened in San Francisco last year.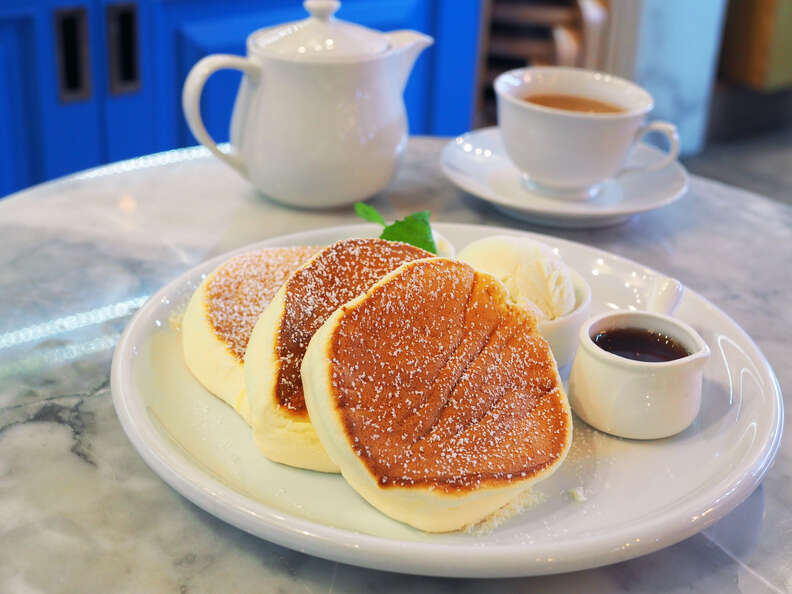 In New York City, Taiyaki—famous for their custard and red bean stuffed fish cones topped with soft serve and unicorn horns—starting whipping up soufflé pancakes just last month. The pancakes are only available Fridays, Saturdays, and Sundays, from 11 am to 2 pm with a limit of 100 servings per day via a similar ticketed system to Gram. Servings come with 2 pancakes, but diners can add a third for an additional $3 if they're feeling especially hungry. Taiyaki's owner, Jimmy Chen, revealed that they make upwards of 600 to 800 pancakes each weekend.
"We first encountered these Japanese soufflé pancakes in Japan [and] were amazed at the delicate nature of the product, how jiggly they were, and how amazing it tasted as well," Chen shared. "We have a track record of bringing treasures from Asia back to NYC and this was definitely an amazing product that we had to bring back."
I arrived at Taiyaki on a chilly Friday morning, around 11:30, where the line was about seven deep. It was about 32 degrees outside, the ground still slick from snowfall the night before, and yet hungry diners were still willing—and excited—about the prospect of digging into the thick pancakes.
Flayvon Milord and Tyler Stofer, who were lined up in front of me, both discovered the photogenic pancakes through Instagram. For Milord, it was through a Japanese food blogger: "She posted a picture of this and I had to try it," he said.
Stofer came across the pancakes in a slightly different way, but also through social media. "I watch a lot of ASMR eating videos and I kept seeing these pancakes everywhere. So I saw them before and I looked it up to see if there were anywhere in New York City, and this popped up. And it was brand new," she explained.
When I asked if they thought the pancakes would be worth the wait—in the cold—the pair shrugged and laughed. "I really hope so!" Stofer exclaimed, bouncing on her toes to keep warm. "It'll be worth it because it's part of the experience," Milord chimed in.
About 20 minutes after I had arrived, I was inside the little shop and had placed my order for both soufflé pancake offerings: an original, topped with butter, maple syrup, whipped cream, and a light dusting of powdered sugar, as well as the matcha glazed in a creamy, green tea-based sauce. Taiyaki is so small that there is little seating—and everyone in the shop was hovering, waiting for their own soufflé pancakes.
It's important to note that the wait for pancakes is about 15 minutes after ordering, which can explain why places put a limit on how many they are willing to make a day. "Making these pancakes takes tremendous care, patience, and skill. If you mess up in one step, it can negatively affect the outcome of the Japanese soufflé pancake for sure," Chen explained. "Each step needs to be mastered to create that perfect light and airy Japanese soufflé pancake."

Across the pond in London, another shop is slinging out soufflé pancakes as fast as they can make them. At Fuwa Fuwa, which roughly translates to "fluffy" in Japanese, pancakes are sold by the thousands weekly. Similarly to Chen, Owner Lee Tieu first encountered the pancakes on a trip to Japan and was left fascinated—and inspired to create his own recipe.
"Before doing this commercially, I used to make them for my kids and it was something we made together for breakfast on [the] weekends," he conveyed via email. "They were the ones who suggested I start doing it commercially."
Fuwa Fuwa began as a pop-up restaurant last year, but the demand was so great that Tieu decided to create a permanent space six months ago. He says the mouthwatering qualities of the pancakes are all thanks to the "three T's: texture, timing, and taste." Though he won't reveal his recipe or precise technique, he relayed that "getting the mix right is very important to get the rise and texture of the pancakes," adding that, "the pancakes are cooked on a low heat for a certain amount of time—enough for it to cook through." The flavor of his pancakes are mildly sweet and contain a "prominent egginess" and his most popular rendition are his original pancakes, paired with honeycomb butter, vanilla cream, and maple syrup.

Amy Nakao, a Tokyo-raised pancake enthusiast who now works in Japanese localization for an educational tech company, remembers when the pancakes first sprang up. "I love jiggly pancakes! I remember first seeing them in cafes while I was still in high school, in the early 2010s," she said. "I've had many different types of pancakes but what I like about the jiggly ones the most is how light and fluffy they are."
In the US, we view pancakes as the ultimate brunch food, complete with whipped cream and syrup, a cup of coffee, maybe a side of bacon and a glass of orange juice. Nakao says it's not quite the same in Japan. "It's interesting because pancakes are seen more as a snack in Japan, rather than a breakfast dish—though they are recently incorporating them more for breakfast and brunch." She believes the hype surrounding the cloud-like pancakes has to do with their texture over everything, but also relays that there are other, delicious pancake varieties to be found back in her hometown of Tokyo. "Jiggly pancakes are popular now, but there are also the classic hotcakes that I also love. They're super smooth and cooked to a perfect golden brown—they basically look flawless."
For now though, it seems like the airy soufflé hybrids are the true stars of Japanese pancake exports -- it's only a matter of time before the fluffy pancakes spring up across the country, giving America's traditional buttermilk pancakes a run for their money. For some reason, every other type of pancake just seems to fall flat in comparison.
Sign up here for our daily Thrillist email and subscribe here for our YouTube channel to get your fix of the best in food/drink/fun.
Kat Thompson is a staff food writer at Thrillist. Follow her on Twitter @katthompsonn.