Jersey Mike's is expanding like crazy -- but can the chain stay true to itself as it grows?

| Cole Saladino/Thrillist
Jersey Mike's is expanding like crazy -- but can the chain stay true to itself as it grows?

| Cole Saladino/Thrillist
Can Jersey Mike's Beat Subway as the New Lunchtime Sandwich King?
We ate through the Jersey Mike's menu to find out what the best sandwiches are, and reviewed Jersey Mike's menu, along with its decor, history and strategy.
Editor's Note: Welcome to the first edition of Too Fast Too Casual, a new review series where our National Writer-at-Large Kevin Alexander takes a close look at both classic and up-and-coming fast casual chains. The rising fast casual trend is defining how Americans eat today, and in this series we'll look at the food, history, decor, and branding of fast casual chains to see what these restaurants are really trying to do, and where this is all going. For the next four weeks, we'll have a new review every Friday, and after that, you can expect one every couple of weeks.
The only Psalm I remember from 12 years of Sunday school says that the heavens declare the glory of God and the skies proclaim the work of his hands. But what if it isn't the skies? What if the true sign of a demiurge is found in the magnificent intricacy of the cheesesteak I just ate at a Jersey Mike's in a strip mall by a casino near a highway in San Pablo, California?
Really, how many are your works, Lord?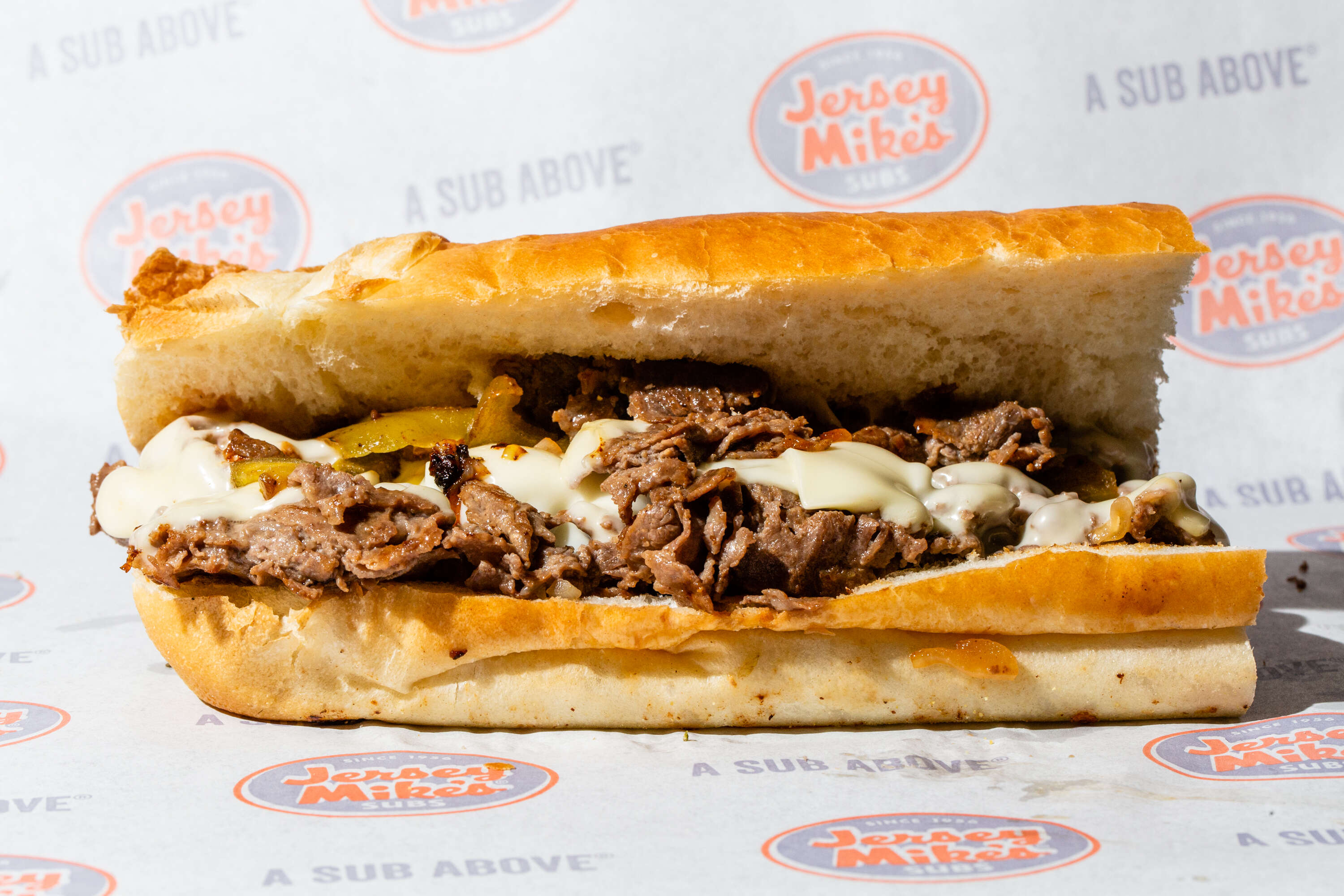 Where did Jersey Mike's come from?
Much like Moses, the Jersey Mike's legend starts by the water and seems improbable. In 1971 at the Jersey shore town of Point Pleasant, not far from Springsteen's Asbury Park turf, Jersey Mike's CEO Peter Cancro started working at a place called Mike's Subs at age 14. When he was a senior in high school, he heard the owner was selling, so he asked his football coach (who was also a banker, because in 70s, anything was possible) to guarantee his loan. His coach did, and he became the proud owner of Mike's at the age of 17.
From there he opened a few more stores, but it wasn't until 1987 that he started franchising and added "Jersey" to the name. In a conversation with Jersey Mike's President Hoyt Jones, he told me by the end of 2019 they'll be in 49 states (sorry, Alaska) and have close to 1,700 stores, with 200 freshly opened in 2019. A 2018 Inc. magazine story quotes Cancro as saying, "We're just getting started" and goes on to talk about how, over the next five years, they would like to add another 1,500 locations.
Would you like some competitor context? Subway, quite alarmingly, has nearly 45,000 locations. Chances are like one in two you're standing in one right now. Arby's has 3,300. Jimmy John's 2,800. Firehouse around 1,100. Quiznos at its peak in 2007 had over 4,700 locations and was considered a real rival to Subway thanks to that heated treadmill oven that toasted their subs, but is now down to less than 400 (turns out other places could also toast subs).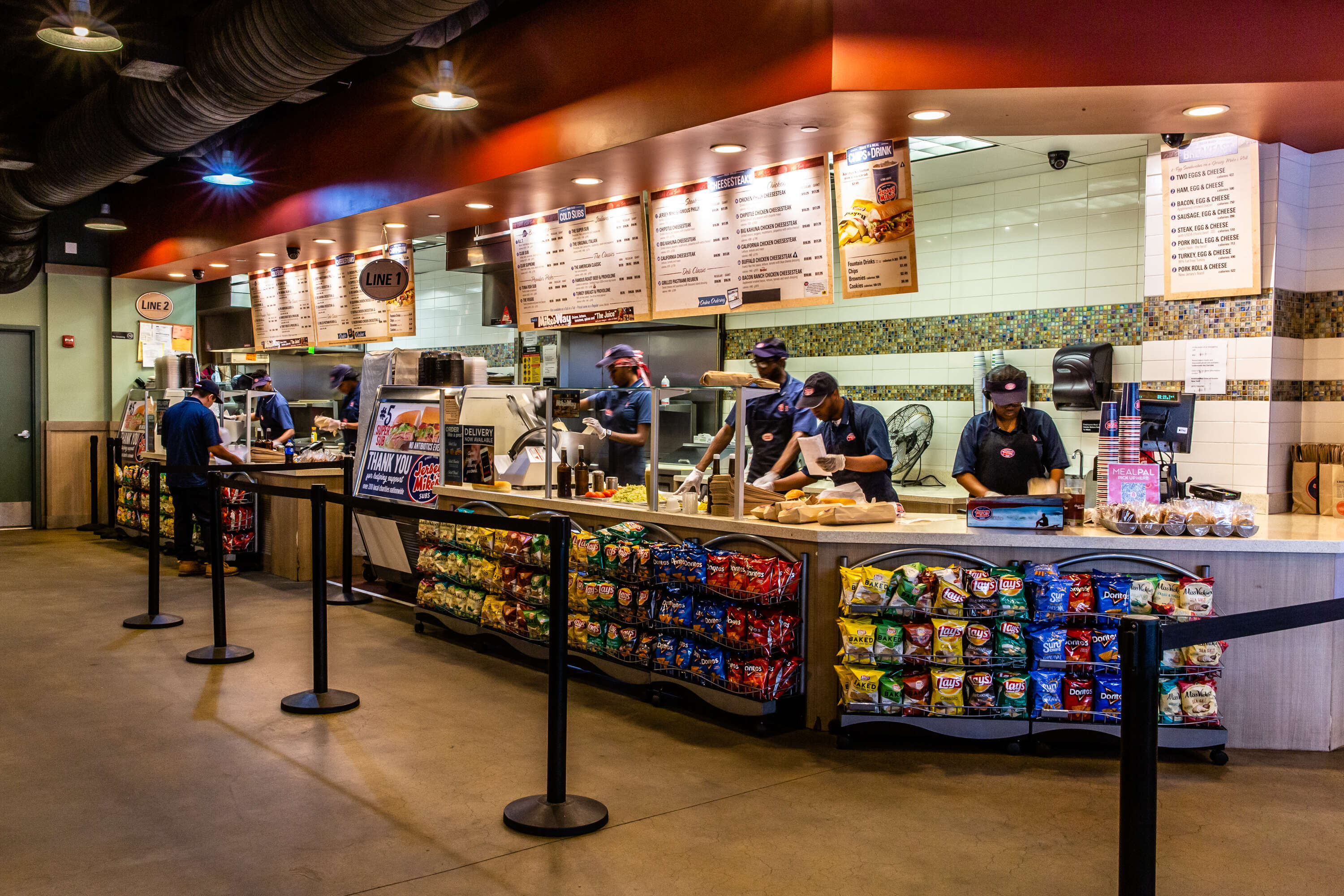 What is Jersey Mike's trying to do now?
I'd like you to do a visual exercise in nostalgia: imagine you're in a surf shack deli on the beach in Jersey. There is a big glass case showcasing the meats. There is sand tracked in on the floor, and waves lapping outside as Bruce Springsteen plays a live set where he tells the long version of the story about his dad during The River and everyone cries while eating saltwater taffy. That's the Jersey Mike's decor. Except instead of all that, it's just a few scattered tables and booths, and the only sign of the beach is literally a sign of a beach, and a surfboard on the wall. But you've still got the deli case!
But what are they thinking?!? In order to ascertain their intentions, I begged a fancy creative director at a fancy advertising agency to watch a bunch of Jersey Mike's commercials and give thoughts: "They're clearly going for the business lunch crowd -- characters are always in their 20s and 30s, lot of office shots, not families. Voiceover talent is same age as the target audience, and the style is terse, and 'clever?' The end card always shows a wrapped up sub snagged by a consumer, which, again, makes me think they don't expect you to eat there. And the tagline 'A Sub Above' is not exactly 'Just Do It' or 'Imported from Detroit,' but I guess it gets across the message that their sub is superior to competitors."
As their advertising and limited decor suggest, Jersey Mike's is trying to own the quick business lunch, office catering, and delivery apps crowd by proving that they're a higher quality choice than Subway at the same speed and similar price point, and not much of a step down from your actual local deli, but with more convenience, speed, and wall-mounted surfboards. Jones confirmed that they were leaning in hard to delivery, mentioning that they had national contracts with all major online delivery companies, and had even integrated UberEats and DoorDash into their proprietary POS system. This is interesting, because sandwich shops inherently attract more of a mix of blue collar and city workers, and college and high school students, so if they feel that's already their base, the push for the white collar crowd seems aspirational.
More than that, Jersey Mike's itself is fascinating, partly because of its bold growth strategy, partly because of its unique environment (Jones told me every franchisee must come to Jersey for a week, then spend time in the field at a "certified training store"), but mostly because, in this heavily saturated time as more and more food entrepreneurs try to branch out into increasingly niche corners of the fast casual market, it seems strangely retro for a throwback sub shop from the Jersey shore to bet it can carve out a large slice of the working American lunch scene. And yes, that was a deli meat pun.
Jersey Mike's Menu Review
How I did it: Over the course of a month, I went three times to two different Northern California Jersey Mike's locations. In total, I tried ten sandwiches and three desserts. Per the ethics of these reviews, I didn't inform anyone at Jersey Mike's I was coming, I paid for all of my food, and I didn't even sign up for Shore Points, even though 48 would've gotten me a free mini size sub.
Bonus Disclaimer: Item availability may vary from franchise to franchise (unfortunately, not everyone stocks TastyKakes).
Now back to the cheesesteak.
The Good Stuff:
In my opinion, in order to qualify for glory, a cheesesteak must posses this Hylian Triforce of elements:
1) The roll must be toasty and warm and able to withstand the grease of the melted cheese, meat, and onions/peppers without sogging through.
2) The chopped steak must be crispy and tender, without an abundance of the fatty, inedible bits that bounce your teeth back when you bite down.
3) The cheese (Whiz or American) must be of the correct melty consistency to act as a binding agent for the meat, cheese and onions without overwhelming the entire production.
The cheesesteak at Jersey Mike's had all of those elements. The roll, which the woman at the counter told me was baked each morning from dough shipped out from Jersey (a company spokesman confirmed this, telling me the secret to the bread is "the Jersey water!" and that a longtime bread supplier in Jersey ships the dough out fresh to locations all around the country), was soft and toasty and flaky and held up to the greasy elements of the sandwich. The steak was chopped correctly and devoid of those chewy fatty gristle bits so often apparent in off-Philly cheesesteak productions. The onions and peppers tasted like real vegetables with some bite but were not over greasy and oily. The white American cheese hugged all those elements together without suffocating them, much like a good parent should, RIGHT DAD?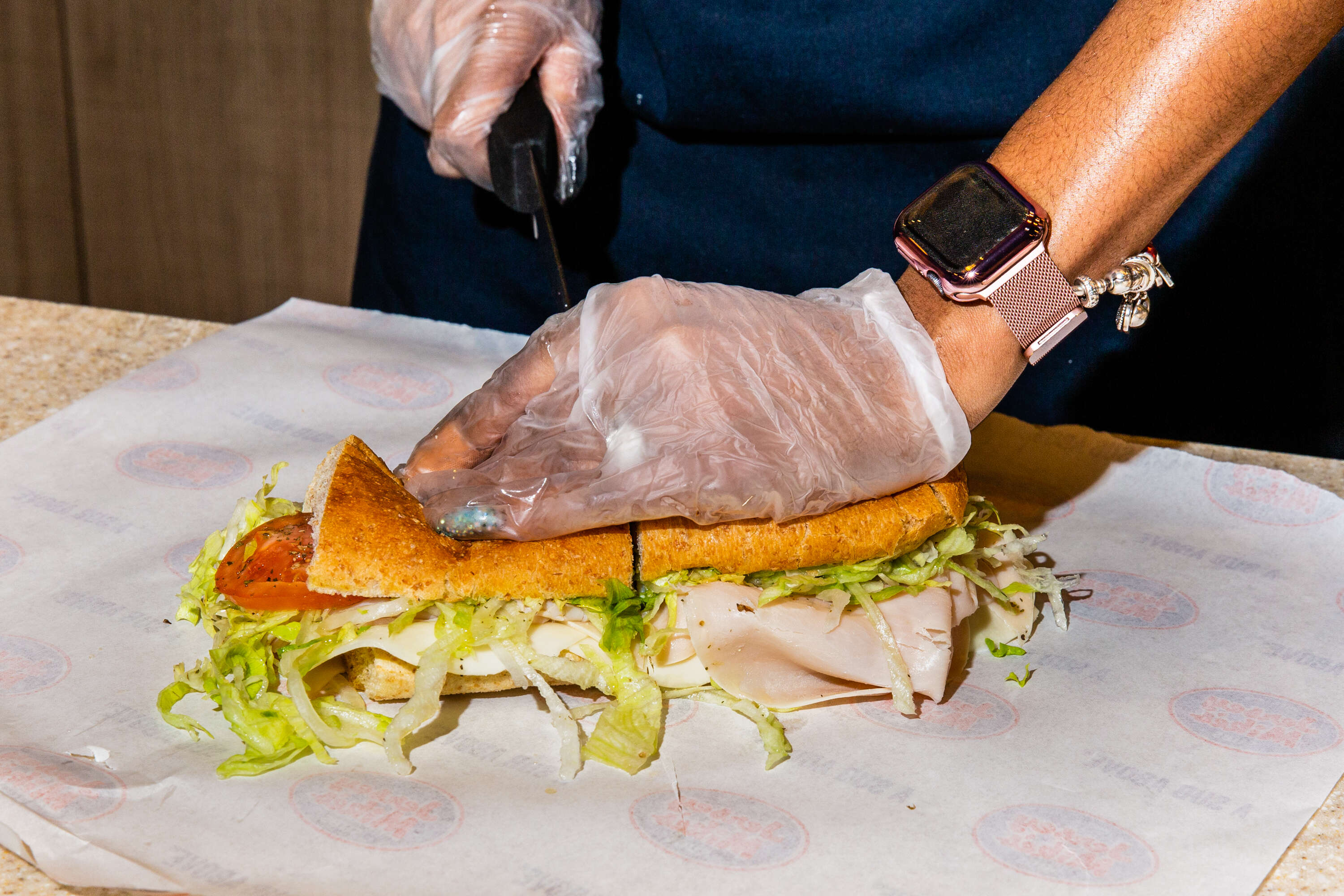 The main themes of the "original nine" Jersey Mike's cold subs seem to revolve around either a mashup of salty Italian meats and provolone, roast beef and provolone, or bacon and provolone. Of the five I tried, the #6, aka The Famous Roast Beef and Provolone, was by far the best. Said roast beef is famous because it is "cooked on the premises using only USDA Choice Top Rounds," but also because it is super thinly sliced, and has exceptional acid balance when getting it "Mike's Way®" (Onions, Lettuce, Tomatoes, Vinegar, Oil and Spices) and adding in their homemade pepper relish. I'm usually dubious when roast beef subs don't automatically throw mayonnaise into the mix, but this didn't need it, as the relish provided a proper acidic bite to compliment the salty meat and mild, slightly nutty, sweet provolone. Of the Italian-styled sub choices, the #4, which is actually called The Number Four (provolone, prosciuttini, and cappacuolo) provided the best mix of spicy meats without going so meat heavy that everything else drifted to the back, but for the most part, nearly all of the traditional subs I sampled were solidly good to great, and suffered from none of the typical damp meat foibles of chain sandwich shops.
A Brief Sub Roll interlude: of the three choices (white, wheat, rosemary parmesan), the white is far superior to the others. The wheat roll had a dryer texture and didn't seem as flaky and fresh, and the rosemary parmesan has a sort of pseudo-melted hard Parmesan cheese on top that just kind of flaked off, and the rosemary flavor was overpowering, as if it had been flavored by the scent masters at Yankee Candle. Final note: the two times I had a mini white sub roll, I was disappointed by a change in texture and dryness the standard white sub roll didn't suffer from.
The Not Good Stuff:
The few problems came when Jersey Mike's ventured outside of its wheelhouse to other dissimilarly shaped houses. The meatballs in the meatball sub behaved as meatballs should when you bite into them, falling apart in a way that suggested they might even be hand-formed. But the tomato sauce was bland and oregano heavy, and the incredibly nice Jersey Mike's employee recommended the rosemary parmesan roll, and we've already talked about how I feel about rosemary parm.
The biggest issues came in the "wraps" category. The Buffalo Chicken wrap, often a great test of wrap places' mettle thanks to the messy combination of toppings, did not hold up well, getting soggy quickly. More distressing was that the cubed, pre-cooked chicken was nearly flavorless, minus the squirt of Buffalo sauce and blue cheese. I am sympathetic there -- chicken cooked to order at fast casual restaurants is a health liability and it's often the lesser of two evils to just have the precooked kind ready to go. But Jersey Mike's prides itself on its sliced to order, always fresh mandate, making the chicken sandwiches a black sheep (the chicken and cheese suffered from a similar problem, though the other elements were good). The veggie wrap was OK, but felt more like the safe choice for a vegetarian dining at a college grill. The entire wraps side of the menu felt like some sort of business school project, a market-test addition to the menu.
Dessert, briefly:
As desserts were mainly just a selection of three Philadelphia/South Jersey favorite TastyKakes, I will let a text from my friend/Philly native/Ringer staff writer John Gonzalez stand-in for my opinion:
"They're all good. But for me there's a clear hierarchy:
1) Peanut butter KandyKakes
2) Butterscotch Krimpets
3) Cupcakes
A couple of other notes: Butterscotch Krimpets are very popular. Also they have a habit of having the icing stick to the wrapper, which some people love and find nostalgic, but I find annoying. Hence KandyKakes > Krimpets. The cupcakes are fine, but they're just cupcakes."
Final Verdict:
Jersey Mike's core menu -- the cheesesteak, the original cold subs -- is excellent, especially for a fast growing franchise. But as they grow bigger, there is a tendency to try and become all things to all people, especially as they try to claim more of the business lunch crowd, famous for their love of make-your-own-salads, meal-replacement juices, and other at least pseudo-healthy lunch options. Diluting their core elements is a risky proposition especially for a business based on a throwback, classic model. Jersey Mike's should know the more they deviate from the original scripture, the less devout the flock.
Sign up here for our daily Thrillist email, get Eatmail for more food coverage, and subscribe here for our YouTube channel to get your fix of the best in food/drink/fun.
Kevin Alexander is Thrillist's National Writer-at-Large, Food. His book on the unique mix of people, places, and circumstances that led to the last decade of eating/drinking in America, BURN THE ICE: The American Culinary Revolution and Its End, will be published in July, 2019 by Penguin Press. He is a 2017 James Beard Foundation Award winner.