John Besh shares a family recipe for shrimp creole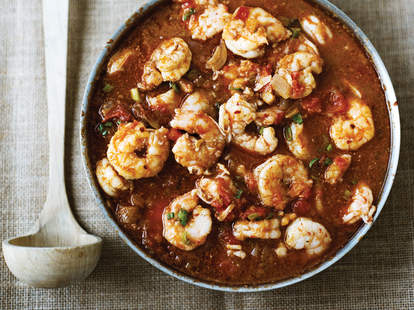 My New Orleans: The Cookbook by John Besh/Andrews McMeel Publishing
If you grew up in Louisiana, making shrimp creole is a Big Easy. But to help those without Southern roots, we enlisted John Besh to share his quintessential recipe.
Shrimp Creole
John Besh, August (New Orleans)
"I was blessed to grow up in a family that encouraged me to cook -- that's when I first saw how food could make people happy. I saw how happy my dad was when I made shrimp creole for him. Family dinner time was when we all dropped what we were doing, and gathered together. We began with a prayer and ate good home-cooked food that connected us to where we came from -- the South. South Louisiana in particular."
Ingredients
Serves 12-15
5lbs jumbo Louisiana or wild American shrimp, peeled and deveined
Salt
Freshly-ground black pepper
1tbsp minced fresh lemongrass
1/2 cup olive oil
3 medium onions, diced
10 cloves garlic, thinly sliced
1 stalk celery, diced
1 bell pepper, red, green or yellow, seeded and diced
5lbs overripe Brandywine tomatoes or other heirloom tomatoes, peeled, seeded and chopped
1 bay leaf
1/4tsp ground allspice
1tbsp crushed red pepper flakes
Leaves from 2 branches fresh basil, chopped
Leaves from 1 sprig fresh mint, chopped
Sugar
6-8 cups cooked white rice
Directions
1. Put the shrimp into a large bowl, season with salt and pepper, then mix in the lemongrass. Heat 1/4 cup of the olive oil in a large, deep skillet over moderate heat. Add the shrimp, stirring and tossing them with a spatula. Saute until they turn pink, about 2mins. Remove the shrimp from the pan and set aside while you make the sauce.
2. Into the same skillet with the oil and shrimp juices, put the remaining 1/4 cup olive oil and the onions, garlic, celery, and bell peppers and cook, stirring constantly with a wooden spoon for about 2mins.
3. Add the tomatoes. Reduce the heat to medium-low, and, when the sauce comes to a simmer, add the bay leaf, allspice, and red pepper flakes. Simmer for 10mins.
4. Add the shrimp back to the skillet along with the basil and mint. Cook for a minute or two. Season with salt and pepper. If the sauce tastes too tart, add a little sugar to balance the flavor. Remove the bay leaf. Serve over steamed white rice.