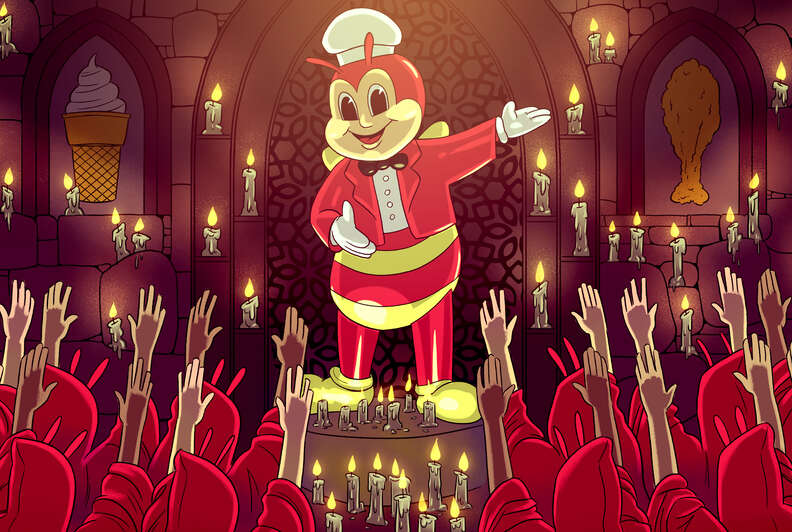 Jason Hoffman/Thrillist
Jason Hoffman/Thrillist
How Filipino Chicken Chain Jollibee Became a Fast-Food Cult Phenomenon
Four decades ago, Tony Tan Caktiong just wanted to switch degrees and sell ice cream. Instead, he laid the groundwork for one of the food world's most dedicated, voracious cults. Across North America, Asia, and Europe -- from Los Angeles to Qatar, Milan to Macau -- its legion of followers line up for a heaping buckets of chicken, signature Yumburgers, rice-and-beef breakfast platters, shrimp-packed noodles, and hot dog-stuffed sweet spaghetti.
They are led -- at the behest of a smiling, dancing bee in a tuxedo jacket -- to the promise of joy. Chicken Joy.
But so it was in 1978 that Caktiong opened the institution that is Jollibee in the bustling former capital of the Philippines, Quezon City, forever changing his country's fast-food landscape and capturing the hearts and tastebuds of generations. And it happened seemingly by chance. A Filipino citizen born to Chinese immigrants with a degree in chemical engineering, Tan Caktiong entered the food world by opening a Magnolia ice cream parlor in 1975, a franchised Filipino spot owned by the San Miguel conglomerate. He decided to defer from the original menu and also offer hot sandwiches and snacks for hungry patrons looking to consume something other than sweets. When the food began outselling the ice cream, Tan had an idea: to create a fast-food spot that solely appealed to the Filipino palette. It was then that Jollibee was born.
Jollibee took off, and Caktiong didn't look back. In fact, he looked global. The chain began popping up all over the Philippines, attracting more and more customers with its no-nonsense, Filipino-centric menu. It competed with large American chains and combatted McDonald's entry into the Filipino market in the early '80s. It opened its first overseas location in 1986, and its first US location in 1998. At its core, its success lies in the fact that it was -- and continues to be -- unabashedly Filipino, with hot dogs galore in the banana-ketchup spaghetti and garlic rice paired with every breakfast meal.
Today, Jollibee has over 1,000 locations worldwide, with dozens sprinkled across the US and plans to expand into triple digits in the next 5 years. The first Manhattan-based location opened last fall to much fanfare, including two mega fans who lined up 20 hours in advance to be the first to get their fix of Filipino fried chicken in the Big Apple. Selfies are shamelessly snapped with the bee mascot, who is -- quite literally -- a jolly bee. Fans can be found everywhere, hungering for gigantic buckets of KFC-rivaling bird called Chicken Joys, one of the chain's most iconic menu items, and platters of sweet spaghetti. The cult of Jollibee isn't isolated -- it's everywhere.
"The chicken joy brings actual joy."
Sosupersam, a Los Angeles-based singer and DJ who hosts the popular monthly dance party, 143, is one of Jollibee's biggest fans. "Growing up -- I'm from LA, I'm from Culver City -- me and my parents would go down to Carson on the weekends and we'd eat Jollibee. Jollibee is kind of the first Filipino fast food I ever had," she shared.
The food left an impression, and made her reconsider what it meant to be both Filipinx and American. "There's a lot of shame that goes into our culture in being raised as a Filipino-American in America. Our parents wanted us to assimilate and try to be as American as possible, kind of keeping the Filipino cuisine under wraps and only for fellow Filipinos."
But with Jollibee, Sosupersam -- whose real name is Samantha Duenas -- felt that she could straddle both identities.
Sam began taking more frequent trips to the Philippines as her career surged, and then got involved with charitable giving, partnering up with Jollibee to provide meals for underserved children.

"[It] was about three years ago when I had this very biblical experience with Jollibee," she began. "We did a fundraiser for the holidays where we raised money to provide a Jollibee meal for about 300 kids; the program for the day was we would go and hand out gifts and then Jollibee and the bee would come and show up, hand out meals, stuff like that. But that day, when the bee showed up… the reaction from the kids was that of Michael Jackson appearing in Budapest. Everyone crying, screaming, freaking out like it was Justin Bieber. And then he got into a full song and dance and everyone is just floored.
"I understand Jollibee is fun and cute and cheap fast food and the chicken's good, but I'd never seen this kind of reaction, especially from kids," she continued. "They just really go nuts for it. That day gave me such a huge sense of pride and extra understanding of what Jollibee means to the people, especially kids. The chicken joy brings actual joy."
Jollibee and it iconic bee chef mascot is so celebrated in the Philippines that there was a dedicated children's show that ran for six seasons centered around him. Jollitown debuted in 2008, the same year that Jollibee celebrated its 30th anniversary. The show followed the bee (whose name is -- of course -- Jollibee) and his fellow mascot friends, each of whom represented a different food item on the menu, whether it be desserts, spaghetti, or French fries. It's no surprise that Sam witnessed children in Philippines bursting with excitement when they saw the bee mascot: Jollibee is known for having epic dance offs and his moves have amassedmillionsofviews on Youtube.
It's the Filipino-equivalent of Ronald McDonald, or perhaps Chuck E. Cheese -- but better -- because centered in Jollibee's show was a reflection of Filipino identity. According to The Economist, the reason Tony Tan Caktiong settled on a bee for the mascot of his beloved chain is because he felt it was representative of the "Filipino spirit: hard-working, optimistic, and most of all, jolly."
Jollibee holds a special place in the heart of chef Charles Olalia, who dishes out steaming Filipino classics like kare kare and sizzling sisig at his acclaimed Los Angeles restaurant Ma'am Sir. "It's worth mentioning that I realize it is very much a childhood attachment, but also delicious," he said. "I eat Jollibee every time I see it. My son had his first birthday [at] Jollibee in the Philippines."
He added that he, too, eats Jollibee every year for his own birthday, and serves his own rendition of Filipino fried chicken at Ma'am Sir that's dubbed "Happy Birthday Fried Chicken," a love letter that bridges the gap between fast-food and upscale dining.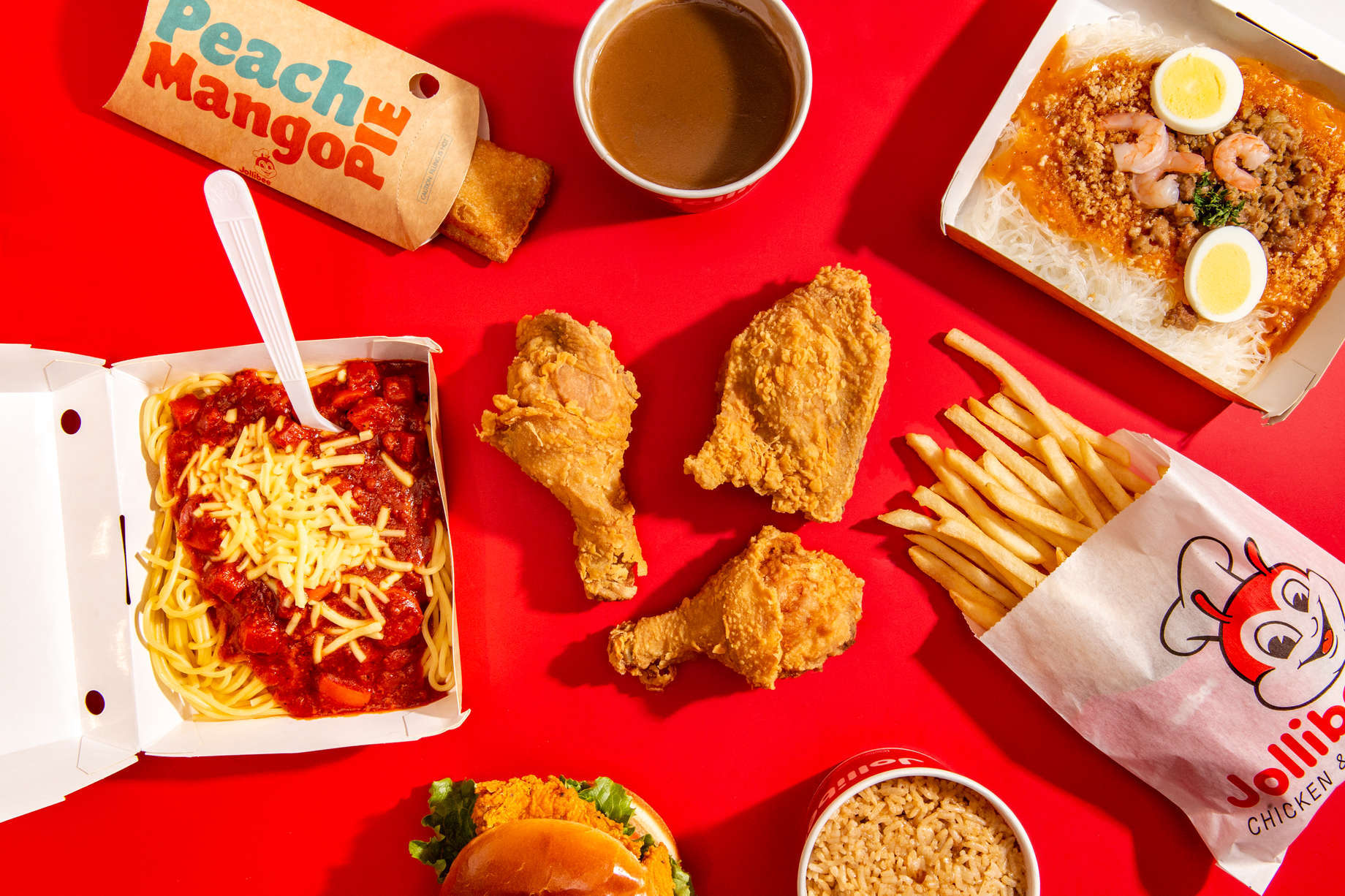 In fact, Jollibee is consumed for a lot of birthday parties in the Philippines. Their website offers party packages for enthusiastic patrons looking to celebrate with the beloved bee. Party packages include balloons, game prizes, meals, and a dance number by their bee mascot -- complete with photo opps.

For Percival Pacadaljen, a digital marketing manager based in Los Angeles, Jollibee is intertwined with significant memories that extend beyond birthday parties. "Jollibee is special to me because it arrived at Mo Val -- Moreno Valley -- around the time I began dating my girlfriend, who is now my wife," he recalled. "We took one of our first pictures together as a couple during the grand opening with a dude dressed up as the Jollibee mascot."
Pacadaljen, who now has a daughter, brings her to Jollibee to share this slice of familiarity -- and her Filipino heritage -- with her. "To this day, I always get a nostalgic feeling when I come to Jollibee with my mom or wife during family outings. My personal favorite is the spicy chicken -- and don't forget my gravy."
Jollibee has proven itself as more than just a fast-food chain. It's a place where the food has soul; it thrives because it continues to serve its consumer base genuine Filipino recipes -- as well as smiles, with its personable bee mascot and brand ideologies. It's no wonder that Jollibee has amassed such a cult following in the Philippines and beyond, and continues to acquire new fans -- of both Filipino descent and not -- with its richly Filipino dishes and community-driven heart.
"Jollibee is a symbol of nostalgia. It's something that ties us back to our roots," Sosupersam conveyed warmly, and added, with a laugh, "And, it's just funny."
Sign up here for our daily Thrillist email, get Eatmail for more food coverage, and subscribe here for our YouTube channel to get your fix of the best in food/drink/fun.
Kat Thompson is a staff writer at Thrillist and a huge fan of Jollibee. Follow her on Twitter @katthompsonn.