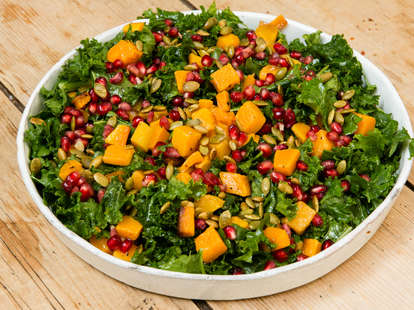 Many Thanksgiving feasts treat the salad as an afterthought, dishing out a gigantic bowl of lettuce as a formality to balance out the butter-bombs that fill most plates. This kale salad is loaded with Thanksgiving favorites -- pumpkin seeds, roasted squash, and sugary maple syrup among them -- plus a little spice and pomegranate seeds.
That sounds like something that you'd have to hit a bunch of stores and fruit stands to pull off. But each and every ingredient here can be scored at Trader Joe's, including pre-cut butternut squash and packaged pomegranate seeds, which saves a ton of hassle. Don't worry. You can tell everyone you bought them from stores all over town, not just from some dude in a Hawaiian shirt.
Kale Salad with Roasted Butternut Squash, Pomegranate, and Pumpkin Seeds
INGREDIENTS:
1 box TJ's pre-cut butternut squash
2 teaspoons olive oil + ¼ cup olive oil
½ cup TJ's pumpkin seeds (pepitas)
¼ cup fresh lemon juice (from 1 large, juicy-ass lemon)
2 teaspoons pure maple syrup
2 tablespoons Dijon mustard
¼ teaspoon cayenne
1 bag TJ's pre-cut kale, large stems removed
½ cup TJ's pomegranate seeds
1 ½ teaspoons kosher salt
¾ teaspoon freshly ground black pepper
DIRECTIONS:
Heat oven to 425°F. On a rimmed baking sheet, toss squash (you'll want to cut larger chunks into smaller cubes) with 2 teaspoons olive oil, ½ teaspoon salt, and ¼ teaspoon pepper. Roast, stirring squash occasionally after the first 15 minutes until it's golden and tender. Remove squash from oven and set aside to cool.
While that squash is cooking, whisk together the lemon juice, maple syrup, mustard, shallot, 1 teaspoon salt, ¼ teaspoon pepper, and the cayenne, then whisk oil into it slowly (like, pour it slowly… whisk fast). Boom. Dressing.
In a large mixing bowl, combine kale with about ¾ of the dressing and use your hands to massage it into the kale, shiatsu-style. Add more dressing as needed. Reserve any leftover dressing for another use/to drink the next day when you're really craving that flavor but too lazy to make another salad.
Add the cooled roasted squash (not while it's steaming!) and pomegranate seeds to bowl. Toss it all together to combine, and season with salt and pepper to taste. Transfer to a serving bowl, and sprinkle with pumpkin seeds.
Sign up here for our daily Thrillist email, and get your fix of the best in food/drink/fun.
Melissa Locker is a writer in New York and only eats marshmallow Peeps. Follow her on Twitter @woolyknickers but don't follow her in real life.