Welp, kale, it looks like your moment in the sun is finally over. Which is bad, because kale ostensibly needs sun.
Veggies are a pretty big bone of contention here at Thrillist, but if we really have to eat them (maybe stuffed inside some meat?), we certainly will. But which ones are worth your attention and love? We polled some famous chefs to get their thoughts on what vegetables are the most overrated and which are the most underrated.

CHRIS CIPOLLONE - CHEF, PIORA (NEW YORK, NY)
Most overrated vegetable: Kale
"Although not a bad thing, kale is misused a lot of the time. Serving it raw is not that pleasant (let's be real here), and cooking it just yields a boring, flat texture for me. It has been a victim of over-hype."

Most underrated vegetable: Sunchokes
"If you have ever been to Piora, they are all over the menu. Sunchokes are truly so versatile in what you use them in and how you cook them. They are the pig of vegetables. Like a potato, but with a nutty flavor that has an awesome natural sugar content that lends well to caramelization and also works well in soups and purees."
MICHAEL TUSK - JAMES BEARD-WINNING CHEF/OWNER, QUINCE AND COTOGNA (SAN FRANCISCO, CA)
Most overrated vegetable: Spaghetti squash
"There are many other squash varieties that have less water and much, much more flavor."
Most underrated vegetable: Cardoons
"They're from the same family as the artichoke. Great flavor and texture and very versatile. A true gem."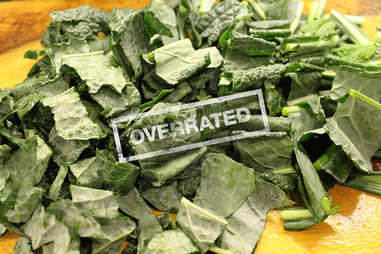 DAVID BURKE - FOUNDER/EXEC CHEF, DAVID BURKE GROUP (NEW YORK, NY)
Most overrated vegetable: Kale
"It's a great green, but overexposed. Not necessarily the best in salads, and I'm not fan of deep-fried kale."

Most underrated vegetables: Chicory and white cabbage
"White cabbage makes the best broth for soup. It can also be stuffed, stir-fried, braised, and incorporated into salads and slaws, and there are variety of cabbages such as green, red, and napa."
CHARLIE PALMER - JAMES BEARD-WINNING CHEF/OWNER, CHARLIE PALMER GROUP (NEW YORK, NY)
Most overrated vegetable: Sunchokes
"I've never tasted a sunchoke soup that I like, and I feel like it's a weird cross between artichokes, turnips, and celeriac."
Most underrated vegetable: Swiss chard
"With all of the craziness surrounding kale right now, it seems like we've forgotten about all of the different varieties, flavors, and goodness of Swiss chard."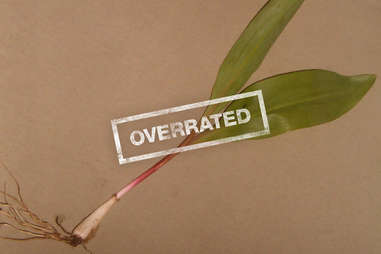 JUSTIN WARNER - CHEF, DO OR DINE (BROOKLYN, NY)
Most overrated vegetable: Ramps
"I used to eat them and treat them like weeds in Terra Alta, WV when I was a kid. Now they've turned in to some sort of NYC delicacy wherein it's a race every spring to see who can get ramps on their menu the fastest. I love ramps, but I wish they would have stayed the humble onion they used to be."
Most underrated vegetable: Parsnip
"The most underrated vegetable is the parsnip, which I am actively petitioning to rename 'the miracle root'. It's more sophisticated and satisfying than any root out there. It's no potato, of course, but a potato is for someone who doesn't need anything special. Parsnips would be in the gifted and talented program at Tuber Elementary."
GERARD CRAFT - JAMES BEARD-NOMINATED CHEF/OWNER, PASTARIA (ST. LOUIS, MO)
Most overrated vegetable: Summer squash
"Vegetables have never been in the position of being overrated, but if I have to pick, it would be Summer squash. I'm not saying you can't make anything delicious with it, but I'm borderline terrified of ordering it when I'm out because so many people overcook it."
Most underrated vegetable: Broccoli
"It is great roasted, grilled, boiled, or steamed. It's also great cold in a salad, puréed in a soup, or served as a great hot side in a family style meal. One of my favorite ways to serve it is to slice it about a 1/4in thick and pan-roast it with olive oil, garlic, anchovy, chili, and a little Pecorino."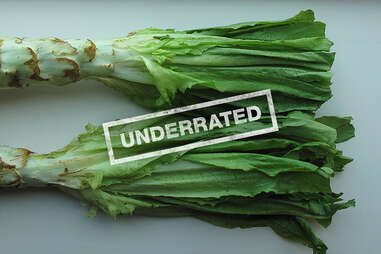 MICHAEL WHITE - EXEC CHEF/FOUNDER, ALTAMAREA GROUP (NEW YORK, NY)
Most overrated vegetable: Portobello mushrooms
"I'm not going to say kale or Brussels sprouts because they're good. I think that portobello mushrooms are overrated. They are just overgrown mushrooms that you have to cut all the veins out of the bottom to even use. It is just a vessel for other flavors and is really too tough to even eat."
Most underrated vegetable: Celtuce
"Celtuce is a vegetable related to lettuce or celery that is often sliced and used in stir fries in Asian countries. It has a very mild flavor which can be enhanced by whatever it is being cooked with, which makes it easy to add to anything, especially sautéed greens or soups."
MARC MEYER - CHEF, COOKSHOP, FIVE POINTS (NEW YORK, NY)
Most overrated vegetable: Red and green bell peppers
"They are used indiscriminately to add color to a dish, but the flavor can be one-dimensional and harsh, and they don't blend well; they are much better cooked."
Most underrated vegetable: Broccoli
"It's viewed as something to be served with onion dip, but people forget how versatile it can be, served with chickpeas, charred and stewed in olive oil, slowly cooked and served with chile as a pasta. Everyone wants to use broccoli rabe or kale."

BRIAN MALARKEY - CHEF/OWNER, SEARSUCKER RESTAURANTS (LOS ANGELES, CA)
Most overrated vegetable: Microgreens
"I did it, you did it, we do it! Stop the practice of killing baby vegetables! Also: peppers that do not provide heat or flavor, anything used for color and not flavor, aka cooking with your eyes. Romaine/iceberg/grocery greens -- pretty much anything from a grocery store. Bland, cardboard-flavored -- no personality, no soul."
Most underrated vegetable: Beets
"Farmers markets -- demand greatness! Demand fresh & real! Cut out the middle man! Canning! Savory jamming! Pickling! Beets: they are taking over the world -- we eat them, we drink them. The secret to living forever!"
ALON SHAYA - JAMES BEARD-NOMINATED CHEF, DOMENICA (NEW ORLEANS, LA)
Most overrated vegetable: Black truffles
"Now that they are being farm-raised everywhere, we have seen a surge of very expensive flavorless nuggets showing up on menus. Rarely do I come across a head-turning burst of flavor from them. Wait until November and get the foraged Italian white ones. They are soooo much better!"
Most underrated vegetable: Eggplant
"I cannot get over the magical properties of eggplant. Roasted whole over hot wood coals yields an extremely flavorful filling similar in texture to pudding that can be used in so many ways. My travels through Israel opened my eyes to the secrets locked within this vegetable."
BILL TELEPAN - EXEC CHEF/OWNER OF TELEPAN, TELEPAN LOCAL (NEW YORK, NY)
Most overrated vegetable: Lettuce
"I don't think there is an overrated vegetable, but if I were to eliminate one, it would be lettuce. Especially iceberg. It doesn't have a lot of flavor and hardly any nutrients."
Most underrated vegetable: Beets
"Beets! They're delicious pickled; they're delicious roasted. Beets can add sweetness and acidity, and they also work well as a savory. It's pretty much my favorite vegetable. Beets are always there for you -- they start to become available in the spring as baby beets, and can be stored over the winter season. Not only are they delicious, but beets also have a lot of good nutrients."
TY KOTZ - CHEF, TOPPING ROSE HOUSE (BRIDGEHAMPTON, NY)
Most overrated vegetable: Kale
"I think it's funny how popular kale has gotten over the last couple years. It used to be that people wouldn't even think of ordering it off a restaurant menu. Now it has become one of our biggest sellers. All of our farmers this year would come in saying, 'What is going on with the kale thing'? and 'It seems we can't grow enough of the stuff'. I think it's great that people are into it. I just think it is funny how trends come in."
Most underrated vegetable: Beets
"I absolutely love the flavor of roasted beets. Their earthy richness combined with their sweetness, just makes them so unique and versatile. Not to mention they are awesome for you. Unfortunately, I find that they are a love/hate thing with most people and there's not much middle ground. However, I think most of this hate, comes from (like a lot of vegetables) people trying beets that aren't prepared well. Or sometimes from having a bad experience when they were younger. As adults I think our palates change a bit and are more receptive to trying new things, especially when they are cooked right."
Adam Lapetina is a food/drink staff writer at Thrillist, and was totally the person who introduced Pizza to Bagels back in the day. Read his musings on Twitter at @adamlapetina.