Kimye Gets Waffles, Drone Servers & More of February's Biggest Food News
The shortest month of the year wasn't lean on food news, with everything from Beyonce to brisket thieves hitting the headlines. Bootylicious and delicious? Right this way.
A.RICARDO / Shutterstock.com
Celebrity: Kimye Went Waffle, Beyonce Went Green
Kim Kardashian failed to break the Internet with her naked body, but this month somehow managed to crack Twitter in half by… getting waffles with Kanye, Chrissy Tiegen and John Legend after the DirecTV Superbowl party. They fit right in!
 
Beyonce, that perennial Grammy damsel in distress, launched a vegan delivery service with her trainer, Marco Borges. 22-Days Nutrition is inspired by Bey and Jay Z's cheese- and meat-free cleanse/sad winter of 2013. Queen B wore a "KALE" emblazoned sweatshirt on a balcony, and Jay-Z… cried for cheese inside. 
<a href="https://www.facebook.com/getfoodsniffer" rel="nofollow" target="_blank">foodsniffer</a>/facebook
Tech: Drones Got 1099s, Your Nose Got Fired
Food delivery got sinisterly sophisticated this year, with drones delivering everything from sushi to champagne and candy, but it just went next level with the news that the machines may soon look you in the eye, with whatever they have for eyes, while refilling your water glass and bitching about Europeans not tipping. Drone servers  - they're here.
 
Also in tasty tech: The electronic food sniffer was unveiled, meaning that there is now absolutely no reason to get food poisoning. Really there wasn't before because you could always label your food, but whatever. 
Weird: "How Do You Like Your Eggs?" Got Complicated, Brisket Got Kidnapped
No sooner had scientists figured out how to unboil an egg than some not-scientists came up with the reverse-boiled egg. The process for achieving yolk on the outside and egg white on the inside involves a pair of stockings and spinning at high speed. So we have to wonder… what exactly was going on that morning?
 
Barbecue joints found out the hard way that nothing, not skyrocketing meat prices nor giant padlocks, will keep a Texan from his brisket. The Billy the Kid of beef has struck three times so far, including one haul worth $2,500. 
HBO/Helen Sloan
TV: GoT Got Dinner, Cinnabon Called Saul
When they're not beheading/be-wanging each other, Game of Thrones characters feast like champs. So there was a virtual stampede to join a King's Landing-themed dinner in London, where pop up-restaurateur, The Wandering Chef, laid on courses such as "The Lies of Tyrion Lannister and His Proclaimed Innocence." Beyonce-friendly options were likely very limited.
 
Cinnabon orchestrated the sweetest product tie-in of all time with Better Call Saul. Its star's life plan, uttered in an episode of Breaking Bad – "If I'm lucky in a month from now, best-case scenario, I'm managing a Cinabbon in Omaha." – inspired free treats, in Saul-themed packaging.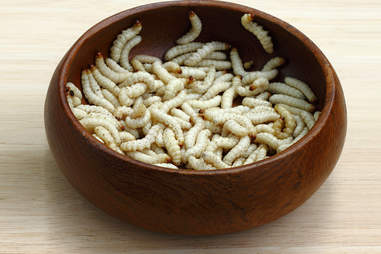 <a href="http://www.shutterstock.com/gallery-1262374p1.html" rel="nofollow" target="_blank">Wanchai Orsuk</a>/Shutterstock
Creepy: The Health Department Was Thrown a Giant Curveball
Tofu was not not weird to begin with, but it got significantly more so when graduate students at Cornell University made some out of mealworms. That may sound gross today, but the minute the ever-growing population sparks the protein wars (working title for The Hunger Games), you'll be heaping it on pad thai.
 
And if you needed further evidence that munching on things you'd usually trap in a glass and take outside is de rigueur, Le Cordon freakin' Bleu just endorsed bug eating. Sure, they were playing to the home crowd by hosting a seminar in Thailand, where fried insects are like Doritos ranch, but mark our words, beetle butter is happening.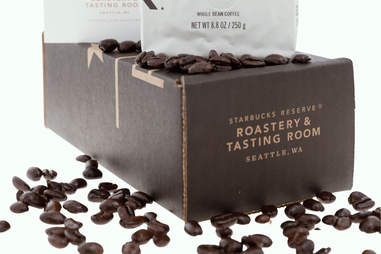 Courtesy of Starbucks
Coffee: Starbucks Went Mobile, Keurig Got Conned
You know how you really can't do anything without coffee? Starbucks struck the major task of leaving your apartment off the list by launching their much-anticipated home delivery subscription service for specialty coffee. You still have to make it, but you've got this. You really have.
 
Coffee is good for you, but sometimes it still tastes terrible, which is all the more reason to hack your Keurig with the Freedom Clip, the coffee equivalent of Napster. It tricks the coffeemaker's sensor/fun policeman into thinking your counterfeit K-cups are legit. 
<a href="http://www.shutterstock.com/gallery-105328p1.html" rel="nofollow" target="_blank">Joshua Resnick</a>/Shutterstock
Burgers: Not Just for Christmas
PYT, "Home of America's Craaaziest Burgers," launched the most insane Groupon deal ever in New York and Philadelphia: a cheeseburger a day for a year, at a price that works out to 39 cents per burger. As we all know, you can't get too much of a good thing. Note: That is patently untrue.