Kentucky Expat Chefs Share Recipes for Their Favorite Derby Bites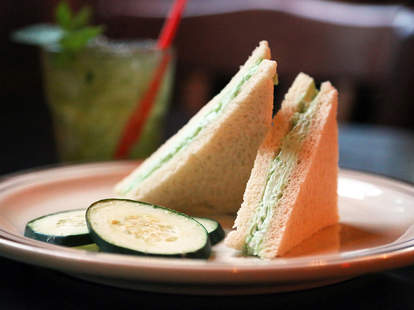 Shutterstock
Stephen Barber, the executive chef of Farmstead at Long Meadow Ranch in Napa Valley, says Derby Day was a big deal when he was growing up. "As a kid, I remember the food and the smell of mint in the air," he recalls. "My mom always made deviled eggs, country ham biscuits and these bourbon-spiked chocolate pecan morsels known as bourbon balls."
 
Kentucky Bourbon Ball
INGREDIENTS:
2 cups pecan halves
2 cups shortbread cookies, crushed into crumbs (about 10 oz.)
½ cup plus 2 tablespoons heavy cream
4 tablespoons light corn syrup
2 tablespoons honey
9 ounces bittersweet chocolate, finely chopped
2 tablespoon, plus 1 teaspoon bourbon
1 vanilla bean
¼ cup sugar
DIRECTIONS:
Place pecans on a baking sheet and toast in the oven for 10 minutes at 350 degrees until fragrant. Set these aside and allow to cool.
Chop one cup of the pecans into small pieces and add to the shortbread crumbs in a large bowl. Set aside.
In a small saucepan, heat together the cream, light corn syrup, and honey. Bring to a boil and pour over the chopped chocolate in a bowl. Let stand for one minute and mix to combine. Pour this mixture over the shortbread and pecans, and add the bourbon. Mix thoroughly.
Chill mixture for one hour in the refrigerator.
While mixture chills, slice a vanilla bean in half and scrape out the vanilla inside. Add to the sugar and mix together. Chop the remaining pecans finely and add to the vanilla-sugar. Set aside.
Form the chilled crumb mixture into small balls with a teaspoon and roll them through the pecan-vanilla-sugar. Enjoy immediately or store in a sealed container for up to 5 days. 
Adam Larkey
"My grandmother lived down the street from Churchill Downs and worked in the gift shop for 15 years," recalls Brian Vaughn, the chef and owner of Bistro CV and LOW in Steamboat Springs, CO. "As a kid and teenager I'd be watching the race from the infield and as I got older would join my parents in the grand stand." Both of Vaughn's parents are Kentuckians -- his mom's side was in the bourbon business; his dad's side were tobacco and dairy farmers. He says time on the family farms has definitely influenced his cooking, especially the Southern-inspired menu at Low.
 
Southern B.L.T.
INGREDIENTS:
4 avocados, seed and skin removed
1 ounces lime juice
¾ ounces lemon juice
¼ ounces buttermilk
¼ ounces raw garlic
1 jalapeno, seeded
Salt
6 ounces cheddar cheese
4 ounces Dukes mayonnaise or aioli
12 ounces canned pimientos, drained
¼ ounces hot sauce
¼ ounces Worcestershire
4 ounces cream cheese
2 cups panko
2 cups cornmeal
¼ cup ranch dressing powder
2 cups buttermilk
5 eggs
5 green tomatoes
Canola oil
1 pound pork belly
¼ pound of kosher salt
¼ pound brown sugar
DIRECTIONS:
For the avocado dressing: blend the avocados, lime juice, lemon juice, buttermilk, garlic, jalapeños, and salt in a food processor.
For the pimiento cheese: place the cheese, mayonnaise, pimientos, hot sauce, Worcestershire sauce and cream cheese into a mixing bowl over a simmering pot of water to make a double boiler.
As the cheese starts to melt, whisk all ingredients together.
Transfer to a container to cool.



For the fried tomatoes: Whisk buttermilk and whole eggs together and set aside.
Dry mix the panko, 1 ¼ cup of the cornmeal and ranch powder together and reserve.
Punch circles or any desired shape out of the green tomato slices.
Place all of the green tomato in the remaining cornmeal, then continue to bread the tomatoes with buttermilk first and finish with the ranch breading.
Deep fry in canola oil at 350 degrees for 3 minutes or until crispy.
For the pork belly: mix the salt and sugar together and completely cover the pork belly on all sides. 
Let the pork cure for 24 hours under refrigeration, then rinse thoroughly. 
Place the belly in a vacuum seal bag and cook sous vide for 48 hours at 67.5 degrees C. 
Cool in the fridge overnight.
Sear the pork in a cast iron skillet.
Grill pieces of sourdough.
To plate, place a dollop of avocado dressing, then place the grilled sourdough and a smear of the pimiento cheese over it.
Place the pork belly on top of the grilled bread.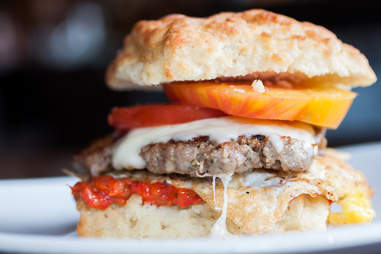 Courtesy of Tom Douglas Restaurants
Born and raised in Kentucky, Stacy Fortner, the executive pastry chef at the Tom Douglas empire of restaurants in Seattle says her favorite part of Derby weekend is that the local bars stay open until 6 a.m. "It's the busiest weekend of the year, but I could always work all night and still go out and celebrate," she recalls. Her biscuits are perfect on their own or stuffed with fried chicken. They also make for an excellent post-Derby day breakfast sandwich, stuffed with fried green tomatoes, eggs and bacon. (This recipe is originally from The Dahlia Bakery Cookbook.)
 
Serious Biscuits
INGREDIENTS:
2 ¾ cups all-purpose flour
1 tablespoon baking powder
1 teaspoon baking soda
1 tablespoon kosher salt (see note)
1½ sticks (6 ounces or ¾ cup) unsalted butter, cold, cut into ½ inch dice, plus a little more melted butter for brushing
1 ½ cups buttermilk, cold
DIRECTIONS:
Preheat the oven to 475°F.
In a large bowl, using a whisk, combine the flour, baking powder, baking soda, and salt.
Add the cold butter to the bowl, and using a pastry blender, two forks, or your fingertips cut the butter into the dry ingredients until the butter is the size of peas.
Add the cold buttermilk and use a rubber spatula or both hands to mix the dough until everything is just combined. Do not over mix.  
Scrape the dough out onto a lightly floured work surface and knead 4 or 5 times, just until you have a smooth surface area on top.
Use your hands to shape the dough into a rough rectangle, then use a rolling pin to roll out the dough to a rectangle with a ¾ inch thickness.  
Use a knife or metal bench knife to cut the rectangle into 2½ inch squares.
You should get about 10 to 12 biscuits.
Place the biscuits on parchment lined baking sheets, spacing them about an inch apart. Brush the tops of the biscuits with melted butter.
Put the biscuits in the oven and bake until golden brown, about 13 to 14 minutes, rotating the pan halfway through the baking time.
Remove the pan from the oven and cool on a wire rack for a few minutes. Serve the biscuits warm.
David Kukin/Thrillist
"Appetizers are huge at Derby time," says Louisville-native Meghan Love, co-owner of Mable's Smokehouse & Banquet Hall in Williamsburg, Brooklyn. "Let's face it, we mostly drink and wager, so we have very little time for a sit down meal and that's where the finger food comes in." She says her Louisville roots have influenced many of the passed hors d'oeuvres she and her husband Jeff Lutonsky prepare for weddings. Go-to apps include deviled eggs, pigs in blankets, crudités and dips and two finger sandwiches, usually Pimiento cheese and Benedictine. "It's funny, most people are familiar with Pimiento cheese in the South but Benedictine is a Louisville thing through and through. It was invented by a caterer in the late 1800's and is still a staple," says Love. The bright green dip is served on country white bread (the softer the better) with the crusts cut off. 
 
Benedictine Two Finger Sandwich
INGREDIENTS:
One cucumber
8 ounces of cream cheese
2 tablespoon mayonnaise
1 ½ tablespoon diced onion
Green food coloring
White bread
Salt and pepper
DIRECTIONS:
Grate one seeded and peeled cucumber through the larger holes of a cheese grater.
Squeeze it in a paper towel to remove excess liquid.
Combine with the cream cheese and mayo.
Mix in the diced onion.
Season with salt and white pepper.
Add 2 drops green food coloring and mix until smooth and color blended.
Spread onto soft white bread, cut crusts off and cut into fours.