Smokeless Indoor Grills Let You BBQ Anywhere, Anytime
You know that feeling when you try to grill brisket in your bathtub over an open flame and end up almost burning your house down? No? Well, one Knoxville, TN woman actually does, as she inexplicably set up a wood-burning grill inside her tub in the name of fresh, indoor BBQ.
Amateur pitmasters, there's an easier way. Not all grills need an open flame, nor do they all create the same amount of smoke as a 1970s diesel tractor trailer. There's a wide world of viable options for grilling in the great indoors. One example: the Kenyon portable SilKEN Grill (with knob control!). Like my favorite avenue, it's electric. There's zero smoke. Barely any smell. And it cooks a mean wiener.
It might seem like $800 is a steep price to grill in your home/office, but it's significantly less than a full bathroom remodel, right?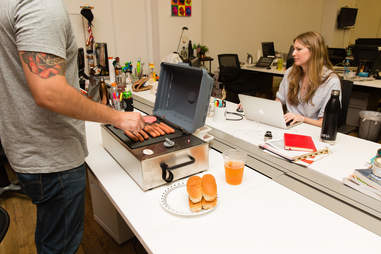 Cole Saladino/Thrillist
The big draw here? 1) The grill is astoundingly easy to use, clean, and maintain, and 2) there is almost no smell, even when roasting juicy burgers, dogs, or the occasional pineapple for your less meat-chill friends. It's perfect for open offices, lilliputian apartments (sup NYC?), or dorm rooms.
It comes with a nonstick grate, perched on electric coils, which are positioned over a drip tray you can fill with water or even beer for extra flavor if you're feeling saucy. The silicone lid smashes flat if needed, plus it adds a space-age feel to the entire operation. If your place of work has a suggestion bin, box, or empty Pringles can -- you might want to print out this article and cram it in there. Office morale will undoubtably double when you are double-fisting hot dogs.
An indoor grill like the Kenyon is optimal for in-office cookouts while chugging away at your 9-to-5, or winter-time grilling in your dining room while the weather outside is frightful and all you want is a cheeseburger.
Cole Saladino/Thrillist
Grilling season hasn't ended yet. And it never has to. I mean it technically does, calendar-wise, but you can still grill shit. Which is what really matters.
As for the bathtub brisket cooker, she was fine (the fireman just turned on her shower... duh), but sadly, according to Knoxville Fire Department Capt. D.J. Corcoran, "The tub and the brisket were a total loss."
Don't let it happen to you.
Sign up here for our daily Thrillist email, and get your fix of the best in food/drink/fun.
Wil Fulton is a staff writer for Thrillist. He's the office grill guy. It's better than his last nickname. Follow him: @wilfulton.