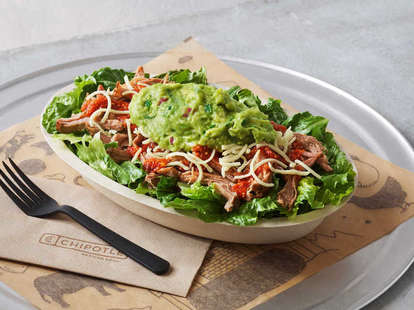 Courtesy of Chipotle
Courtesy of Chipotle
It's not always easy to craft a tasty home-cooked keto meal. Perhaps the stress of day-to-day life has conflicted with your astute meal-planning habits. Or maybe you're on a long road trip where fast food is not only customary but, quite frankly, one of few options. Or maybe—just maybe—you are completely over the same chicken breast and broccoli lunch you've prepared five times this week and are craving the efficiency (and grease) that only a fast food meal can truly supply. Luckily, many adaptable fast food menus provide keto-friendly options that are quick, easy, and low-carb. Oh, and delicious.
For anyone unfamiliar, a ketogenic diet—also known as the keto diet—is a low-carb, high-fat diet that many rely on for weight loss and health purposes. By drastically reducing one's carb intake, a keto diet shifts the body into what is known as a ketosis, a metabolic state where fat is burned for energy rather than typical carbohydrates. When done correctly, a keto diet may supply surprising lifestyle changes... all while upping your bacon intake. And what food group is more bacon-friendly than fast food?
To get the most bang for your ketogenic buck at the drive-thru, hit these 14 joints. Hold the bread, rice, and fries.
Chipotle
It's easy to make a Chipotle bowl keto appropriate; just swap out your rice and beans for Chipotle's brand new cauliflower rice or nutrition-dense super greens and get yourself a hearty and satisfying salad. You can even add a dollop of guac to get those healthy fats you need in a ketogenic diet and throw on some queso for extra richness. In fact, Chipotle launched a bowl specifically for those participating in keto that has those exact ingredients. Either way, forgo the corn salsa—the tomato salsa is a better choice—and you'll be good to go.
El Pollo Loco
El Pollo Loco is continuing to support customers devoted to the keto diet with both a keto-friendly burrito option and a hearty double chicken avocado salad. As the name suggests, the salad is crammed full of flame-kissed chicken with a healthy spread of avocado, pico de gallo, corn, and cotija cheese—all on a bed of lettuce and super greens. The burrito consists of grilled chicken, avocado, super greens, a creamy cilantro dressing, red cabbage, and pico de gallo, all wrapped in a keto-friendly tortilla.
In-N-Out Burger
For all you West Coast keto-dieters, In-N-Out's secret menu has keto options that are honestly just as good as its regular menu stuff. You can make any burger keto-friendly by ordering it "protein style," thus swapping out the spongey buns for a crisp lettuce wrap. If veggies aren't your thing, order off the secret menu with the "flying Dutchman," which is just two patties sandwiching two slices of gooey cheese. Whatever the craving, make sure you skip the Animal Sauce and stock up on napkins because it's going to be a little bit messy.
Jersey Mike's
Jersey Mike's already has a fun, rhyming name for its bun-less subs: a sub in a tub (or a bowl, to be more accurate). Go for cold cuts, a Philly cheesesteak, or a BLT. Abstain from its saucier proteins—like the BBQ beef, chipotle chicken, and teriyaki—which have a surprising carb count due their sugar content.
KFC
Although KFC is renowned for the Colonel's crispy fried chicken, its batter unfortunately adds 8-11 net carbs for just one medium-sized piece. That being said, KFC can still be a keto-friendly spot to hit up when ordering Kentucky grilled chicken. Add a side of green beans—the only side that aligns with a keto diet—and you've got a well-rounded, solid meal.
Burger King
If you have a craving for a Whopper, or even an Impossible Whopper, but are bummed out by your keto diet, just know there's no need to miss out. You can make any Whopper—and even any of the chain's burger choices—keto by skipping the bun and ketchup. If anything, you should opt for a bacon king without the bun and feast on the glories of two savory patties, two slices of cheese, and tons of bacon.
Panda Express
OK, so Panda Express isn't exactly the most low-carb-friendly option out there. It turns out eating tons of rice and chow mein isn't exactly low carb, but I had to include some options because Panda Express is delicious and I don't want to prevent anyone from missing out. Instead of getting rice or chow mein, definitely choose steamed veggies as the base of your meal or super greens, which features kale, broccoli, and cabbage tossed in a wok with garlic. The most keto-friendly main courses include the teriyaki chicken sans sauce or the string bean chicken—eaten in moderation because that sweet and savory ginger glaze also has sneaky carbs in it.
Popeyes
Popeyes remains the best option for a fast food fried chicken sandwich, though that item is nowhere near keto-friendly. Fret not; even when ordering keto-friendly dishes, the food is amazing. The chain's blackened chicken tenders have only two net carbs but are an explosion of spices and the flavors you know and love from Popeyes. Drown them in some of its classic Louisiana hot sauce for an extra kick and thank Popeyes for creating a batter-less chicken option. And if you're still feeling hungry post-tenders, get a side of the low-carb green beans. (Bonus: there are bacon bits scattered throughout.)
Subway
Eat fresh (and low-carb) at Subway by opting for a salad instead of a sub. You can even have most of your favorites—cold cut, Italian BMT, club, tuna—made into salads, which are tossed to order, ensuring everything is evenly dressed. Avoid the meatballs and sweet onion teriyaki, as well as overly sugary and creamy dressings, and you have a perfectly low-carb fast food option. Your best bet is salt, pepper, olive oil, and vinegar to really keep the carbs down.
Hardee's & Carl's Jr.
In 2020, Hardee's and Carl's Jr. began offering lettuce wrap burgers for those avoiding carbs in their diet. Some highlights include the Guacamole Bacon Thickburger Lettuce Wrap, which has a healthy dose of fats, thanks to generous dollops of guac and strips of bacon. You can also opt for a Jalapeño Thickburger Lettuce Wrap if you're seeking something spicy. Whatever your preference may be, Carl's Jr. and Hardee's will trade the bun for lettuce on any Thickburger order, so feel free to experiment and find your favorite.
Taco Bell
Taco Bell loves you. You want a cheesy, beefy, fried calorific masterpiece? Taco Bell delivers. You want something a bit lighter, healthier? Taco Bell is down to bend over backwards and make all your low-carb dreams come true, thanks to its highly customizable menu. Opt for the power menu bowl and replace beans and rice with extra lettuce and guac for a protein-packed, fat-fueling dish. Or just build your own bowl with sides of protein, guac, sour cream, cheese, and lettuce. T-Bell's breakfast choices are also full of protein with eggs, bacon and sausage, and nacho cheese—just skip the potatoes and tortillas. The combinations and possibilities are endless.
Jack in the Box
Though a Sourdough Jack isn't quite the same without the sourdough, burgers at Jack in the Box can easily be made keto-friendly once one discards the bun (or sourdough bread). Jack in the Box also boasts about its variety of buttery burgers, which thankfully can also easily be transformed into a keto appropriate meal—once you nix the bun—full of one of the best ingredients of all time: butter. If beef isn't your thing, opt for the grilled chicken salad. If you're into breakfast, order the country scrambler plate without homestyle potatoes.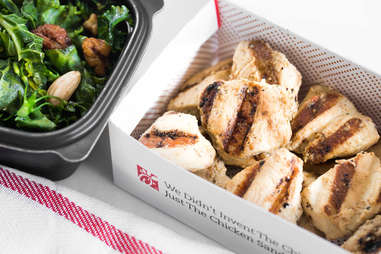 Chick-fil-A
Chick-fil-A's keto-specific menu makes ordering keto simple and efficient. Its keto-friendly menu offers items that all have less than 10g of net carbs, ensuring you stay on track while visiting the popular chicken chain. Some of the items are basic keto tweaks we already know and love—like having the grilled chicken sandwich without the bun, or the sausage, egg, and cheese biscuit sans biscuit. Other options include grilled chicken nuggets that pair beautifully with a side salad. The best part? Five of the chain's dressings, including the garlic and herb ranch as well as the avocado lime ranch, are low-carb.
Wendy's
Wendy's is awesome for keto diets because it already has delicious, low-carb salads available on the menu. Top that off with a Baconator, which is approximately half a pound of beef, cheese, and six slices on bacon—sans bun and ketchup—and you've got yourself a satisfying low-carb meal. If you're not feeling Wendy's fresh beef, you can also get a grilled chicken sandwich (without the bun, of course).
Arby's
You can still enjoy a lot of your Arby's sandwich favorites, just make sure you order it without the bun. For instance, the Bacon Beef 'n Cheddar, Triple Decker, and the Classic Beef 'n Cheddar can all be ordered sans bun, onion, red ranch and tomato. You'll get that roast beef craving satisfied while still maintaining a low-carb diet. Win-win!