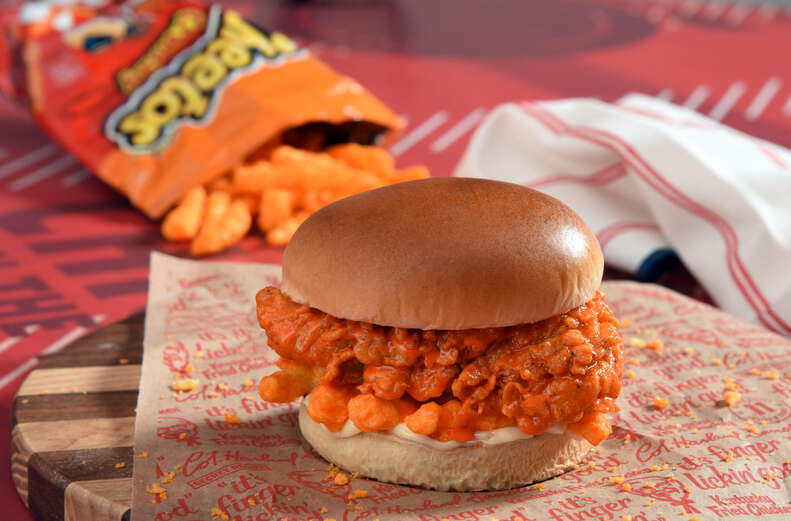 Is the KFC Cheeto Chicken Sandwich both dangerously cheesy and finger lickin' good? We found out.

| Courtesy of KFC
Is the KFC Cheeto Chicken Sandwich both dangerously cheesy and finger lickin' good? We found out.

| Courtesy of KFC
We Tried KFC's New Cheetos-Stuffed Chicken Sandwich to See if It Was Good
We wish there was a version made with Hot Cheetos.
Chester Cheetah and Colonel Sanders have been plotting. The pair have come together to give America something we didn't know we needed: a fried chicken sandwich made with a Cheetos-glaze, mayonnaise, and a generous heaping of crunchy Cheetos, all between a soft, white bun.
The alliance between cartoon big cat and colonel was first tested at KFC locations in Virginia, North Carolina, and Georgia and is set to arrive at a KFC near you starting July 1. In honor of the nationwide expansion, we decided to see if this collaboration was, in fact, both dangerously cheesy and finger lickin' good. Here's what we thought:
The Texture
Every good chicken sandwich must start with… good chicken. For the Cheeto sandwich, KFC uses their "Extra Crispy" chicken filet which, to be honest, wasn't that crispy? Maybe it's because it's sitting on top of extra crunchy Cheetos so I couldn't necessarily identify where the crunch was coming from, but the chicken filet was just fine -- juicy and hot, but not shockingly crispy or anything.
The added crunch of Cheetos was great -- a perfect ratio to the chicken patty. It didn't feel like I was eating a Cheeto sandwich with a side of chicken. The layer of mayonnaise was enough to keep the sandwich moist and juicy, and the Cheetos glaze on top of the chicken really was cheesy. I wouldn't say dangerously cheesy, but it definitely added that punch of cheese you get from eating a bag full of Cheetos.
The Flavor
Every textural element you'd want out of a sandwich was there: hot and juicy chicken; sweet, soft bun; creamy mayo; crunchy chips. But the flavor was a bit one note. It was just salty and cheesy in every bite -- there was no escaping the all-consuming taste of Cheetos dust. I would have loved to find some reprieve from the neon orange flavoring in the form of tangy pickles or hot sauce -- basically anything with acidity to cut through all the fat and salt.
About halfway through my sandwich, I ended up spooning clumps of chili crisp over the chicken filet to have something else to combat the all powerful Cheetos cheesiness. And it worked! It tasted infinitely better with an added layer of spice. It's just hard to keep powering through bite after bite of unending Cheetos cheese-flavor.
The Verdict
This sandwich isn't a complete revelation or anything: People have been shoving chips of all varieties between meats and bread for forever to add crunch. I didn't feel like I was partaking in some extreme innovation like I did with Taco Bell's Doritos-dusted Locos Tacos -- just a tasty, but overly cheesy, chicken sandwich that rings in at $4.79 ($6.79 if you get the combo).
However, with the rise of Tennessee hot chicken and the cult-like following of Hot Cheetos, I'm wondering if KFC has any spicy variations up their sleeves. I'm picturing a crispy chicken filet, chile oil derived from Hot Cheetos, Hot Cheetos crumbles, and a refreshing slaw or pickles. That would be finger lickin' good -- and something I would 100% get behind.
Sign up here for our daily Thrillist email, get Eatmail for more food coverage, and subscribe here for our YouTube channel to get your fix of the best in food/drink/fun.
Kat Thompson is a staff food writer at Thrillist who will always opt for Hot Cheetos over regular Cheetos. Follow her on Twitter @katthompsonn.