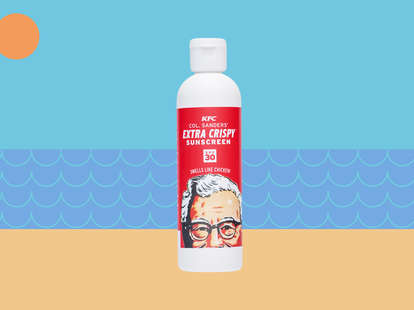 KFC/Oren Aks/Thrillist
KFC/Oren Aks/Thrillist
You know how after you eat fried chicken, you just want to rub your greasy hands all over your body and smell like it for the rest of the day? Us too! Which is why it's so great that KFC just released a 30-SPF sunscreen that smells like a 12-piece bucket meal. A super-weird infomercial with George Hamilton (grandfather of Alexander?) that explains the benefits of fried chicken sunscreen accompanies the drop.
Col. Sanders' Extra Crispy sunscreen went on sale on the website this morning where it was instantly snapped up, presumably, by fans of the company's previous stunt, edible "Finger Lickin' Good" nail polish.
The website vehemently says the sunscreen is inedible, but there are more important things to worry about right now than whether it can be consumed:
Sign up here for our daily Thrillist email, and get your fix of the best in food/drink/fun.