Missed your chance at a KFC chicken bone necklace or drumstick corsage? Fear not, 'cause the weird Colonel Sanders swag keeps on coming with new fried chicken keyboards, mouses, and USB drives, courtesy of KFC Japan.
The office set is all part of a special Colonel's Day celebration. Fans who follow KFC Japan on Twitter can post a link to the promo page with the hashtag #KFCColonelsDay (only, you know, in Japanese) for a chance to win. Both the mouse and USB drive are shaped like a KFC drumstick, while the keyboard has plastic pieces of all kinds of chicken, along with a mini Sanders and bucket watching from the top of the board. (There are also drumstick earrings, so you can knock your 2015 Valentine's Day gift out super early.)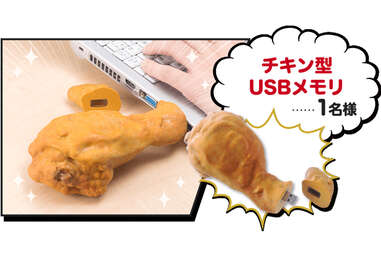 The giveaway is running until September 24th, but it's only open to people who actually live in Japan. Luckily, you already established residency for those Krispy Kreme donut sundaes.
Kristin Hunt is a food/drink staff writer for Thrillist, and would like a mini Sanders to guard her desk. Follow her at @kristin_hunt.