KISS talks their new restaurant, hot dogs, and saving Cabo with beer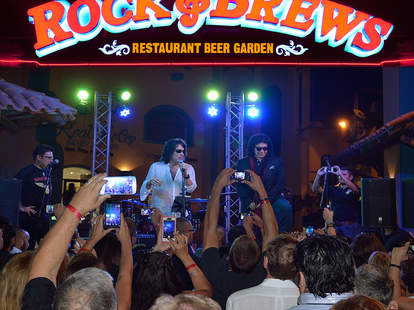 KISS isn't just one of the biggest rock bands in history: it's also an industry, with its army of fans eager to get their hands on anything the band touches, from video games to comic books, toys, movies, and clothing. And, of course, chicken wings, burgers, nachos, and beer. Because everyone -- including spacemen in platform shoes -- loves them some 'chos.
This month, KISS frontmen Gene Simmons and Paul Stanley -- the Demon and the Starchild themselves -- opened the latest location of their international Rock & Brews in Cabo San Lucas. But this, their second location in Cabo, faced some unexpected challenges. In September -- two months before Rock & Brews' grand opening on the busy, otherwise-Sammy-Hagar-dominated stretch bordering the city's marina -- Hurricane Odile hit the town, laying waste to buildings and leaving the popular vacation spot in tatters. Undeterred, the band and its partners stayed the course, keeping the opening date firm in the hopes of contributing to the city's recovery.
Sheraton Hacienda del Mar
That's right, KISS is jumping on the Cabo recovery effort -- deemed Cabo Unstoppable -- and working with local businesses and farmers while they make their mark on the city as it recovers from a disaster. To get a better idea of the effort -- and KISS' take on food in general -- I joined the two rock icons at the sprawling Sheraton Hacienda del Mar Resort (one of the only big resorts fully functioning after the storm) as they met fans, hosted their grand opening, and got the keys to the city at a food fest. Also, we talked about hot dogs.
Here's what we learned on a whirlwind tour of Cabo hosted by two rock legends.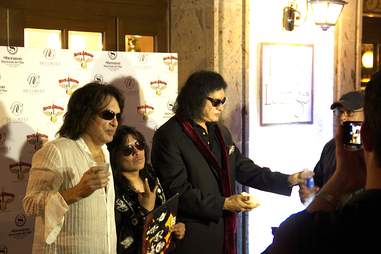 Andy Kryza
They seem pretty serious about helping Cabo
While chilling at an oceanfront meet-and-greet, a local media guy mentioned that he was curious as to whether the KISS dudes were serious about being part of the community. Then he mentioned Sammy Hagar, because you can't go five minutes in Cabo without Hagar coming up.
For their part, Stanley and Simmons seemed pretty sincere in wanting to help Cabo recover, saying they wanted to be good neighbors in a place they frequent.
"Everything we do in life is based upon our passion and determination. Here you have a community of determined people who are rebuilding from devastation," Stanley told me. "We join them in our commitment in doing our part. We'll add to the community by giving jobs, by featuring local produce. When you're a phenomenon like Rock & Brews, going into an area can be seen as pillaging. We're very conscious of where we are."
"There was a lot of devastation. [This helps] make it better," Simmons added. "It's hopeful. People think once devastation hits, that people forget about you."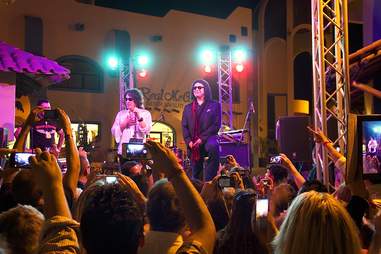 Andy Kryza
You can just walk into a Rock & Brews kitchen willy nilly
Simmons -- a pretty pragmatic and insanely intense businessman who also really likes talking about Montezuma's revenge in extreme detail -- says that any time you want to do quality control at one of the worldwide Rock & Brews locations, you can just cruise into the kitchen... whether you're in Cabo, Japan, LA, Orlando, or any other current or future location.
"You can walk into the kitchen at any time. Absolutely," he says. "The floors are spotless. You can see them tasting, and if something's not good, they throw it out. You can walk through any time. You don't need an invitation."
 
Paul Stanley really likes hot dogs
Having addressed less important stuff like economy building and giving back to the community, our conversation quickly turned to more important topics: mainly hot dogs. Stanley, despite being in tremendous shape (fun fact: he does a ballet-based workout regimen), really likes to eat, claiming "there's very little in life besides good wine, good food, and good health."
So is he a New York guy, a Chicago guy, or a Detroit Rock City guy? Well, none of the above:
"I love a great hot dog. Chicago has some great hot dogs. But for my money, the best hot dog... there's a deli in Beverly Hills called Nate 'n Al's that has a hot dog called 'the special'. It's just out of this world. I would say that's the best hot dog I've had. Some of the simplest pleasures are the best."
Yes, there is a Chicago dog on the Rock & Brews menu.
Andy Kryza
Cabo's one-upping its American counterparts in the food-fest department
Food festivals are great and all, but they mostly involve standing in line for small bites and sips of wine all day. At Sabor a Cabo -- where KISS got the keys to the city -- things are a little different. First, nearly 40 chefs serve up mostly full plates ranging from traditional Mexican BBQ roasted underground to fresh ceviche and slow-cooked pork belly. Oh, and the drinks? Full pours, or full bottles to take with you... plus cocktails.
And while most fests are content with a DJ quietly providing a soundtrack, Sabor booked La Ley, a Grammy-winning group that's one of the bigger bands in the region (currently on a reunion tour). The cost for the whole shebang? $125-$165... all benefiting relief efforts.
Yeah... maybe we could take a cue from that. Alas, KISS didn't join them on stage, though Stanley could be spotted making the rounds to most of the booths. Sadly, there were no hot dogs.
Andy Kryza is a senior editor on Thrillist's Food & Drink team, and had a really hard time not making "lick it up" jokes on this trip. Follow him to more restrained classic rock humor via @apkryza.