The One Thing Not Enough People Keep in Their Kitchens, According to Chefs
We've surveyed great chefs from across the country about the one thing not enough people keep in their kitchens. Here's what they said.
You might think your kitchen has everything you need: a fridge full of food, a few knives, olive oil, and seasonings. But just like John Mayer sang on his 2003 album Heavier Things: "Something's Missing." (Granted, Mayer was more concerned with how money, sex, and fame don't lead to fulfillment, but we digress.) As it turns out, something's also missing from your kitchen, from that one tool that'll save you time and energy, to that one sauce that can deliciously transform every dish you prepare. We've surveyed great chefs from across the country about the one thing not enough people keep in their kitchens.
Meat thermometer
"My most treasured kitchen possession is, hands down, my meat thermometer. This is an essential tool whether you're cooking, roasting or grilling any type of meat or poultry. There are tons of brands, but I like the Thermapen because it's fast, accurate, and waterproof. It's great to make sure you don't overcook your meat. It's important to use when cooking a roast to make sure it's not overcooked. And it's great for sausages, which are great at 155 degrees, but dry at 175." -- Isaac Toups, chef/owner, Toups' Meatery (New Orleans, Louisiana)
White soy sauce
"The more I cook, the more I realize that it's the small things that make the biggest differences. White soy sauce is extremely lightly flavored and isn't as salty as you might think when you hear the phrase 'soy sauce.' I use it in almost everything. Red Boat Chef's Cuvée Fish Sauce is a close second." -- Mike DeCamp, chef/owner, P.S. Steak (Minneapolis, Minnesota)
Kitchen knife
"I'd recommend a high quality kitchen knife and a wet stone to sharpen it. Many people have cheap, dull knives -- if you purchase one good knife you'll never have to buy another one in your lifetime. I like MAC knives; the Japanese steel sharpens better and holds an edge longer." -- Barry Dobesh, executive chef, Steakhouse No. 316 (Boulder, Colorado)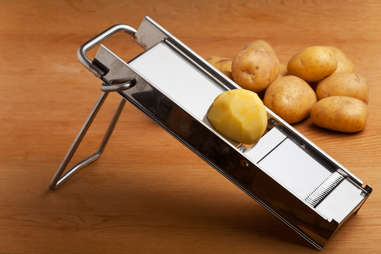 Mandoline Slicer
"A lot of people wonder how to achieve sexy cuts for their veggies, and a cheap Benriner Mandoline helps you get there. Don't waste your time getting the $80 mandolin at Bed Bath & Beyond. Get this one, and use it to get paper-thin slices on your radishes, julienne cucumbers, and more." -- Eric Silverstein, chef/owner, The Peached Tortilla (Austin, Texas)
"The Japanese Mandoline will simplify the way you cut almost anything. Just be careful with your fingers!" -- Santiago Gomez, chef, Cantina La Veinte (Miami, Florida)
Pure Mexican vanilla extract
"If you have a small budget but want to make a big impact on flavor, keep a bottle of excellent vanilla extract on hand. For many people, that means vanilla extract from beans sourced from Madagascar, but I recommend a pure Mexican vanilla extract. Real Mexican vanilla has a remarkably creamy, floral aroma that makes it absolutely stunning in beverages, ice cream, or baked goods. Penzeys Spices imports Mexican vanilla beans and makes the extract in the United States, neatly avoiding any difficulty with counterfeit or artificial vanilla." -- Katie Moseman, chef/cookbook author (Orlando, Florida)
"They're so handy and versatile. Not only are they reliable, but they have so many awesome attachments you can buy. Like a pasta roller, herb/spice grinder, meat grinder, etc. My non-chef friends are able to use it, too, when we get together for dinner at my place. It's great for the average person and happens to be my favorite piece of equipment in my kitchen!" -- Kevin Templeton, executive chef, Barleymash (San Diego, California)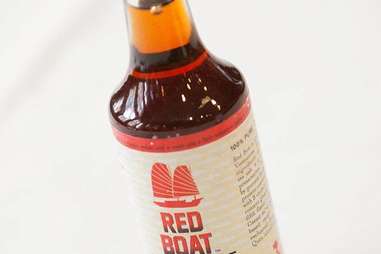 Fish sauce
"Everyone should keep fish sauce on hand. It's salty and pungent, and can add amazing flavor to fast, cheap meals. If you add fish sauce and an egg to instant ramen, it almost tastes like real ramen. It also makes Chinese take-out taste so much better." -- Justin Burdett, chef, Crook's Corner (Chapel Hill, North Carolina)
Nutritional yeast
"Nutritional yeast is a really cool and versatile ingredient worth keeping around; it has tons of umami cheesiness in the best way. You can try adding it to many recipes when you need a savory punch, or in lieu of salt altogether. Add it to pasta, eggs (as a condiment), or whisk into dressings and marinades for surprisingly effective results." -- Michael Scelfo, chef/owner, Alden & Harlow (Cambridge, Massachusetts)
Electric hand mixer
"I like having an electric hand mixer handy and believe most people don't keep one stocked. You don't need an expensive brand, and it really saves time mixing. It's also useful for more than just baking -- you can quickly and easily make vinaigrettes and other dressings." -- Adam Biderman, chef/owner, The Company Burger (New Orleans, Louisiana)
Kitchen scissors
"Kitchen scissors are probably my favorite tool to use. I first understood the versatility of scissors while visiting friends in Seoul, eating at BBQ restaurants and slicing off strips off freshly grilled steak to share with everybody. I bought a pair of Joyce Chen Unlimited Scissors (highly recommended) and have used them daily for three years for everything from cutting nice herb pluches (segments) to deboning chicken to opening up Trader Joe's frozen berry bags and Amazon packages. Invest in a solid pair and stop stressing about sharpening your knives so much. Keep them visible on a magnet strip alongside the other tools that have suddenly lost their usefulness." -- Eric Sjaaheim, chef de cuisine, Fat Rice (Chicago, Illinois)
Tamari
"Everyone should have a bottle of low-sodium tamari in their pantry. It's a quality soy sauce that is usually gluten free too. It's not just for Asian food! Anytime you want to add a touch of umami -- that sixth flavor somewhere between sweet and salty -- a few drops of tamari does the trick. I add it any time I cook mushrooms, a drizzle atop salmon before broiling it, in any quinoa salad, in a bowl of grains along with olive oil, inside marinades, salad dressings, and more. I even use some in my avocado chocolate mousse to tie all of the other ingredients together. Just like the father in My Big Fat Greek Wedding advises spraying a little windex on skin to heal any wound, this is my advice for food: put a little of tamari in it!" -- Elana Horwich, chef/cookbook author (Los Angeles, California)
Pig lard
"The one thing I can't stand that people don't keep in their kitchen is pig lard. Anyone who doesn't keep this in their kitchen has no clue what they're missing out on. This very unhealthy bundle of joy should be in your refrigerator the second after you read this. This'll be helpful to the point that you'll want to marry it! [Editor's note: Thrillist does not condone making a lifetime commitment to lard.] Lard gives flavor to almost everything it touches. If you want to make excellent eggs in the morning, substitute your oil or butter for lard. You want to make great fried chicken? Melt lard and fry the chicken in it. But don't get too carried away -- we're talking about pig fat here!" -- Angelo Viterale, chef/owner, Ornella Trattoria (Astoria, New York)
Piennolo del Vesuvio tomatoes
"We always have Piennolo del Vesuvio tomatoes on hand at our home and in the restaurant. They're a small tomato from the Campania region of Italy and grown on and near Mt. Vesuvius. The flavors are very unique -- sweet and a bit tart with a rich mineral flavor. They require very little cooking and are quite versatile. We use them in tomato sauce, on our pizza, and also for bruschetta. They're perfect for the winter months when tomatoes are out of season. They can be found online and at some specialty Italian food stores." -- Jordan Frosolone, executive chef, 10 Corso Como Restaurant & Café (New York City)
Plancha
"One of the most useful pieces of equipment that can be used both in the home and a professional kitchen is a plancha. It's a ceramic or nonstick metal flat top 'skillet' that's perfect for cooking all kinds of meals at once without dirtying a single pan. My dad uses an Evo brand plancha at home on Sunday mornings to cook off two pounds of bacon, sausage, and sunny side eggs. He then turns around and uses the plancha to cook scallops and lobsters for 20 people for lunch. In a restaurant, I love using a plancha for fish, meat, and vegetables since I can cook everything on one surface and not have to use any pans. It's extremely efficient and functional." -- Travis Swikard, chef (San Diego, California)
Preserved fish
"If preserved fish like mackerel and tuna are in your pantry, it's a cinch to throw together a quick and outstanding pasta for dinner. The smaller fish are sustainable, low on the food chain, and full of good omega-3 fatty acids. They also have solid amounts of calcium and magnesium, which help regulate blood pressure and circulation!" -- Mary Sue Milliken, chef/co-owner, Border Grill (Los Angeles, California)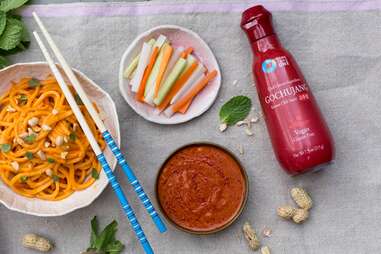 Gochujang
"Gochujang is a traditional Korean fermented red chili condiment with a slightly sweet heat and umami-rich flavor. My preferred brand is Chung Jung One, one of the OG Korean foods companies, in either the traditional tub or squeeze bottle. It's made with authentic Korean chili peppers and is easy to find in the Asian section of traditional grocery stores these days. Gochujang is a workhorse in my pantry -- and not only for Korean dishes. It's a great thickening agent with a fantastic kick of flavor. I love the combination of sweet and spicy that it adds to chili, braises, and barbeque sauces." -- Sohui Kim, chef/co-owner, The Good Fork (Brooklyn, New York)
"This book was given to me early on in my chef career and has proven to be an incredibly useful tool in pairing flavor profiles together while developing dishes. If you're a home cook and don't have access to an industrial walk-in cooler to find inspiration with different ingredients and raw foods, this book provides all of the essential ingredient pairings you will ever need to wow guests, significant others, and even yourself while planning meals at home throughout the week. It gives you raw information and doesn't plant the seed of someone else's inspiration for a dish you may want to make, like many cookbooks. The Flavor Bible is a home cooks 'ingredient sherpa,' and will take you to places you haven't been before." -- Nick Kayser, executive chef, Vesta (Denver, Colorado)
Cake tester
"One unexpected thing I've always had in my home kitchen -- and you should too -- is a cake tester. I know, it may seem silly or unnecessary from someone like me who can get my hands on virtually any kitchen tool, but years in professional kitchens have taught me to value this simple, multipurpose tool. And though I definitely encourage you to use it for its original job, it also comes in very, very handy to check proteins, veggies, fish, potatoes, baked goods, you name it. With a little practice, we learn to use it to cook steaks to temperature, and anyone at home can learn, too. It's a very handy tool and they only cost about $1." -- Adam Vero, executive chef, Hearth & Dram (Denver, Colorado)
Large mixing bowl
"Tossing anything in a bowl requires that the bowl is at least twice the volume of what you're tossing -- if you plan to keep most of it in the bowl. But its usefulness goes beyond just tossing salads, it helps contain anything that could be messy: making doughs and batters, coating vegetables in oil to roast, or soaking meat in a marinade. If there is potential that something could splash, the bigger the bowl, the better." -- Daniel Sharp, Executive Chef, The Meatball Shop (New York City)
Sign up here for our daily Thrillist email, get Eatmail for more food coverage, and subscribe here for our YouTube channel to get your fix of the best in food/drink/fun.
Lee Breslouer is a writer/editor based in Colorado, takes photos of things in his kitchen @LeeBreslouer, and thinks the one thing everyone should have in their kitchen is an Instant Pot. And a personal chef.