Photos courtesy of Two Hands; Design by Maitane Romagosa for Thrillist
Photos courtesy of Two Hands; Design by Maitane Romagosa for Thrillist
Jacob Woo of Los Angeles's Koreatown restaurant, Smile Hot Dog, traces the rising popularity of Korean corn dogs in the United States to K-dramas. "When you [watch] a lot of dramas and a lot of Korean movies, these corn dogs were appearing and I feel like that has had a major influence." It's true. Series like Start-Up and Run On, which can both be streamed on Netflix, include characters snacking on corn dogs that look slightly different from the American variety—both internally and externally.
"We use fermented flour instead of [cornmeal] to increase the texture of the taste—it's crispier and tastier," explains Michelle Youn, the vice president of Korean American corn dog chain Two Hands. Additionally, "the customer also has a variety of choices to pick [for] the filling inside of the [corn dog]." Instead of standard hot dogs, some Korean corn dog places replace the meat with gooey blocks of mozzarella cheese for an ultimate cheese pull.
Yes, strands of cheese oozing from a corn dog is enticing. But what's especially tantalizing about Korean corn dogs, however, is the external batter. Both Two Hands's fermented flour and Smile Hot Dog's rice flour version make for a crispier, less pancake-like coating. Instead of a liquid batter that sausages are dunked in, the Korean corn dogs are submerged in a stickier batter that clings and stretches, almost like a bread dough.
Both places roll their corn dogs in cubed french fries for a potato dog or Hot Cheetos and Takis for a spicier variation—which also makes for a good photo opp. At Two Hands, you can get a corn dog rolled in crispy puffed rice for added crunch, or soy bean flour for some nuttiness. At Smile, there's even a corn dog dipped in milk chocolate for an ultimate sweet and savory experience.
A french fry-coated corn dog may sound like the most American thing, but Korea is well known for its street food, innovation, and deep-fried delights. Take Korean fried chicken chain, Bonchon, for example: the KFC—Korean fried chicken—staple has more than 100 U.S. locations, as well as international outposts sprinkled throughout Southeast Asia. It is arguably better than anything the Colonel has cooked up.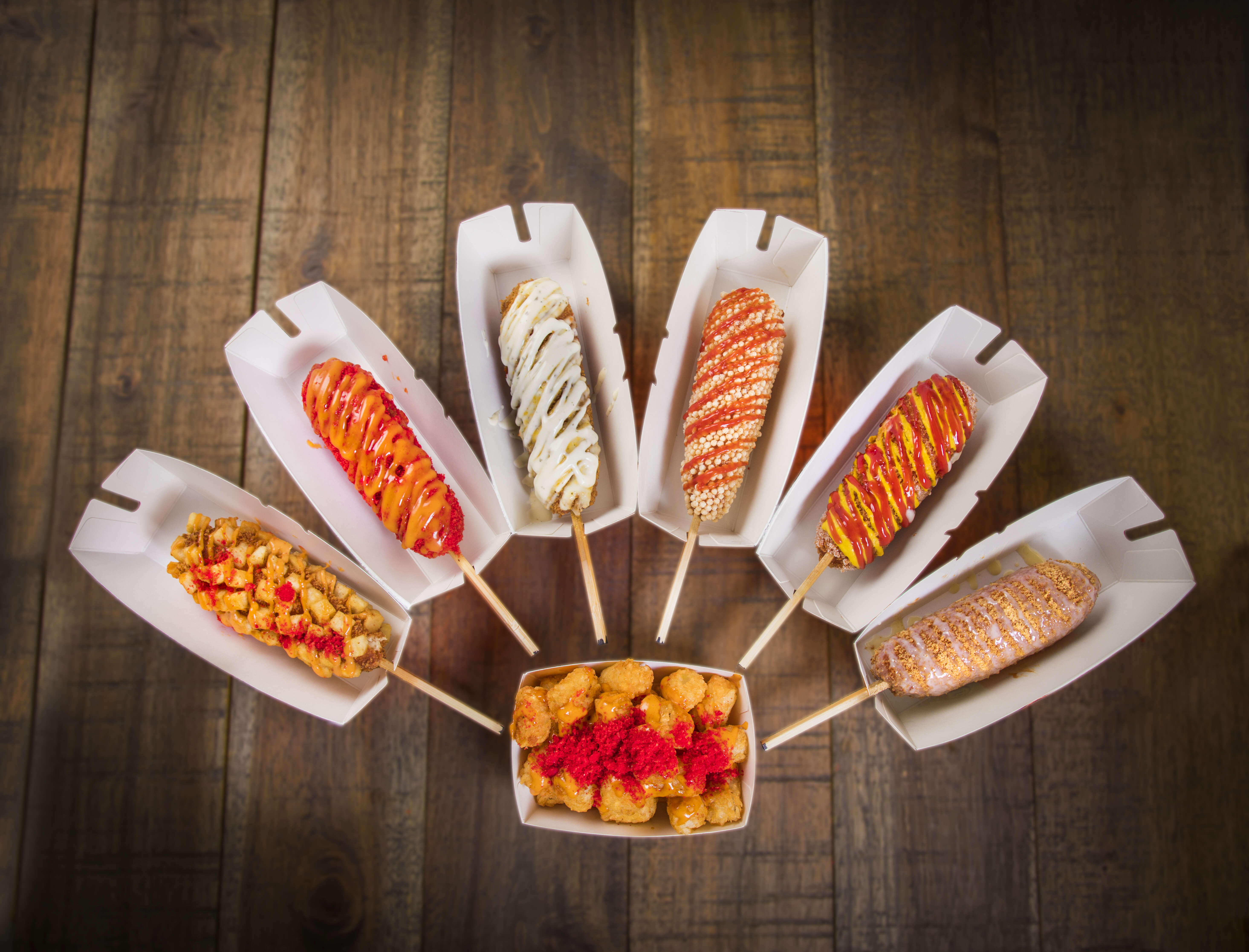 "Korean style corn dogs arrived in Korea around the 1980s as street food," Youn explains. "The reason for its popularity [is] its competitive price, delicious taste, [customizable options], and its availability to be a meal instead of being just a snack." Two-Hands took that popularity and opened its first store in November 2019. Now, the chain has 12 stores across Texas, California, Arizona, and New York—with plans to open over 40 franchises in the near future.
And it's not just Two Hands or Smile Hot Dog. There's Oh-K Dog, Mochinut (which also serves increasingly popular mochi donuts alongside Korean corn dogs), Holy Cow, and Myungrang, which are just the chains. Ma and pop shops are scattered throughout Koreatowns across the nation. It feels like a new Korean corn dog spot opens every day—and its influence reaches from Hawaii to New York City.
It makes sense. With the rapidly growing excitement for Korean pop culture—like the sold-out BTS McDonald's meal, a Selena Gomez and Black Pink ice cream flavor, and eruptions of Korean barbecue restaurants across the states—it was only a matter of time for the street food on a stick to receive its due.
"I feel like [corn dogs] are a perfect fusion between Korean culture and American food," Woo says. He touches upon Korean army stew and the influence American occupation has had on Korean cuisine. "But Korean corn dogs are more than just the food. It's about people getting immersed, being exposed, and learning about the culture—the story behind Korea." Woo smiles. "I think food is always a good learning opportunity."
Kat Thompson is a staff writer at Thrillist. Follow her on Twitter @katthompsonn.