The Ice-Cream Bar of Korean Childhood Dreams is Here to Win the Summer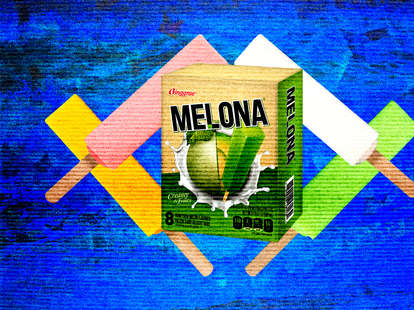 Suki Son remembers Melona bars served after meals at his mom's favorite Korean barbecue restaurant growing up in New Zealand. Yondje Choi recalls them as the only iced treat her father would have two of during hot French summers. Yohan Yun, who was born in South Korea and later moved to the Philippines, reminisces of sneaking a few Melonas into his bag on a night out at noraebang (Korean-style karaoke) in Baguio.

For generations of South Koreans all over the world, the 2.7-fluid-ounce melon-flavored ice cream bar is more than a frozen dessert -- it's childhood memories and ode to the motherland on a stick.

The Melona bar was released by Binggrae Co. Ltd. in 1992, a time when imported fruits were rare in South Korea. (Melons are still considered exotic and are sold at department stores as luxury gifts.) In the year leading up to Melona's launch, Binggrae's R&D team took a trip to Southeast Asia where they were inspired by fresh, juicy melons unlike anything they had eaten back home. Developers attempted to recreate that taste by stocking chamae (sometimes called the Korean melon) in the lab as they believed the sweet, yellow fruit was the closest you could get to its evasive, green cousin. The result was simple but strong and tasted like frozen melon-flavored milk, a melon creamsicle.

In the first year of its launch, Melona bars resulted in 21 billion won (approximately 18 million USD) in sales for Binggrae -- a legendary feat for an ice cream bar. Every year since then, the approximately 1,000 won (slightly under a dollar) treat has consistently been a top seller at convenience stores throughout South Korea. As a result of Melona's success, Binggrae has produced several spinoffs with honeydew melon, strawberry, coconut, mango, and banana flavors.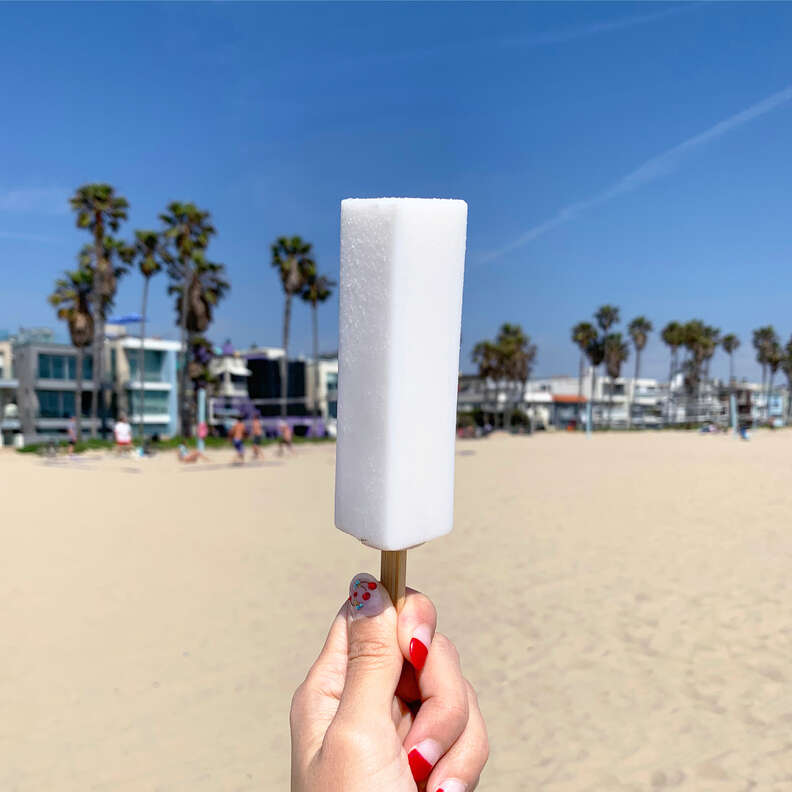 Melona became the first Korean ice cream bars exported to the United States thanks to Danny Kim and his father Paul Kim of Koha Foods (then called Koha Oriental Foods) in Hawaii. Danny first tried a Melona bar on a trip back to Korea in the mid '90s. "I remember being totally shocked by the flavor. It was so refreshing and unique," he says.
According to Danny, his father had a contact at Binggrae and played a large role in the bar's global success -- convincing them to create English-language packaging for the bar and encouraging them to try the bar in different flavors. "I would do food shows all over the country and pass out samples. People would take a sample, walk away, then immediately stop and turn back," Danny remembers. "I always knew it would do well."

Binggrae, which also produces coffee-flavored ice bar Summer Crush and red bean bar B.B.BIG, now accounts for 70% of South Korean's ice cream exports to the United States. A few years ago Binggrae partnered up with Lucerne Foods, becoming the first Korean ice cream to be produced in the United States and is now available at Safeways and Costcos across North America. The company says Melona bars are now distributed to over thirty countries in the world including Brazil, Argentina, Canada, Paraguay, New Zealand, Russia, Malaysia, Vietnam, Singapore, Cambodia, Thailand, Philippines, China, Taiwan, and various parts of Europe -- mostly in Korean supermarkets and retailers.

Binggrae says there hasn't been any research done on who actually consumes Melona bars, so it's hard to know how far the ice cream reaches beyond the Korean community. Could most of Melona's sales be from nostalgic Koreans overseas? It certainly seems like it.

Yohan Yun, who lives in the Philippines, says he can't say if they were popular among his neighbors, but it was special to him because he's Korean. "Growing up, my grandma would always send me on an errand to buy her Melona because it was her favorite ice cream," Yun says. "I did that for years until I moved at age 7 and at the time, the only way we'd have any Korean snacks was whenever my dad would bring them back from business trips. And he could never bring us back Melonas, obviously. Eventually, when Korean groceries started coming in and importing them, I was extremely happy."

Yondje Choi, who now lives in New York, says she goes wild for the Melona soju cocktail at K-Town's Pocha 32. She thinks about family summer vacations in Seoul and her father's coworkers in Paris who stock up on Melonas when he would be in the office. Suki Son says, to him, they're still "just a nice treat after a nice meal."
As Koreans snacks have become increasingly popular overseas, Melonas are gaining visibility in stores and restaurants around the world -- and on the almighty Internet, where you can learn to make your own Melona bar if you can't find one in real life.
Hahna Yoon is a Seoul-based journalist who writes about good places to drink coffee and records her conversations with strangers. In truth, she'll actually take a Screw Bar over a Melona any day. Tell her your favorite ice cream on Twitter @hahnay.