Krispy Kreme debuts cake batter donuts for your birthday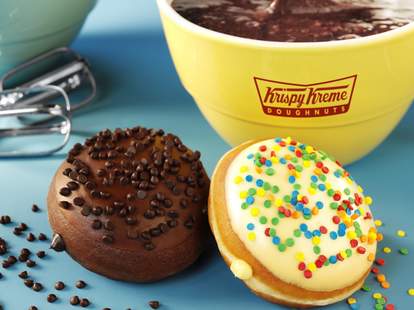 Krispy Kreme's limited-run donuts are a cause for celebration, but their new offerings really -- ugh -- take the cake. Beginning today, the beloved chain is offering up Birthday Cake Batter and Brownie Batter donuts. The Birthday Cake Batter has a yeast shell jammed with a mix of cream and birthday cake batter filling and topped with yellow icing and confetti sprinkles. Meanwhile, its counterpart is a chocolate yeast donut with brownie batter filling, chocolate icing, and mini chocolate chips (perhaps representing the real reason chocolate is getting so g-d expensive). Both limited-run treats provide you excuses to eat cake for breakfast, and that's cause for celebration.
Kristin Hunt is a food/drink staff writer for Thrillist, and believes all things should be filled with brownie batter. Follow her at @kristin_hunt.