Rejoice! Krispy Kreme Has a New Nutella Donut!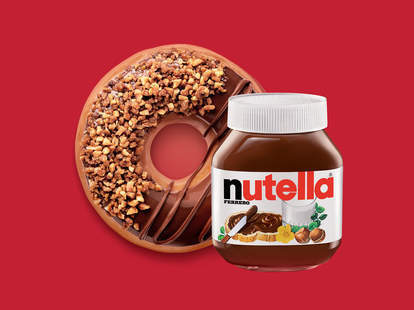 If you're not reading this from inside a Krispy Kreme, you might want to get your butt to one right now. That's because beginning today, December 16th, the donut chain is offering a Nutella donut in order to make your holidays around 100x better than they were previously.
For some reason, the pastry is not called a Nutella donut, but rather a Nutty Cocoa Ring. Regardless, it's a donut dipped in everyone's favorite hazelnut spread and covered in a chocolate icing drizzle. Don't worry, they also covered it in crunchy hazelnut pieces.
Now the only thing left to do is have Krispy Kreme bring its Reese's donuts to the dang USA. Why does Australia get all the cool donuts?! Well, aside from this Nutella one.
Sign up here for our daily Thrillist email, and get your fix of the best in food/drink/fun.
Lee Breslouer is a senior writer for Thrillist, and needs a dozen of these, stat. Follow him to all Nutella everything @LeeBreslouer.