How Kwame Onwuachi Became One of the Hottest Young Chefs in America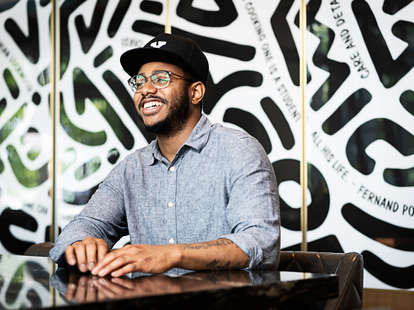 Kwame Onwuachi
Kwame Onwuachi
The movie montage version of chef Kwame Onwuachi's salad days would start in the Bronx, cut to Nigeria, cut back to New York, then Louisiana. There'd be expulsion, there'd be unsavory characters, there'd be hard (though not court-ordered) labor in an African village. But more than anything, there'd be cooking.
"Food has always been a part of me and my family," says Onwuachi, now 30. "My family is super diverse. We're Trinidadian, Nigerian, Jamaican, and Creole from Louisiana. So you'll see a slew of different types of cultures and dishes, and then my mother is a chef, so you may see beef stroganoff one day or a southeast Asian dish, depending on what she was craving."
Those diverse culinary influences and lineage eventually led Onwuachi to compete on Top Chef, open his first restaurant, land on the Forbes 30 Under 30 list and score a James Beard Award, write a book, and run the kitchen at DC's Kith/Kin.
As Onwuachi tells it, restaurants have been sewn into the fabric of his family for longer than he can remember. "After Jim Crow, even though Black people were allowed to eat at restaurants on paper, it didn't mean they were absolved from harassment," Onwuachi says. "A lot of people of color in the South would have their own things like juke joints in the back of their houses. They played music, they had convenience stores, and they had restaurants. My family was always a family that had restaurants."
Onwuachi would eventually get into restaurants too. But the years leading up to that were, to put it mildly, bumpy.
When he was 10, Onwuachi fell out with his mother and was sent to live with his grandfather in rural Nigeria for two years -- longer than the summer trip he was told it would be when he boarded the plane for Lagos. When he came home to New York, Onwuachi went off the rails. He started running around with a gang. He still managed to graduate high school, but within a few months of starting classes at the University of Bridgeport, he was expelled for dealing drugs.
Running out of options, he moved in with his mother in Baton Rouge, Louisiana, and got a gig working the kitchen on an oil spill cleanup boat in the Gulf of Mexico. His 40 patrons were hard and slicked in oil, his shifts were three weeks on with a week off, and the only other chef on the boat began their relationship by asking if Onwuachi could read.
"I was like, 'Excuse me, what part of the way that I'm speaking to you, the way I'm carrying myself, would make you think that I don't know how to read other than the color of my skin?'" Onwuachi says. "'So you're going to cook your meals and I'm going to cook mine.'"
After returning from his first week off the boat, that chef was gone. The crew told Onwuachi they kicked him out, saying Onwuachi's food was better. Eventually, the boat hired a replacement, but the main duties still fell to Onwuachi: He'd create the meal plans, order all the food, and put the other chef to work.
"That's how I became the chef of that boat," Onwuachi says. "It was only a two-man crew, but I was a chef nonetheless."
He was 19.
In 2010, Onwuachi left the boat, and the bayou, with a new dream: Start a catering business in New York City, Onwuachi's Coterie Catering, which he funded by selling candy on the subway. From there the hits kept coming: Culinary school; an externship at Thomas Keller's Per Se; working at Eleven Madison Park; competing on Top Chef's 13th season.
The next year, Onwuachi opened his own restaurant in DC's Shaw neighborhood where he went all-in on a 13-course tasting menu. It didn't last. But what came next was, so far, Onwuachi's best-known endeavor: In 2017 he opened Kith/Kin, an Afro-Caribbean restaurant with a menu that drew from his Nigerian, Jamaican, Trinidadian, and Creole roots.
That interest in preserving legacy is what led Onwuachi to his latest project: Partnering with Rémy Martin on a series of dishes and cognac cocktails that pay tribute to not just family, but history, and the importance of connecting around the warmth of food. For him, cognac is the perfect complement to the emotion he tried to capture in his recipes.
"[Cognac] has notes that I equate with summer," Onwuachi says. "You can make it your own. You can make that cognac base into a cocktail that really speaks to you."
For Onwuachi, part of the partnership is rooted in his own history. "In Nigeria, one of my earliest memories of Rémy Martin was sitting at this table we had, and in the middle of it was a Rémy Martin bottle with a fake rose protruding out of it," Onwuachi says. "It's rooted in family and it's a family owned business, and although it's this really big brand, they have this commitment to excellence that resonates with me in my life."
Onwuachi created four recipes as part of the partnership, each representing a different region of the country and a story he associates with each: a smoked hot dog for Chicago, where his mother grew up; elote and grilled tuna for California, which he drove at length for a pop-up supper-club project; Creole cognac barbecue ribs for the South, where his family's from; and grilled lobster, for the Northeast, where he spent most of his adolescence.
"When something has a story, it has a soul," Onwuachi says. "Same thing with a dish. You're not just cooking for perfect seasoning. You're cooking to share a memory. That's the only way I can get behind something. If I can't feel it, then there's no point in me doing it."
Earlier this year, Onwuachi left Kith/Kin for his next challenge: Owning his own restaurant. "I think you should always feel a little bit uncomfortable," Onwuachi says. "That discomfort is the seedling for change. I feel like, if I knew that I made it five years ago, then I wouldn't still be pushing. I would just stay at Kith and Kin forever. But I'm trying to continue to push myself so I don't ever feel that way."
While he quietly works on the next big thing, you can hear Onwuachi's voice in an ongoing conversation about diversity in the restaurant industry. He points to his own struggle and success as examples for young Black chefs who have been where he was. His advice to them: Keep going.
"It's really, really hard to have the mental dexterity and navigate through this racist world," Onwuachi says. "And it's not your fault if you don't want to continue. That's OK. But you only have one life to live and you choose how you want to live that. Just continue to push and continue to make strides and continue to learn and continue to grow and continue to be uncomfortable, and you'll be all right."