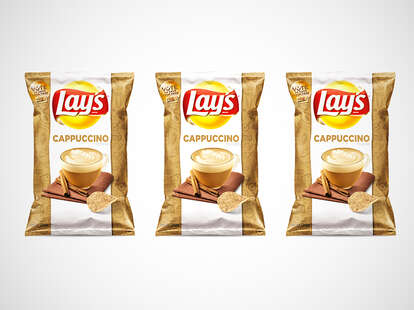 The annual Lay's Do Us a Flavor contest asks wannabe Edisons to invent the brand's next flavor, and, predictably, it draws out some weird picks. (Corned beef hash chips, anyone?) But one of those weirdos might be laughing all the way to the bank, as Lay's has selected cappuccino chips as one of its four finalists.
Later this month, fans can buy Cappuccino, Cheddar Bacon Mac & Cheese, Mango Salsa, or Wasabi Ginger Lay's chips in grocery stores, and then vote for their favorite through October 18th. The ultimate prize is $1 million, plus an extended national run for the winning bag. When Lay's started this contest last year, the victor was Cheesy Garlic Bread, which somehow trounced Chicken & Waffles and Sriracha in the final round. (Meanwhile, in Canada, stereotypes remained alive and well with a "Maple Moose" flavor.) This time, you have a chance to make things right, so be sure to vote like crazy for these coffee chips. Just kidding, obviously Cheddar Bacon Mac & Cheese is your candidate.
Kristin Hunt is a food/drink staff writer for Thrillist, and is still bitter about the Chicken & Waffles loss. Follow her to lingering resentment at @kristin_hunt.