This Upstart Chain Is Conquering California With Healthy Fast-Casual Fare. Is America Next?
The California chain is expanding, but will its high price point and seasonally changing, health-conscious menu translate nationally?
Editor's Note: This is the third edition of Too Fast Too Casual, a new review series where our National Writer-at-Large Kevin Alexander takes a close look at both classic and up-and-coming fast-casual chains. The rising fast-casual trend is defining how Americans eat today, and in this series we'll look at the food, history, decor, and branding of fast-casual chains to see what these restaurants are really trying to do, and where this is all going. Expect a new review up every Friday for the next few weeks.
"I see it, I want it." -- Lemonade (album)
"You place the order, we do the rest." -- Lemonade (restaurant)
The album Lemonade is by the Houston musician Beyoncé. The restaurants Lemonade are by the Los Angeles chef Alan Jackson. Both are wildly ambitious, slightly polarizing, and prominently feature hot sauce in easy-to-access places (swag).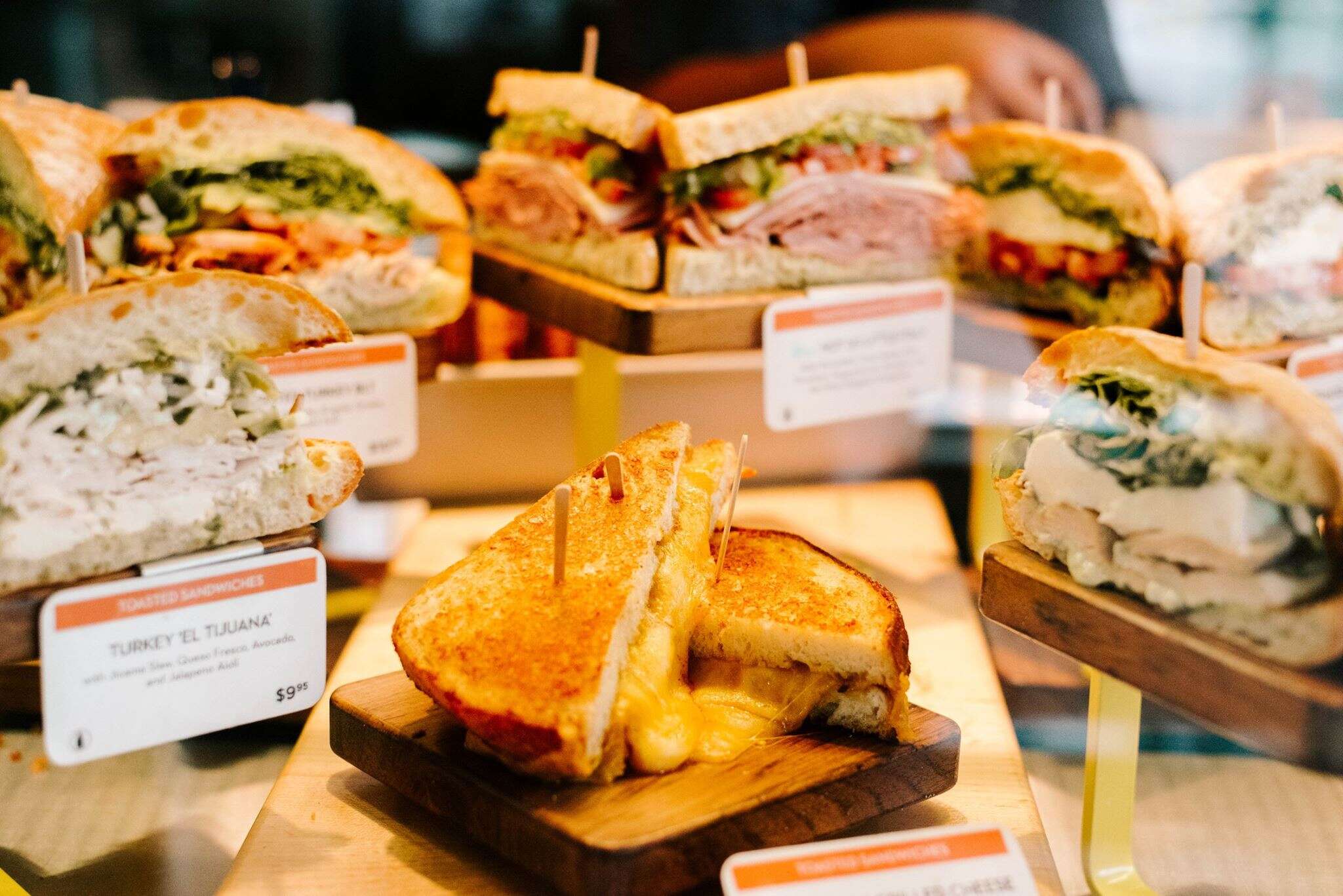 Where did Lemonade come from?
In 2008, Los Angeles chef Alan Jackson (who is allegedly not country singer Alan Jackson, winner of CMA's 1993 song of the year for "Chattahoochee") decided that he and his wife couldn't really find healthy, quick food they liked, and so they sensed an opportunity. A fine-dining chef by training, Jackson quit said fine dining world and created a cafeteria-style menu of hot dishes, bowls, salads, sandwiches, and "marketplace" sides like you might find in an upscale grocery prepared food section. He decided to call the place Lemonade to evoke, as he put it, "the bright and comforting feeling you get when you simply say the word," and maybe also because of their pretty extensive range of lemonades.
The next year he teamed up with businessman Ian Olsen, and they set their sites on expansion. Lemonade was in a unique position to grow quickly, as Jackson had taken the rare (and quite expensive) step of setting up a commissary kitchen to make all "sauces, dressings, marinades, seasonings, and long-cooked meats" from the beginning. In 2016, they brought on former Universal Studios executive Larry Kurzweil as CEO and grew to 27 locations throughout California. In early 2019, they merged with another health-conscious fast-casual restaurant chain, Modern Market Eatery, and together they currently have 58 restaurants across six states. Though according to the press release they will continue to operate separately, the idea behind the merger is that they can share vendors and purchasing power to lower costs, and work to franchise and license the restaurants all across America (currently, there are four licensed restaurants -- one at USC, one at LAX, and two in Dubai).
What is Lemonade trying to do now?
Walking into a Lemonade is like walking into a hip European cafeteria. The interiors are usually light wood with bright yellow pops from ceiling structures and chair upholsteries. Digital screens with the menus on them light up in the background. Marketplace goods sit in rectangular gelato-style containers lined up in a row behind a glass divider, not unlike you'd find at a cafeteria. Sample sandwiches sit sliced in half so you can examine the build. Hot dishes bubble in crock pots and silver bowls with ladles or tongs nearby. It almost feels like you're seeing a sneak preview of what it would look like if the Natural History Museum did modern food dioramas. According to QSR, the average price per person for a meal is between $15-17.
At one point, Jackson said he was inspired by a picture in a magazine spread of a Turkish restaurant where a chef was talking to guests over steaming pots, and I have to wonder if he was referring to the legendary Çiya Sofrası on the eastern, Anatolian side of Istanbul, partially because they famously serve incredible food in a fast, casual style, with all of it available for the customer to peruse in crock pots, and partially because it allows me to casually mention to you the reader that I have been to Çiya Sofrası and thus am extremely worldly.
As they're in the growth stage, Lemonade has chosen to avoid traditional forms of advertising. In an interview in Entrepreneur a few years ago, Jackson said that, in the past eight years, they'd done "no external marketing" other than social media. Marketing, or so the line goes, was all focused internally, and they attempted to hire workers with "culinary experience" to help educate customers on the menus, which change eight times a year with the seasons.
An anonymous creative director at a fancy advertising agency goes through Lemonade's social feeds and tells us what they want us to think:
Because they didn't have commercials, I asked my advertising creative director friend to go through their site and social feeds, and these were his thoughts: "Their feed is mildly interesting. It's mostly food posts (as it should be), and then some 'lifestyle' posts to establish the brand and what they stand for. Some are pretty anodyne ('Live life colorfully, sip by sip'), but then there's also posts about MLK Day and donating to victims of the Borderline shooting, showing they're not afraid to be a little bolder. Given their audience (LA/Cali), that's smart. Their current demographic wants them to take a stand, and they want that stand to be inclusive."
This is where it gets fascinating. Lemonade, as it grows throughout California, can stick to a more progressive ethos, but what will be really interesting is when they start to officially move into other states, and not just license restaurants in Dubai. Though their original tagline of "California Comfort Food" might play regionally and even internationally, does it play as a national brand? Or is it too polarizing outside the bubble of tanned folks with calf implants long-boarding to work in Mr. Zog's Sex Wax tank tops while eating avocados like apples?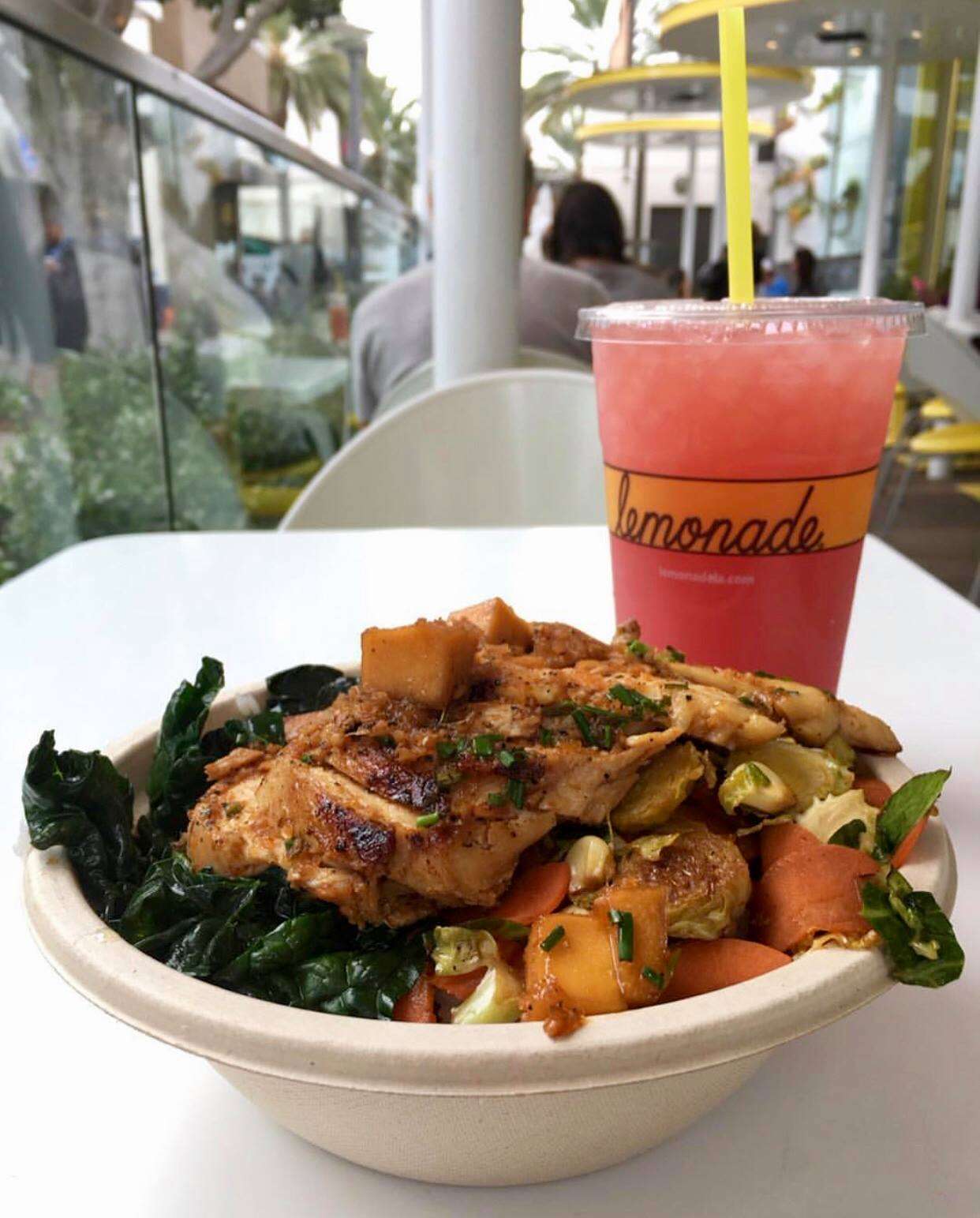 Lemonade Menu Review
How I did It: Over the course of two weeks, I went to two Bay Area locations of Lemonade a total of four times. I tried eight Marketplace items, five hot sides, four bowls, three sandwiches, two desserts, and what felt like infinity lemonades. At no point did I inform anyone from Lemonade I was coming, I paid for all my food, and though I did attempt to use the free Wi-Fi in the Inner Sunset San Francisco location, I wasn't able to get online.
"I found the truth beneath your lies." -- Lemonade (album)
"Eating your vegetables shouldn't feel like punishment." -- Lemonade (restaurant)
The Good Stuff:
I will not lie to you, friends. Lemonade has a lot of delicious foods that don't make you feel terrible about yourself and your life choices, or derail you from playing an intense round of disc golf after eating. In every category, there were at least a couple of real winners. In the Marketplace section, the best dishes seemed to combine spice, crunch, and a cool vegetal element. The Pineapple Chicken Green Bean salad featured toasted coconut, which reminded me of the best post-church donuts, and heat from the jalapeños, and snap from the beans. The Curried Cauliflower also had a similar consistency, with spice in the light curry dressing, sweetness from the golden raisins, and crunch from the almonds.
The hands-down winner in the sandwich category was the Turkey "El Tijuana," which was an instant classic: hand-chopped turkey, perfectly ripe avocado, jalapeño aioli for heat and moisture, jicama slaw for an acid kick, and queso fresco, all on really fresh, soft roll. It felt like a remix of a remix of a torta, club sandwich, and Memphis-style chopped pork, and it really worked.
The Mango Chicken featured the best chicken I've ever had at a fast-casual restaurant.
Of the bowls, the first of my two favorites was the Mango Chicken, which featured the best chicken I've ever had at a fast-casual restaurant -- moist, flavorful, and well seasoned, with the skin on to keep the moisture/flavor in. The accompanying Brussels and kale were well cooked, but not intensely flavorful, though this changed when I realized Lemonade stocks a bunch of single-use Sriracha packets. The other was the Spicy Ahi Tuna Poke bowl. I feel like some sort of food sellout admitting my favorite poke bowl was the #Basic spicy tuna, but it was systematically designed - crunch from the tobiko and the acidic tang from the seaweed and the satisfying bite of the edamame and ginger, plus the poke itself, which tasted intensely fresh and had a non-watered down kick from the spicy mayo.
In fact, Lemonade's refusal to temper the heat in items that should be spicy was one of its most redeeming features, and you could see that play out in the best sides, from the harissa cauliflower with breadcrumbs, which, if you squinted, tasted like the best spicy au gratin potatoes you've ever had, and the Thai Chicken Meatballs. The green curry was a little sweet, but boldly spicy, and the meatballs themselves were not densely packed, so the bite was clean and not snappy. (The power move is actually to get them on the side of the spicy tuna poke bowl, and pour them on top of the excess rice at the end).
A definitive ranking of the lemonade(ish) drinks at Lemonade I actually tried:
1. Cucumber Mint with Red Hibiscus Flower Tea (Skinny Lemonade T's)
Not too sweet, not too tart, all the flavors working in tandem to create what essentially tastes like something you'd drink while waiting for a stone massage in a high end resort. Plus the kids tell me the two-color thing is good for the 'gram.
2. Traditional Lemonade
Extremely tart. Like, bracingly tart. So it isn't overly sweet. An extremely solid version. Thinking about just how much pressure Jackson and the team were under to actually nail their namesake drink gives me stress hives.
3. Blood Orange Lemonade
Blood Orange flavor is hard to pin down. Is it an orange with a hint of cranberry? Or raspberry? Or blood spatter? Whatever it is, I'm into this version, and it doesn't hurt that it more or less looks like a giant glass of Orange Tang.
4. Cucumber Mint
Fancy. Hotel. Spa. Water. But. Like. Lemonade.
5. Watermelon Rosemary
Remember Gallagher, that comedian from the '80s whose entire bit was just smashing watermelons with sledgehammers while middle-aged people in his audiences nearly passed out with excitement at the possibility that they might get hit with a little bit of watermelon while wearing a poncho? Man, that was a weird time. Anyway... the rosemary cuts the watermelon's sweetness here, so it's not too bad.
(Skip 100 places)
105. All of the Frozades
Each of the Frozades I tried (so... two) tasted as if the entire thing was just drinking icy cold foam off the top of a different drink. It tasted weirdly insubstantial. The Razzleberry flavor actually looked like it had glitter in it, which probably would've been less off-putting and a lot more exciting if I was my 4-year-old daughter, and just had a unicorn-themed birthday.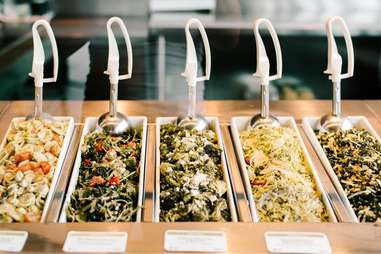 The Not Good Stuff:
Almost counterintuitively, the more unhealthy and comfort-y the dishes, the more off the mark they seemed. The Red Miso Beef tasted over-salted and a touch dry, despite sitting in a bubbling crock pot of sauce. The White Truffle Mac & Cheese was so intensely creamy and rich, I constantly felt like I needed to cut it with something with acid to balance out the texture. And the Classic Grilled Cheese, whose aged Cheddar cheese was weeping moisture when I tried it, was likely the weakest of all the sandwiches. On the market side, the Avocado Cherry Tomato salad had a nice vinegary bite from the vinaigrette, but the avocados sitting in the dressing got worn down, like they were melting under the sun.
"I go hard. Get what's mine. I'm a star." -- Lemonade (album)
"The environment is never overbearing. Food and community are always the co-stars." -- Lemonade (restaurant)
Final Verdict:
I am smitten with Lemonade. The quality of the primarily veggie-forward dishes and the range of options (which change twice each quarter) means you can go there weekly, if not daily, get different, satisfying food, and not feel like you need to sit in your work bathroom for most of the afternoon weeping as you scroll social media feeds. The flavors didn't seem to be watered down for general consumption, spicy food was seasoned correctly, and many items that often give chains issues (cooked chicken, for example, or sliced turkey for sandwiches) was handled superbly. Even the weakest foods were, on a whole, completely palatable.
As Lemonade begins its national push, and starts to bump up against similarly positioned chains like NYC's Dig Inn, it will be interesting to see how the brand modifies its approach, both from a rigor standpoint (do they still switch the menus up eight times a year when they're in, say, Texas and DC?) and branding. There's also the question of price point. Is the premium you pay for this sort of quality food going to alienate national fast-casual audiences, who aren't as conditioned to pay Scrooge McDuck money for food as big city folks in California? And in doing so, does it lose some of its core value? Will they be forced to dilute or alter their core values? It's a trepidatious tightrope to walk, especially because, if it does change, as Beyoncé says, we "can taste the dishonesty, it's all over your breath."
Sign up here for our daily Thrillist email, get Eatmail for more food coverage, and subscribe here for our YouTube channel to get your fix of the best in food/drink/fun.