The 15 dumbest food "holidays", including Dog Biscuit Appreciation Day
Occasions like National Pancake Day might bring you free food, but not all food holidays are created equal. In fact, a lot of them are ridiculously specific affairs that no human being has ever celebrated. We hunted down 15 of the absolute silliest, and counted down by the calendar year for convenience. Or in case you want to plan a party for Ice Cream and Violins Day. (Editor's Note: You don't.) Apple Gifting Day (January 1st)
Apples are a perfectly acceptable fruit, but no one ever wants to receive one as a present. They all want Go Karts. Even the teachers. Dog Biscuit Appreciation Day (February 23rd)
We tried, and there's not much to appreciate.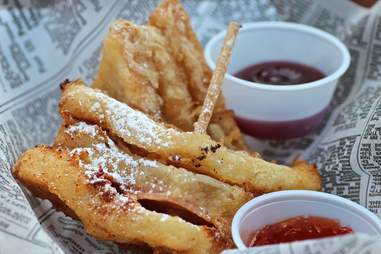 Drew Wood
Something on a Stick Day (March 28th)
Corn dogs and kebabs are both excellent foods that come on a stick, but you have to draw the line somewhere. We draw it at "something".

Lima Bean Respect Day (April 20th)
Because there's nothing 4/20 revelers reach for more than a healthy serving of lima beans.

National Eat What You Want Day (May 11th)
Should be followed on the calendar by National Regretting All Your Decisions From Yester-Day on May 12th.

Kitchen Klutzes of America Day (June 13th)
On the one hand, we've definitely dropped noodles before. On the other, this holiday seems to be sanctioning house-fires, as long as they happen on June 13th.

Don't Put All Your Eggs in One Omelette Day (July 9th)
How about if we put our eggs in multiple other brunch dishes? Continue Reading
Jump for Jelly Beans Day (July 31st)
That's way too much physical activity for something that's dropped to $0.25 since Easter.

Grab Some Nuts Day (August 3rd)
Still better than "Caress A Taint Day".

More Herbs, Less Salt Day (August 29th)
Yeah, people should be naming their kids Herb more!

Snack a Pickle Time (September 13th)
Listen, any time can be pickle time if you try hard and believe in yourself. Don't let the man tell you what to do.

National Chocolate-Covered Insects Day (October 14th)
Coat it in the fanciest cocoa you have -- you're still a grown adult eating a bug.
Anthony Humphreys
Cook Something Bold & Pungent Day (November 8th)
Also known as "Make Your Neighbors Despise You Day".

National Pizza with Everything (Except Anchovies) Day (November 12th)
Holidays that require parentheticals or asterisks are for cowards and poor decision-makers. You are neither, so ignore this date entirely.

Ice Cream and Violins Day (December 13th)
Beethoven always liked his suites, so he would've loved Ben & Jerry's Cores.

Kristin Hunt is a food/drink staff writer for Thrillist and isn't sure she appreciates lima beans on any day. Follow her at @kristin_hunt.