We tried the limited-edition Limeade Oreos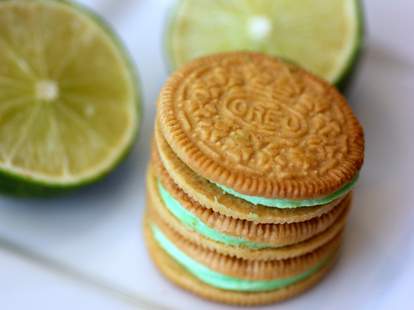 Every Summer, you can count on a few things happening: you'll get sunburnt, you'll go to a horrible cookout, and you'll get mailed Summery-flavored Oreos that your boss is saying you have to taste-test. That last one is pretty specific to me, but Limeade Oreos have just hit supermarket shelves around the country, and, like Summer itself, they're only around for a limited time.
So how do these things taste? And are they as refreshing as real limeade?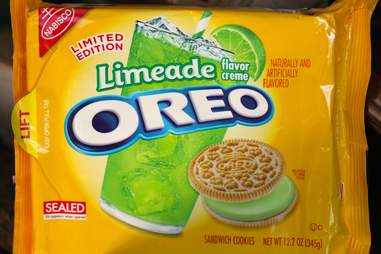 Lee Breslouer
The first few bites
Upon first bite, there's that familiar Oreo crunch. But that's the only link between this and a regular Oreo. There are strong artificial lime flavors in every bite. And there's also strong mint flavors, like they figured out how to cram an entire Shamrock Shake inside an Oreo. Which isn't a bad thing! I love Shamrock Shakes, but I'm pretty sure they're supposed to taste like peppermint and leprechaun dreams.
The artificial lime flavors linger long after you eat one. It's been a minute since I ate one, and it's still there. I would like it to stop soon. Maybe it'll go away by the time I finish typing this sentence. Nope, still there.
Lee Breslouer
Conclusion
To wash the taste out of my mouth, I made a limeade in my kitchen. The combination of lime and ice and water was like my mouth walked into the freezer aisle of a grocery store on a 90-degree day. It was bracingly refreshing -- and not at all the feeling I got from eating the cookie.
If you want an Oreo that tastes like something other than an Oreo, I'd say pass on the Limeade and see if you can find a box of those Reese's. If you need those sweet, sweet limeade flavors, find some limes and get to squeezin'.
Lee Breslouer writes about food and drink for Thrillist, and he would be open to Lemonade Oreos. Follow him at @LeeBreslouer, because you can't make up a name that good.