On the Line: Four Stories of Cooking in American Restaurants
A close look at restaurants' most overlooked and often misunderstood jobs, and the people who do them.
Getting a job cooking in America has never been easier. Paying your bills cooking in America couldn't be harder.
Over the last few years, the total number of restaurants in America has increased dramatically, but, thanks to a variety of factors (undocumented worker crackdowns, historically low unemployment, etc.) the labor pool has remained stagnant. Wages for cooks are higher than they've ever been, yet they make, on average, significantly lower than front of the house restaurant jobs like bartenders and servers. Attempts to remedy this (like getting rid of tipping) have been met with confusion, suspicion and sometimes outright hostility.
Whereas the last decade of food media has helped chefs see a significant rise in stature, cooks have not seen a similar elevation. Like factory workers on an assembly line, they are only appreciated as parts of a whole, executing the creative vision of the chef, celebrated for seamlessly ingratiating themselves into the process without interruption. And so the cook position remains both chronically under-filled and under-appreciated.
Articles about the cook crisis in America pop up every few months, but they are stories of statistics, of National Restaurant Association industry job growth bar graphs and Bureau of Labor Statistics predictions, quotes from industry analysts and disenchanted owners. They are stories of absence - cooks not there, and the struggles to find them. We wanted to tell a different story.
The stories you're about to read are small windows into the lives of four cooks across America. You'll meet Yeferson Vasquez, a young Colombian immigrant in South Boston working two line-cooking jobs to help pay off a new home. And Natalia Hess, a thirty-something pastry chef in New Orleans who has cycled through cooking jobs and who has been raising her two much younger brothers, one special needs, since she was practically a kid herself. South Indian immigrant Kumar Saravanan, a cook who feared leaving his apartment when he first came to America, and rose to become chef de cuisine at one of the most respected restaurants in San Francisco. And finally Emily Gonzalez, a high school student by day and pasta cook at a hip Italian restaurant by night who moved from Idaho to Wyoming with her mother and younger brother in search of better wages.
I found these cooks over the course of the last five months through a variety of means. Some came from tenuous connections and blind introductions. Others came from re-reaching out to previous sources, or friends of friends in the restaurant industry. And one, in the case of Natalia Hess, came because a Thrillist co-worker and her husband owned the restaurant where she worked, and knew she'd been on a remarkable journey.
These stories aren't meant to be compared against each other. There is no central thesis uniting their narratives, nor did we think that we could possibly capture the intricacies of their lives in these small spaces. The hope was just to give you a better understanding of these jobs, which are so often misunderstood, and the people in them, who are so often overlooked. But in the end, the goal was simple: to tell four stories about cooks.
AUTHOR NOTE: Profiles have been compiled through multiple taped and transcribed interviews with the participants, follow up phone conversations, text exchanges, and emails, and, in many cases, additional interviews with co-workers or managers.
Vasquez learned English on the job when he moved to Boston from Colombia at age 16.

| Cole Saladino/Thrillist
Yeferson Vasquez, 26, line cook, The Paramount/Stats Bar & Grille, South Boston, MA
Every night except Sunday night, Yeferson Vasquez goes to bed around 3am. Every morning except Sunday morning, Yeferson Vasquez wakes up three hours later. Then he walks his dog. His dog is named Tequila. Tequila is a Yorkie.
After walking Tequila, Vasquez kisses his wife Angela, a nanny for a family in the wealthy Boston suburb of Brookline, and tries to leave his condo in Revere, MA by 6:30am to get to his first job at The Paramount South Boston. He is the only cook there from 7am-8am, so he preps the sausages and bacon and everything for breakfast and pulls everything he needs from the dishwasher in the basement in preparation for opening at 8am. Once The Paramount is open, he is the go-between for the kitchen and the customers, taking orders and relaying them to the cooks in the back. This is his role at The Paramount because A) he likes talking to people, and B) his English is strong. But this wasn't always the case.
When he was 16 in September 2009, Vasquez moved in with his older sister in East Boston from his family's farm an hour outside of Medellín, Colombia. His original plan was to just visit with his sister for a couple of months, experience America, then go back to Colombia. Once he got there, however, his sister wanted him to enroll in high school because, she said, there he could learn English, and if you know English you can make more money. Vasquez was nervous. At the time, he didn't speak any English, and he was told no one in America spoke Spanish. So, for the first four months, he avoided school and worked a dishwasher job in the North End until he finally got the courage to go to East Boston high school in January, 2010.
When he got to his first English as Second Language (ESL) class, and saw other kids there from South and Central America, he was hugely relieved. From there, he started learning quickly, through his homework, and television (he particularly liked the cooking shows), and listening to American music. He'd started work as a busser at a South End restaurant called Stephi's on Tremont, and would practice his English at the restaurant, learning the names for the prep work and ingredients in the kitchen, and repeating phrases and slang with the American waiters and bartenders. Vasquez was popular with his workmates -- he wasn't shy, and seemed like he was always in a good mood -- and that lightheartedness helped his English improve quickly.
Vasquez works two cooking jobs, getting about three hours of sleep per night.

| Cole Saladino/Thrillist
With this newfound confidence and language skills, his original plan to go back to Colombia faded away. He would go to school from 7am to 3pm, and then work from 4pm to 11:30pm in a kitchen job, doing his homework on the train. He was used to being busy. While in Colombia, he would walk an hour to school, and then come home and work with the cows and horses and chickens and dogs and cats and rabbits and their one parrot until it was time to go to bed. Vasquez loved those animals, and had his mom send him pictures of them when he was feeling homesick. His all-time favorite, a brown mule with a salt and pepper flecked muzzle named Indio, passed away last November after nearly 20 years with his family. If you want to see Indio, Vasquez is happy to pull out his phone and show you a photo featuring Indio standing in the brush, just to the left of a rocky trail.
Vasquez's job at The Paramount ends around 4:30pm. Before he leaves, he puts all breakfast stuff away, does light prep for the next day, and then drives the half mile down East Broadway to Stats Bar & Grille, a neighborhood pub in South Boston. Stats co-owner Andrew Statires hired Vasquez in 2012, originally as a busser, but after two days, Statires discovered Vasquez preferred to spend his time in the kitchen, talking to the cooks, most of whom were from Colombia and El Salvador. Quickly, Statires re-assigned him to the kitchen as a dishwasher, and had the older cooks train him up, teaching him knife skills and how to filet, chop and do temperature checks. His aptitude showed quickly, and soon he had a place on the line.
Vasquez swiftly climbed from busser to line cook at Stats Bar & Grille.

| Cole Saladino/Thrillist
When he gets to Stats, Vasquez changes clothes, and starts his prep for the night, chopping onions and tomatoes for the nachos, portioning cheese, making sure his station is stocked, meats are marinated, and he's ready for the dinner rush. Currently, he is on the grill, which means from 6:30pm to 9:30pm he's in the thick of it, making burgers and chicken and steak tips and all the accompaniments.
This is Vasquez's happy place. He loves to cook, and laugh and make jokes with the other cooks. There is always music on, as someone usually has a speaker plugged into their phone, and their mix runs the gamut from American hip hop, country and pop to reggaeton, salsa, bachata, cumbia, and merengue. If there is a soccer game on anywhere in the world, Vasquez and the other cooks are interested, and it's pretty easy to find a way to stream it on their phones. Statires gave up trying to police soccer-watching in the kitchen a long time ago, and set up a rule that as long as everyone got their work done, and no one is upset, games could stay on.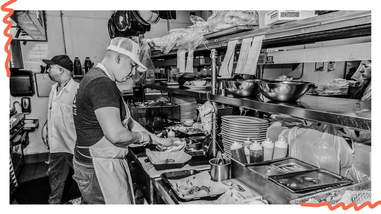 Vasquez and his wife met at a family Christmas party, and saved together to buy a condo in the Boston suburb of Revere.

| Cole Saladino/Thrillist
After the dinner rush, Vasquez breaks down his station. From 10pm to 11:30pm, the kitchen is partially open for pizzas and appetizers, so a few of the cooks knock those out while the rest clean and mop and prep for the crew coming in the morning. Most nights, Vasquez is back at his condo by 12:30am. He likes to take Tequila for a walk, shower, then go to IHOP or a Korean hot pot joint to eat with Angela.
The two of them met in East Boston at a family Christmas party in December 2012, fell in love, had a civil wedding ceremony in 2016, decided that wasn't enough, and so they had another big Catholic wedding ceremony in Medellín on July 7, 2018. As soon as they were together, they started saving money to try and buy a place, and at the end of 2018 they finally were able to put together a down payment on a condo in Revere. They'd have loved to have stayed in East Boston, but the developers and the fancy restaurants and bars and coffee shops were all coming in, and the rumors were that East Boston was the new South Boston, and prices were rising quickly.
After this late night dinner, they go back to the condo and watch Netflix. Vasquez really likes Chef's Table - it's his dream to finish more English classes, then go to culinary school so he could eventually be head chef at his own beautiful restaurant, with others cooking dishes he dreams up. More often than not, he'll drift off to sleep by 3am, to the sounds of Chef's Table's modish soundtrack.
And then, three hours later, Yeferson Vazquez gets up and does it again.
Saravanan grew up on a farm in south India, and developed a reputation as the best fish cook amongst his friends.

| Sana Javeri Kadri/Thrillist
Kumar Saravanan, 32, chef de cuisine, DOSA on Fillmore, San Francisco, CA
Like many people, Kumar Saravanan went through a phase where he went to the gym every day before work. Like many people, Kumar Saravanan no longer goes to the gym every day before work.
There are some things he still does every day. He gets up at 7:30am exactly. He leaves the San Francisco apartment he shares with three other South Indian cooks in the Fillmore neighborhood and goes to Starbucks and orders a chai with an extra pump, because the regular Starbucks chai is weak. He arrives at DOSA on Fillmore at 9am exactly, goes into the office, checks orders and sends emails, looks through the walk-in, figures out what ingredients they need for the day, and calls DOSA's head chef Arun Gupta to let him know what's needed from the farmer's market, and talk kitchen repairs or physical menu changes. Then he makes his own prep list, the list for the other prep cook and dishwasher (both of whom also show up at 9am), checks all the stations to make sure they were properly cleaned the night before, checks and logs temperatures for the walk-in and the freezers, checks the dishwasher to make sure it isn't broken, and goes back into the walk-in to figure out what he's going to make himself that day. Many of his recipes come from his mom, so he sometimes calls her at this point to ask her a few questions.
By 10am, Saravanan is ready to cook.
Though there were many reasons for Kumar Saravanan to embark upon a career in the culinary arts, ultimately he succumbed thanks to the single most powerful motivator in the teenage hierarchy of reasons, aka "because his friends were also doing it."
Saravanan grew up on a 35-acre farm 90 minutes outside of the south Indian city of Chennai, the fifth of seven children (five boys, two girls). His family's business was agriculture, and they grew and sold rice, sugarcane, coconut, turmeric, tomatoes, and eggplant from their farm. As a kid, he and his friends would spend weekends on the local lakes fishing, and cook whatever they caught on open fires. Saravanan had a reputation as the best fish cook amongst his friends, and often found himself cooking dinner when his mother was away. And so, when most of his friends decided they'd enter hospitality school in Bangalore, he went with them.
Immediately he gravitated towards the cooking program within the hospitality school, and showed that he had talent, winning many college cooking competitions. From there he interned at the restaurant in the Taj hotel in Bangalore, before taking a job in the smaller Zuri hotel, and then at the restaurant in a giant fancy resort in the city. The resort had 650 villas, and nearly every single person staying at the resort was white - either English, American, Russian, or some sort of other Western European. When he entered the resort each day through the security, and was suddenly surrounded by thousands of wealthy white people, Saravanan had the surreal feeling he was leaving India.
As friends of his from hospitality school began to take jobs abroad, he once again felt the tug of peer pressure, and started to look in other countries as well. His family wasn't happy. None of his siblings had left India, and they were very close knit, but he convinced his parents and siblings that he'd only go for a couple of years, and in 2012 he managed to secure a visa to work in a restaurant in Sunnyvale, CA.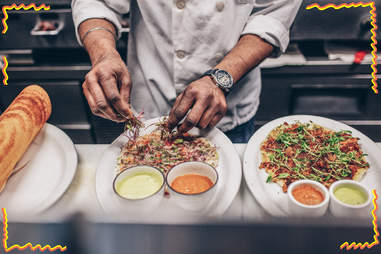 Some mornings, Saravanan calls his mom to talk recipes before he starts cooking at DOSA, a restaurant that has changed Indian food in America.

| Sana Javeri Kadri/Thrillist
Saravanan's first six months in America were not glorious. He didn't dare go anywhere by himself, and even buying groceries at Safeway or taking the bus filled him with dread, the feeling that he might do it wrong and stick out. But, as he acclimated to California, and took comfort in the large number of Indians living in the Bay Area, he relaxed and began doing more on his own. And around 2014, one of his close friends left Sunnyvale to move to San Francisco. He was working at an Indian restaurant in the city, he said, but they were doing fancier versions of Indian food, and working with local markets. His friend said it was unlike anywhere else he'd worked, and if he wanted, he could get him an interview for a line cook position. The restaurant, he said, was called DOSA.
DOSA, started in 2005 by Anjan and Emily Mitra, helped push the national conversation surrounding Indian food in America forward, both from a regional perspective (they served mainly South Indian cuisine at a time when much of America only recognized North Indian) and techniques (incorporating a farm-to-table ethos on seasonality, adapting to the local farmer's market, etc.). This intrigued Saravanan, whose experience, even in fancier Indian restaurants, focused around classics that seldom changed, regardless of seasons. Wanting to push himself, he applied, got the job, and moved up to San Francisco.
Eight months later, after his friend had moved back to India, Saravanan had more than proven his capabilities, and was made head of kitchen. He came into his own cooking this food, and enjoyed the challenge and the variation immensely. In 2017, the Mitras hired Chef Arun Gupta of Gramercy Tavern and Maysville in NYC to help push the kitchen even further, and Gupta, after realizing Saravanan's skills in the kitchen and as a manager, promoted him to chef de cuisine. Saravanan was thrilled -- though he'd been running the kitchen for a few years, this made things official. More and more people were discovering what Saravanan's friends who fished with him at home knew all along -- he could really, really cook.
Saravanan makes up to 50 pounds of curry a day on weekends.

| Sana Javeri Kadri/Thrillist
Nearly every day, Saravanan makes all the curries available at DOSA. During the week, on average, he'll make about 30 pounds of each curry, the chicken, the vegetable, the goat, etc., though that can jump to 50 pounds on the weekend. He also makes the moilee sauce for the fish, the Garam masala, and the chutneys. The line cooks for the night show up around 1:30pm and began their own prep processes. On a typical day, Saravanan and the other prep cook are done with their tasks by 3:30pm, and are able to make room for the night line cooks to take over, though on special occasions, the overlap can cause crowding as different cooks jostle for space and find what they need from the containers of red chili peppers, coriander, fennel, mustard seeds, chili powder, and Garam masala strategically positioned behind the line.
Around 3pm, all of the Indian cooks get together and prep the vada pav patties and talk about big parties coming through. After that, Saravanan takes thirty minutes to figure out the ordering for the next day, the things needed from DOSA's commissary kitchen, and then Saravanan goes and watches the different cooks as they're prepping to offer critiques, and makes sure to taste all the dishes (alongside Chef Gupta if he's also there), and offer feedback about acid and spice and various other small critiques to really make the dishes pop.
Around 5pm, everyone takes a break before the start of the dinner rush. Some cooks go outside, but Saravanan prefers to stay in the kitchen, or go up to the mezzanine at the top of DOSA on Fillmore and sit with his coffee and let his mind briefly wander. At about 5:15pm, either he or Chef Gupta will talk to the servers and bartenders about any new dishes or specials, and answer questions about pronunciations, or just what particular things are. If Saravanan feels like the servers might be zoning out, he'll ask them direct questions -- "what is inside this dosa? How would you explain this to the customer?" -- just to keep them on task.
At 5:30pm, the dinner rush begins, and Saravanan is on expo, which means he does the final check on the plates, wiping them down, making sure the garnishes (micro-cilantro, mustard or cilantro flowers, etc.) are properly placed, and everything looks right and pretty. When it starts to slow down around 9pm during the week, he will check the reservations one more time to make sure all big parties and VIPs have been properly tended to, and then go shower, and go out to eat with some of the other Indian cooks.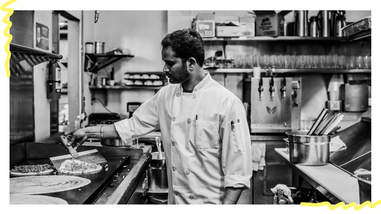 On his days off on Tuesdays, Saravan plays cricket with his friends in the morning and volleyball at night.

| Sana Javeri Kadri/Thrillist
It has now been seven years since he left India, and his family wants him to come home. All his siblings, including his younger brothers, have married, and his mother is starting to bug him about when he will finally marry as well. But Saravanan is in no rush. He is enjoying his time in America. During his days off, on Tuesdays, he heads down to Sunnyvale to play cricket with his friends in the morning and volleyball at night. He's been able to see more of the country too -- he's been to Miami, Las Vegas, and Los Angeles. Every year to celebrate Pongal, a south Indian holiday, a group of 70-80 Indians from around the Bay go up to Lake Tahoe on the Nevada border in mid-January to celebrate. Last time he was there, he tried skiing, and though he pretty much fell over every time he tried to move, he wants to do it again.
After dinner, Saravanan will go home and call his family and friends in India on video chat. There is a 12-hour time difference, so he's usually catching them in the morning, though sometimes he'll drive out to the Golden Gate Bridge or other beautiful Northern California landmarks and video chat his friends from there, to show them America in real time. After avoiding questions about marrying from his mother, he will usually watch Indian horror movies and have a chai or a coffee. Unlike most people, he can watch scary movies right before bed.
He's lucky, Saravanan says. He never has bad dreams.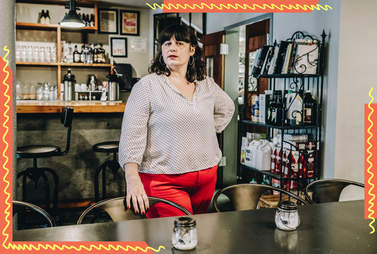 Hess and her sister moved to New Orleans from Michigan's upper peninsula with two young brothers to care for, after her mother died of cancer.

| William Widmer/Thrillist
Natalia Hess Kopfler, 36, general manager and pastry chef, Freret Beer Room, New Orleans, LA
Growing up in Milwaukee, Hess had been a superb student, getting all A's, joining all the clubs, and doing all the things in order to get into the University of Wisconsin-Madison with an eye towards being a doctor. But after working so hard to get to Madison, the idea of spending another 12 years in school seemed daunting, and so, after her first year, she came back home, recalibrated, and thought about cooking.
Restaurants had always been a part of Hess' family. Her grandparents owned restaurants in Milwaukee, her mother had been a server when she was growing up, her older brother Peter was a chef -- it just made sense. And so she began to study culinary arts at the local community college and make money on the side working as a server at a local Neapolitan pizzeria and Applebee's, having the sort of lighthearted, low responsibility fun you'd expect from a typical college-age kid. And then life intervened.
When Hess was 19, her mother was diagnosed with colorectal cancer. It took the doctors awhile to figure out exactly what it was, as it had presented itself in her uterus and ovaries first, but after multiple tests they finally figured it out and she began chemotherapy. Not wanting to be a burden to her elder daughters, in 2003 their mother moved up with Hess' aunt in Menominee, Michigan, a city of 8,500 people in the Upper Peninsula, and brought Hess' two younger brothers Lennie II and Jacob.
Over a decade younger than Hess, and from a different father than her and her brother and sister, the two boys had nonetheless always played a big role in her life. Born three months premature, Lennie II has cerebral palsy and epilepsy, and was never going to be able to take care of himself; and with his and Jacob's father not really in the picture, Hess and her younger sister Elizabeth had always helped their mother raise and look after them. But after two years in Menominee, and several remissions and relapses, it became clear Hess' mother's cancer was not going away, and she was becoming less able to provide care for her boys as she needed more care herself. So in 2005, Hess and her sister moved up to this small city 55 miles north of Green Bay to be with their mother until the end.
For two women in their early twenties who'd grown up in a happening city, living in Menominee was culturally shocking. What social life they could piece together when not tending to their mother or brothers seemed to revolve around trips to Walmart and meals and drinks at the bar at Applebee's. For awhile, Hess took a job in HR for a company in town that made engine parts, but during the economic downturn, she was laid off.
Hess' mother passed away on February 6, 2008. They had had so much time to reflect on the fact that she was going to die, and say all the things they wanted to say, and make whatever peace needed to be made, and so, in theory, they should've been ready. But once it actually happened, the gravity of the situation fell heavily upon Hess. Before she died, their mother had made arrangements for Hess and her sister to have full custody of Lennie II and Jacob. The four of them would be a version of a nuclear family, and would figure it out together. Hess was just 24.
A year later, Hess and her sister made a special trip to New Orleans for her birthday. They'd always loved New Orleans -- it had been a special place for her mother, and once on a road trip to Texas in high school in their tiny Geo Metro, her mother made a point to stop there for a couple of days to show her kids this city she loved so much. And now on this birthday trip, while tipsily wandering back to their hotel from the French Quarter, her sister blurted out, "Hey, do you want to move here?"
"Yes," Hess said immediately. "Let's do just that."
Energized by this plan, the Hess women went back to Menominee, saved their money, waited for the school year to end for the boys, and, in July 2009, moved down to an apartment in New Orleans to start again.
When Hess arrived in New Orleans, she was determined to get into the kitchen. She'd always worked server jobs in the front of the house, so she knew she'd have to start at the bottom, but it was worth it to learn. She applied for a dishwasher gig at the Upperline restaurant and had the best interview of her life with legendary owner JoAnn Clevenger, who hired her for the job. Two weeks in, the chef called her over and told her, "Tonight, you're working the pantry station."
Hess was excited. She was naturally curious and she'd been watching everything happening in the kitchen, hoping to soak it all up. That night went well, and she stayed on as pantry cook (garde manger) for the next seven months. Hess then spent another year working as the sauté cook, when suddenly it came to her attention that the longtime baker -- a man who went by Mr. James, and could've believably told you he was either 50 or 200 years old -- was retiring and Hess was to be trained for the job.
Determined to get into the kitchen, Hess started out in New Orleans as a dishwasher, before a number of cooking jobs led her to a position as pastry chef.

| William Widmer/Thrillist
Hess had long had a thing for pastry. When she was younger she used to bake birthday cakes for her cousins, and she had the ability to look at a photograph of, say, Dora the Explorer, and accurately recreate a frosting version on a cake. There was just something relaxing about baking, the opposite sort of pressure of being on the line. For the next six months, she worked in that job, but, with that small menu, she felt she needed to go elsewhere to learn more, so she moved into a variety of jobs over the next few years, making the baked goods at La Divina Gelateria, then working at the pastry chef at Martinique Bistro, while helping a former colleague named Matthew out at a weekend popup called L'enfant Terrible in the French Quarter.
From there, she continued to move around, working for a butcher in the St Roch Market, and in a variety of other gigs, until she heard from a friend that a beer-focused restaurant called Freret Beer Room was opening on Freret Street (Editor's Note: A Thrillist employee owns Freret Beer Room). She interviewed with Chef Charles Vincent, originally for a line cook gig, with the expectation that she'd also do pastry. After opening, she found that she and Charles really got along and respected each other's abilities, and soon she was promoted to kitchen and then general manager, while keeping pastry chef duties. It felt, to Hess, like the first time where she had an equal partnership and wasn't taken for granted. It felt like the place she needed to be.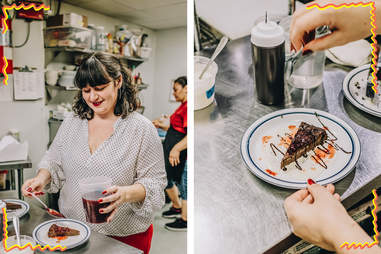 On top of her work duties, Hess cares for her younger brother who has cerebral palsy and epilepsy.

| William Widmer/Thrillist
On a typical day, Hess wakes her brother Lennie II up for school around 7:15am so he can catch his 7:45am bus. She is usually woken up by that former colleague of hers, Matthew Kopfler, who is now her husband of a year.
Lennie II, now 21, is entering his final year of school at Joseph S. Clark in the Treme neighborhood. After putting him on the bus, Hess gets to work around 9am, sets the kitchen up and busies herself with all the small projects - cutting bread for the restaurant for the whole day, making sure lines are set up properly, receiving orders and putting them away, and doing any small prep jobs she can before she focuses on desserts. She figures out what items need to be replenished, whether it's time to think about a new dessert, and then she gets to cooking. Charles has also given her total control of the weekend brunch menu, and so she's been particularly excited thinking about different dishes to put on that menu. Her latest, a Nashville hot chicken served over a pecan Belgian waffle with hot syrup and pickled red onions, was a big hit, and she was energized seeing what else she could test out. She is usually done by 3:30pm, so she can get home before Lennie II gets off his bus from school.
Though cognitively, Lennie II has abilities on par with a three year old, Hess hates when people simplify that he is somehow on the same level as an actual three year old. For instance, he has an amazing sense of humor, and will burst out laughing while listening to funny anecdotes during adult conversations.
Hess still shares custody of Lennie II with her sister, who is also married, manages a coffee shop in New Orleans, and lives not far away. Their other younger brother Jacob, now 20, got a full scholarship to Tulane through the Posse Foundation, which "identifies, recruits and trains individuals with extraordinary leadership potential." Jacob is a preternaturally gifted artist, and had been since he was young, a skill that his sisters nurtured first by putting him in a middle school for the arts, and then after he got himself into the incredible Lusher Charter school after submitting a portfolio of his artwork.
Hess now lives with her two brothers and her husband, who she met in New Orleans at one of her kitchen jobs.

| William Widmer/Thrillist
Lennie II and Jacob are Hess' proudest achievements. She loves her career and all its creative aspects and she wouldn't change that, but through all the chaos and craziness that life has thrown them, in the end, she and her sister can look at those two boys, both happy and healthy and thriving, and feel full up.
At home at night with her husband and Lennie II, Hess will usually fix a snack and everyone will relax for a bit - Lennie II is really into Sesame Street - he enjoys Grover and Elmo's high pitched cadences, and she really likes all the singing and numbers and letters. Her husband will usually cook dinner, then they'll watch some football (Lennie II enjoys the sounds of the college bands playing and people cheering), and around 9 or 9:30pm, she'll give Lennie II a bath and put him to bed, and go herself soon after that.
It wasn't always like that, of course. For years, she was living the industry lifestyle, which meant after work drinks and sleeping late, but she doesn't miss it. Whereas she used to stress constantly about unexpected challenges life had thrown in front of them, the busyness now felt manageable, even welcome. It feels good, Hess thinks, to wake up early. The days feel packed.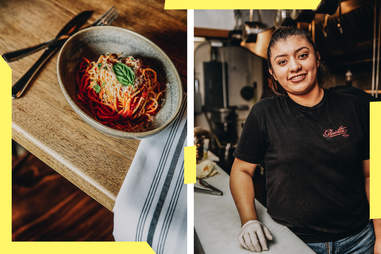 Gonzalez and her mother commuted two hours each way from Idaho to Jackson, Wyoming where wages were better, before eventually relocating permanently.

| Lindley Rust/Thrillist
Emily Gonzalez, 17, line cook, Glorietta Trattoria, Jackson, Wyoming
Halfway through September, in the small Idaho towns where Gonzalez grew up, school stopped for a month so everyone could help with the potato harvest.
Gonzalez only worked the harvest once, but that was enough. The hours - 8am to midnight - were enough to wear you out, even if it was just four weeks. Unlike most of the other folks in her town, Gonzalez wasn't from a farm family - her parents had both emigrated to Idaho from Mexico City. Her father was a welder, and her mother worked various service jobs. As soon as Gonzalez was old enough, she knew she needed to start contributing too, and, during the summers, she stopped playing volleyball and soccer and started to accompany her mother on her housekeeping jobs in Jackson, Wyoming.
Because the Jackson Hole valley area featured three ski resorts, and was considered a prime second home destination for wealthy folks in the West, the wages were considerably higher than in Idaho, so Gonzalez's mother started working out there to make extra money. The only problem: Jackson was a two hour drive each way from their Idaho home. But they needed the money, and so, for a couple summers, Gonzalez would drive two hours with her mom in the mornings to go clean up newly constructed buildings, then drive back the same night. The job would make Gonzalez bone tired and the monotonous drive on 33 would mostly blur together as they passed the fields of Clementsville and the Broulim's grocery in Driggs.
For years, Gonzalez's mother continued to make that drive every day, even after she quit working for the cleaning service in 2017 and found a job as a prep cook at Glorietta Trattoria, a modern Italian restaurant in downtown Jackson.
After a full day of school, teenage Gonzalez's work day has just begun.

| Lindley Rust/Thrillist
Eventually, this insane schedule proved to be too much, and so in the summer of 2018, Gonzalez's mother made the tough decision to move her and her younger brother out to an apartment in Jackson. Their father, with his good job as a welder, decided to stay behind in Idaho, though the family still gets together every weekend, switching off between Idaho and Wyoming. No longer burdened with the extra four hours of commute time, Gonzalez worked two jobs that summer. Her morning gig, starting at 5am, was as a baker at Jackson Whole Grocer and Cafe. Gonzalez loved to bake at home, and experiment with different cookies and cakes (though standard chocolate cake with chocolate icing remained her favorite), but at the grocery store she mostly baked hamburger and hot dog buns, plus croissants and other morning pastries. The baking would finish around 1pm, but she'd often just try and work overtime until around 2:30pm, so she could drive straight to her job as a line cook in the kitchen at Glorietta.
Gonzalez's mother had helped her get the job, and she was excited to get in the kitchen, but those first few weeks were not easy. The chef was cranky and a yeller, and though Gonzalez was trying to absorb as much as possible as she got trained up on the line, she quite naturally didn't feel confident, and it didn't help that the summer months at the restaurant were perpetually slammed, so Gonzalez constantly felt behind and stressed and like people were unhappy with her. But three weeks in, the cranky chef left, and the newer chef was outgoing and friendly and more organized, and the environment changed dramatically. The kitchen stopped being a point of stress, Gonzalez thought, and started to feel more like home.
Like most high schoolers, Gonzalez gets up as late as she can before going to school. Every morning, her mother drops her and her younger brother at Jackson Hole high school and then heads to Glorietta to start her work as a prep cook.
During school hours, Gonzalez is a teenager - she goes to class, pays attention, gets bored, doesn't pay attention, daydreams, gossips, laughs, feels self conscious, rolls her eyes, looks at her phone, and runs through the hundreds of other experiences diagrammed for high school juniors in the teenage playbook. But once she gets out of school, after swinging by Starbucks to get a Frappuccino or the "Pink Drink" off Starbucks secret menu (that's the Strawberry Acai Refresher but with coconut milk instead of water to give it an Instagrammable pink hue, FYI), and gets to Glorietta around 4:30pm, Gonzalez is a serious cook.
First, she'll say hello to her mother, who is usually just finishing up her day gig as a prep cook and heading home, and then she'll start prepping her line, getting any of the already made pastas organized, heating the grill up, and chopping up onions and any other vegetables. About fifteen minutes before 5pm, the whole staff will stop for family meal - pozole, chilaquiles, a curry bowl of sorts, etc.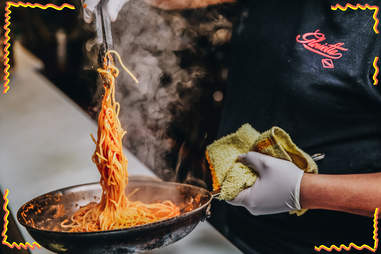 Gonzalez's repertoire includes dishes like pappardelle with braised beef cheeks.

| Lindley Rust/Thrillist
Around 5pm, service starts. Gonzalez is the pasta cook on the sauté station. It's funny, she thinks, because at home if she makes pasta, it's usually basics like macaroni and cheese or fettuccini Alfredo, that type of thing. But here, at Glorietta, she makes and experiences foods well outside the average teenage wheelhouse: ricotta cavatelli with spicy sausage, brown butter, and fried sage. Or pappardelle with braised beef cheeks, confit garlic and pecorino. She likes the actual act of cooking, of getting the pastas cooked and sauced correctly, of knowing when to pull them from heat, and just how much liquid to cook down, but she also likes the learning process of tasting new foods she'd never even seen or thought about before.
7pm to 9pm is the dinner rush. Gonzalez enjoys the rush because it goes by quickly, and also because being in the kitchen is truly enjoyable. Nearly everyone who works there except for the head chef is Hispanic, and so during service the kitchen is filled with people laughing and joking in Spanish, and listening and singing along to whatever the fry cook plays on the speakers, which is usually traditional Mexican music. By this point, they've all heard the same songs so many times that even the chef, who doesn't speak Spanish, can sing nearly all the lyrics.
Around 9:30pm, as the dining room starts to empty out, Gonzalez will break down her station and clean up, then hitch a ride home with another cook who lives with her family. She's usually home by 10:45pm. At that point, she'll grab a mango Jumex juice, and start her homework, which can take anywhere from thirty minutes to a couple of hours. Once her homework is done, she'll usually get in bed and fall asleep watching Riverdale or The Good Doctor on her phone, which - more often than not - she'll forget to plug in overnight.
Her interest in a show about young doctors is not coincidental - originally, Gonzalez thought she wanted to be a pediatrician, but her time in the kitchen has made her fall more and more in love with cooking. As of now, she thinks she'd love to go to culinary school when she graduates from high school, so she could be a chef, ideally making some sort of Asian cuisine (Chinese food is her favorite) in a big restaurant where she'd have lots of cooks working for her. Before culinary school, though, she wants to do some traveling around America and maybe even the world, and see what else is out there. She went to Mexico City once in 2010, and remembers the shock of seeing so many people all jammed into one place, and how different it was from the towns she was used to in Idaho.
Gonzalez still misses Idaho, though. She misses her father, and all of her childhood friends, the lack of traffic in the small towns, the slow pace, even the communal excitement around the potato harvest. The best way she can describe what she's longing for is calm. She misses that calm.
Sign up here for our daily Thrillist email, get Eatmail for more food coverage, and subscribe here for our YouTube channel to get your fix of the best in food/drink/fun.
Kevin Alexander is Thrillist's National Writer-at-Large, Food. His book on the unique mix of people, places, and circumstances that led to the last decade of eating/drinking in America, BURN THE ICE: The American Culinary Revolution and Its End, will be published in July, 2019 by Penguin Press. He is a 2017 James Beard Foundation Award winner.