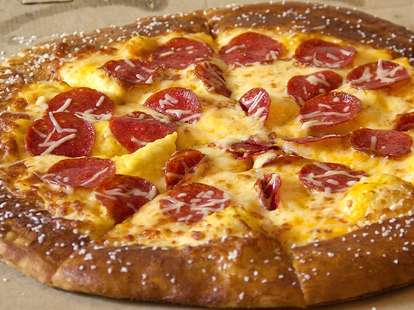 "Are you sure?" asked the Little Caesars' employee, hovering my credit card over the machine as he waited for my reply. "It's not very good... I don't want any dissatisfied customers."
That doesn't exactly instill a lot of confidence on the first official day of what Little Caesars' hopes is a game changer in the value pizza biz, a concoction so glorious and void of vegetables that even the cheapest of college kids would shell out an extra $1 to upgrade a $5 large pepperoni into something somehow more miraculous: the Soft Pretzel Crust Pizza.
As a native of Little Caesar's original kingdom (Michigan), I grew up with "Pizza Pizza" as a mantra, and with this new innovation -- Caesar's first stunt pie in ages -- he had me, a man who has mostly sworn off Hot-N-Ready anything since college, intrigued. Out is the marinara, in is a creamy cheddar sauce, which promises a perfect partner for a salty pretzel crust that has Auntie Anne against the ropes. But is it good? "Are you absolutely sure?" the clerk asked a third time, before finally swiping that card. It's time to find out.
Pretzel-ness
Underneath the cheese and pepperoni, there's nothing to distinguish this crust from LC's standard, slightly dense base. But the outside actually does taste like a pretzel. Not a great pretzel, mind you. More like the Super Pretzels you'd buy at the grocery store, which is fine. After spying an employee lovingly drizzle some sort of garlic butter on it, then hit it with enough salt to give Blitzen a heart attack, I was stoked.
"It's just our regular crust, but with, like, baking soda and stuff on it to make it look like a pretzel," said the employee, who was seriously starting to bum me out (and probably just didn't want to make these all day). Whatever dude. Do you know what they used to do to magicians who gave away secrets? They didn't give them pizza. Illusion aside, this is tasty... maybe it's just salty, garlicky, buttery crust, but that combination of flavors has yet to ever disappoint.
Cheesiness
Dubbed "gross nacho cheese" by our naysaying clerk, the "creamy cheddar sauce" takes the place of marinara, and the tang of the tomato sauce is missed. It's a thin layer of what's basically jarred queso dip, minus the spice and hunks of broken tortillas. If it was gobbed on, it might make a sloppy mess, but leave you with a little dipping sauce for your Crazy Bread. As it stands, it's pretty flavorless, serving to simply help the mozzarella and Muenster slide off the slice and burn your chin. Essentially, this is just a jacked up cheesy bread. Again, there's nothing wrong with that. Also, the sprinkled Parmesan up top is a nice move to class up this elevated junk food!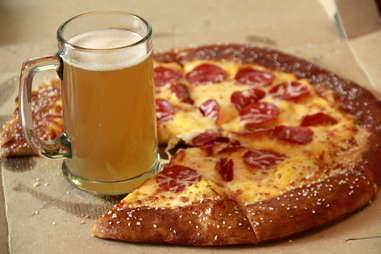 But does it pair with beer?
Duh.
Conclusions
Yes, this is an explosion of salt, so if you've got issues with that, this might actually kill you. But otherwise, it's just really salty pizza, void of cursed vegetables. It's a soggy cheese bread with a pretzel finish, and damned if that's not the most un-screwupable thing possible. Its richness and sodium content make it the perfect cheap pizza to share. The real question is: if you're gorging on a $5 pizza late at night or as a means of recovery after a late night, is sharing something you really want to do?
Andy Kryza is a senior editor on Thrillist's food and drink team, and is wondering when Doritos Locos Pizza is gonna drop. Follow him to his next very alarming physical examination via @apkryza.