Little Caesars Is Bringing Back Pretzel Crust Pizza, Plus a New Spin-Off Item
Courtesy of Little Caesars
The old Field of Dreams line is true: If you build it, he will come. Or, if you yell enough about wanting cheap, pretzel-crust pizza, Little Caesars will bring it back.
The Soft Pretzel Crust Pepperoni Pizza -- otherwise known as the explosion of salt that we taste-tasted (and, honestly, didn't hate) -- was introduced as a limited-time offer last September, and was removed from the menu (after being extended twice) this past February. 
Apparently, people couldn't get enough of it, as Little Caesars says was it was "inundated on social media and with phone calls, emails, and even online petitions by pretzel-loving customers." So, naturally, to thank the public for their ruthless harassment, the company is giving them what they want... plus more!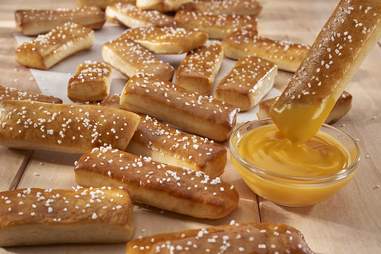 Courtesy of Little Caesars
That's right, to celebrate the return of the pretzel-crust sodium pile, Little Caesars is introducing a spin-off item: Cheese-N-Pretzel Dippers, which are... exactly what they sound like. You'll get 16 pieces of soft, buttery pretzel bites alongside warm, creamy cheddar cheese dip, for $3.49.
The Soft Pretzel Crust Pepperoni Pizza, which (obviously) has a soft pretzel crust, is topped with creamy cheddar cheese sauce, a 100% real cheese blend, pepperoni, and a four-cheese blend of Asiago, Fontina, Parmesan, and white cheddar cheese, and goes for $7.
It goes to show, if you love something, set it free. Then harass a company via social media enough and you'll get everything you ever wanted and then some.
Lucy Meilus is a staff writer for Thrillist and enjoys all things dipped in cheese. Follow her on Twitter at @Lucymeilus and send news tips to news@thrillist.com.