How to Share Oysters With Your Date When You're 1,300 Miles Apart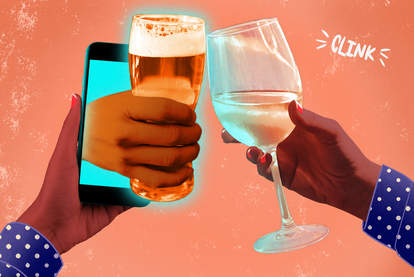 As I approached the restaurant on a quiet evening in New York City's Lower East Side, I felt the familiar nerves that tug at me before trying something new. I had never been this nervous to go on a date with my husband.
I paced back and forth and peered inside to assess the crowd before walking in. The energy was lively. There were a few couples, but mostly groups of friends enjoying happy hour drinks in adult Capri Sun-type pouches along with their seafood. After a moment or two of hesitation, I opened the door and walked in.
I approached the host wondering if he could sense my apprehension. "You come here all the time, right?" He was wrong about that, but something about this perceived familiarity helped to put me at ease. "No," I replied. "This is my first time here." Then I let him know that I had a 7pm reservation for one. Yes, for one. 
I'm sure by now you're wondering why I would make a reservation for one if this was a date. What I haven't mentioned is that my dinner companion would be joining me from his seat 1,300 miles away in New Orleans. This was a long distance date. As I sat down for my 7pm dinner at Claw Daddy's in New York, my husband was seated for his 6pm meal at Drago's in New Orleans. We set up our phones, turned on Duo, and prepared to enjoy a meal together.
The idea of a long distance date may seem over the top, and frankly a bit absurd. That's why I was feeling nervous and slightly embarrassed about the whole thing. However, when your partner is away for up to 40% of the year, you have to find creative ways to stay connected. My husband is a jazz musician who frequently travels across the country -- sometimes around the world -- playing music. He is also the Executive Director of a New Orleans-based non-profit organization. All of this means that the ritual of sharing a meal together, one of our favorite ways to connect, isn't always possible.
With a dash of imagination and perhaps a pinch of insanity, I cooked up the idea of this virtual date. Despite the distance, I could share a meal with him, enjoy his conversation, and see him sitting before me, even if 1,300 miles away through a screen. And because I'm all about the details, we chose our respective restaurants with the intention of sharing the experience of eating classic New Orleans cuisine.
Whenever my husband travels to New Orleans, without fail, my first thought is, "I'm so envious that you get to eat chargrilled oysters." If you've never had them, you should definitely add it to your list when you visit New Orleans. Trust. Forget the beignets and drinks in giant touristy plastic cups, and get you some chargrilled oysters with just enough french bread to sop up the buttery, garlicky goodness that's left over.
Naturally, when we decided to go through with this virtual date, it made sense to make chargrilled oysters the centerpiece of our meal. While we've enjoyed them at places like The Half Shell on the Bayou, Katie's and Felix's, for our virtual date my husband selected a place that deems itself the home of the original charbroiled oyster -- Drago's. This is a family business started in 1969 that's been serving up their signature oysters since 1993. 
With a little research, I decided the closest New York City equivalent would be Claw Daddy's in NYC. First off, they have grilled oysters on the menu. Check ✓. In addition, their menu boasts a host of other Louisiana-inspired dishes like po' boys, seafood boils and gumbo.
The experience of being on a long-distance date was strange in some ways, yet surprisingly normal in others. I feared that it might feel somewhat lonely and plenty awkward. I imagined people staring at me, wondering what I was doing, or feeling pity for the girl who was on a date alone. In reality, once we sorted out a solution for the restaurant's noise level (thank you, headphones), it was almost as if the rest of the bustling restaurant melted away. I stopped worrying about what other people were thinking. There was only me and him. In normal fashion, he told me about his day playing music for hundreds of young, aspiring musicians. I told him about the next culinary event I was planning at work. It was almost as if we really were together.
I watched the smile on his face as he enjoyed his french fries, his favorite guilty pleasure. We both excitedly tasted our oysters and held them up to the screen to compare. Unsurprisingly, he beat me on the oyster selection. Don't get me wrong, mine were pretty good for a New York rendition of the NOLA favorite, but in the immortal words of Marvin and Tammi, "ain't nothing like the real thing."
As it turns out, the "char" in chargrilled oyster makes a real difference. While both oysters were grilled on the half shell, my Claw Daddy's oysters were missing the subtle smokiness of oysters cooked on a charcoal grill. There were also differences in cooking time. Claw Daddy's were lightly cooked, ever so slightly melting the cheese and leaving the oysters still juicy and semi-raw. Drago's oysters were thoroughly cooked in their butter-herb topping until the oysters shrank and plumped up and the cheese began to bubble and brown. Very different takes on the same dish. 
The evening unfolded pretty organically, save for one incident. You know that moment when it's loud, so you speak a little louder, then suddenly the room falls silent while you're shouting? I was in the middle of telling my husband that I didn't feel as strange as I thought I would. Right at that moment, of course, the couple next to me, who I suppose had been listening, stopped and turned to look at me. Definitely an awkward moment, but I shrugged it off and continued my conversation. We each wrapped up our meals and prepared to go our separate ways. My date's next stop was joining friends for pralines. I was headed home solo. This was perhaps the only moment that I found myself feeling alone.
All in all, I'm grateful for the experience and glad that we took a chance and tried something new. Would I prefer a dinner where I could reach across the table to hold my husband's hand? Yes. But when that's not possible, why not explore other ways to feel close, even if they're unorthodox? If there's one thing I've learned in the past few years, it's that love requires you to go the distance. Sometimes, you have to get creative about how you cover that distance.
Sign up here for our daily Thrillist email, get Eatmail for more food coverage, and subscribe here for our YouTube channel to get your fix of the best in food/drink/fun.