The deadliest meal in America is at Long John Silver's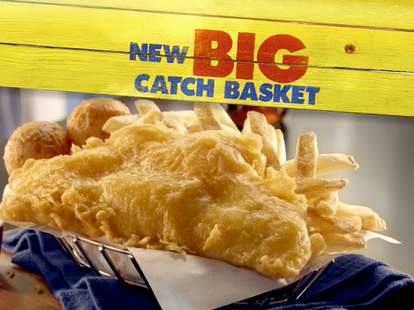 The scientists at the Center for Science in the Public Interest recently scoured the nation for the absolute worst thing you could put in you body that isn't a vegan cupcake. The results are in, and it turns out Long John Silver's leapfrogged over the competition to claim the esteemed title of worst restaurant meal in America
The winner was the Big Catch meal, which comes with fried fish, hushpuppies, and onion rings. While it has an adorable 1,320 calories (remember, Denny's has a 1,690-calorie mac 'n cheese patty melt), the rest of its nutrition info earned it the belt. The combo boasts 19 grams of saturated fat, 33 grams of trans fat, and 3,700 milligrams of sodium, for people who love heart disease, high blood pressure, and strokes. The CSPI peeps were mostly terrified of the trans fat, since that's more than two weeks' worth the recommended trans fat intake. (The American Heart Association says you should only be having two grams per day.
CSPI executive director Michael F. Jacobson had a zinger-filled statement to go with the findings
"Long John Silver's Big Catch meal deserves to be buried 20,000 leagues under the sea. This company is taking perfectly healthy fish and entombing it in a thick crust of batter and partially hydrogenated oil. The result? A heart attack on a hook. Instead of the Big Catch, I'd call it America's Deadliest Catch.
The group is currently hounding Long John Silver's and the FDA to do something about the Big Catch meal -- and the meal is only available through July anyway -- so if you're jonesing to devour the combo most likely to excite your cardiologist, get it while you still can.