Since ancient times, people have long-held beliefs in the symbolic nature of food -- sometimes a hot dog is not just a hot dog. From noodles helping you to grow older, to duck helping you grow in very different, fertility-related ways, our tables are loaded with deeper meanings.
This is what the food you're eating means.
Recommended Video
Feast Like Harry Potter at this Pop-Up Brunch
Baklava = Jesus's life
The delicious dessert that often accompanies your gyro has some pretty heavy religious connotations: It's often made of 33 layers, each one representing a year in the life of Jesus. The 21st layer is obviously the most fun.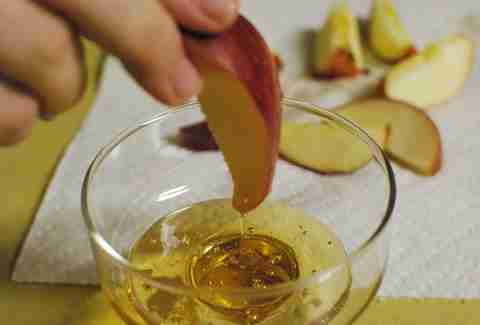 Apples & Honey = A sweet New Year
Apples and honey are a staple of Rosh Hashanah celebrations, and the combination is deeply symbolic of wishes for a sweet new year. In addition, some folks believe the apple symbolizes God's feminine side (even more than a Sex and the City box set), and adding honey is a way to sweeten His disposition.
Pretzels = Praying children
Look at this delicious snack. Does it scream "this is an effigy of a small child whose arms are folded in prayer", or "dunk me in hot cheese and eat me"? If you chose the latter, you're an average Joe. If you chose the former, you're a monk in southern France who is about to dip an effigy of a child into hot cheese and eat it.
Hot cross buns = A crucifix
Not just a snack you had to sing about when you were learning to play the recorder, hot cross buns are actually symbolic of the Good Friday fast: More specifically, they're consumed to break that fast, essentially by allowing people to eat an instrument of torture. The cross. Not the stupid recorder.
Dates = Ending the Ramadan fast
Muslims end the fast of Ramadan by emulating Muhammad and symbolically partaking in three dates. Three dates are also a milestone event for contestants on The Bachelor.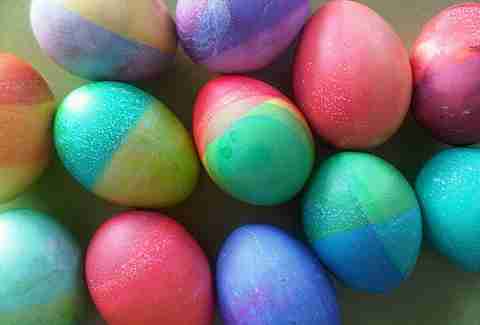 Eggs = Rejuvenation
What the hell do eggs have to do with Easter? As it turns out, they symbolize rejuvenation, resurrection, and immortality. Still no word on why they're supposedly incubated in the stomach of a gigantic rabbit, but as we learned above, it's not because the Easter Bunny's fertile.
Duck = Wedded bliss
In Chinese culture, the egg mentioned above symbolizes fertility, while the duck is a emblematic of wedded bliss. With those powers combined, it makes perfect sense that Donald's nephews were triplets, and Daisy always looked so calm and contented to hang with that sailor.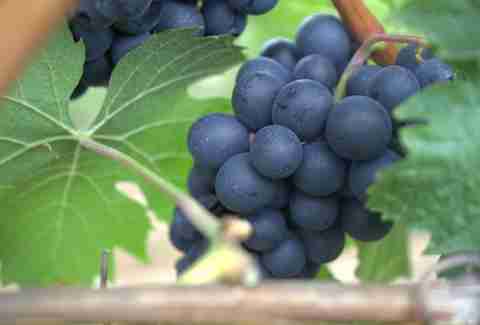 Grapes = Good fortune
In countries such as Spain, Portugal, and Peru, New Year celebrants consume 12 grapes, which symbolize 12 sweet months to be had in the future. In the U.S., celebrants consume a bunch of finger foods and then make out with the nearest decent-looking stranger, which is symbolic of drinking a lot of Cook's and lowering your standards.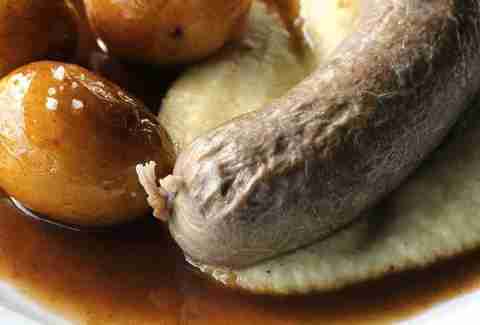 Haggis = Simplicity
The Scottish poet Robert Burns once jokingly labeled the Scottish meal of boiled stomach stuffed with guts as symbolic of Scotch heritage and the virtues of keeping things simple. Then he probably punched a dude in the face and drank whisky. Because that dude's awesome and a national bloody treasure.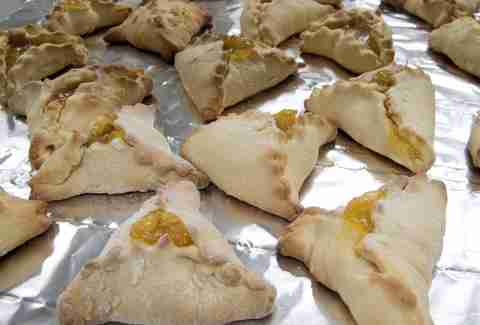 Hamantash = Enemy ears
During the Jewish holiday of Purim, the Chosen People celebrate escaping persecution by eating these sweet pastries filled with apricots, prunes, and other deliciousness. They're shaped triangularly to represent the ears of Haman -- the bad guy in the Purim story.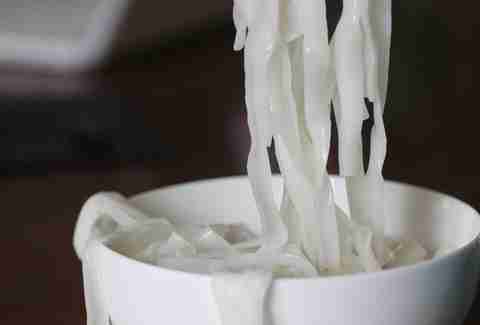 Noodles = Longevity
In many East Asian cultures, the New Year is celebrated by consuming the longest noodles possible. That's because the length of the noodles are associated with longer life. Want to live forever? NEVER STOP EATING NOODLES.
Andy Kryza is Thrillist's National Eat/Drink Senior Editor, and has proudly lived vegetable-free since 2001. Follow his adventures/slow decline via Twitter at @apkryza.