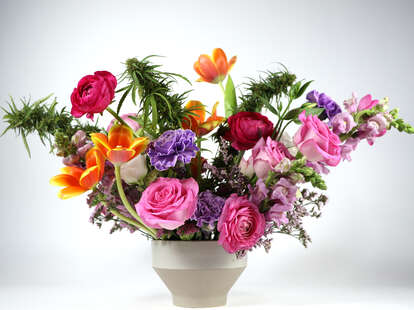 Photo by Alexandra Kiley
Photo by Alexandra Kiley
Combine one part real flowers, one part hemp flower, a splash of fashion industry savvy, a global pandemic, and a sincere love of weed. What do you get? Lovepot, a new flower company delivering smokable hemp and real flower bouquets nationwide, with flair.
When California legalized cannabis in 2016, Lovepot founder Cevon Lee Iny left her luxury fashion gig for the cannabis industry, consulting and working on multiple creative projects in the space. Pretty much from the get-go, Iny had bud bouquets on the brain.
"I always had a deep, loving relationship with cannabis," says Iny. "I found that many of the amazing women I worked with did too, but I felt like the cannabis space and the branding around it is so masculine by nature. There was a lack of polish on both the consumer and professional side of the industry. I had always wanted to showcase the beauty of cannabis flower in a new way, I just never knew how to make the concept viable and legal."
She put the notion on the backburner, and kept working with different brands on different projects. When the pandemic started in early 2020, Iny moved back to Las Vegas to be with family. It was there, during a particular smoke sesh, that she experienced an entrepreneurial epiphany.
"It was 4/2/2020," recalls Iny. "I was stoned, and it hit me: I could create these arrangements out of hemp to avoid the headaches associated with THC. The pandemic created this opportunity to innovate how we give gifts, and there are very little gift businesses created for this market that are also able to be shipped nationwide. I phoned my childhood friend, Jessica Marshall, who had an established flower business in Las Vegas, and Lovepot was born."
Rather, the idea of Lovepot crystallized. Iny still had the hardest part in front of her: figuring out how to get high-quality hemp shipped and assembled with the rest of the flowers in a way that would keep it both pretty and smokeworthy. When she first started reaching out to growers, they couldn't understand why she wanted fresh, hand-trimmed hemp.
"No one had ever requested this of them," explains Iny. "Most licensed hemp growers are growing with the intention to create biomass (for oil or cosmetics) or industrial hemp products. We needed to find someone who was not only growing beautiful, boutique, licensed, smokable CBD flower, but we needed it to pass testing."
Ultimately, Iny found women growers who understood her vision and respected the care she wished to take with these bouquets. Though she works with multiple licensed farms across the country to be able to deliver fresh buds nationwide, the primary sourcing partner is an all-women grow in Nevada. They spent months identifying which strain would work best, and what harvest time would make the most sense.
"It was difficult to get strain and timing to align," says Iny. "We had to find a balance between when the flower is budding and before the leaves start to fall away for the most aesthetically beautiful Lovepot stem possible."
More than a consistent style of arrangement or flower variety, the creation and the consumption are what make a Lovepot bouquet. Through the partnerships with farms, florists and designers, Iny hopes to spotlight other women doing interesting, meaningful things in the cannabis space. Customers can customize colors and themes to fit a particular occasion, and so far, they seem enthusiastic about this new way to send love and calm from afar.
Lovepot officially launched in Las Vegas on September 18th, and rolled out Los Angeles fresh delivery one month later. Fresh flower bouquets are only available for delivery in those two cities for now, but dried arrangements can be shipped nationwide. Smokable hemp buds included in all. And there's much more to come. As Iny puts it, "Lovepot hasn't even began to scratch the surface of using and sending pot in loving ways."
"I love what flowers represent. Flowers are happy, and typically sent in celebration of something beautiful. Much like cannabis, flower arrangements are meant to be shared and spread happiness and joy into the world.
Sign up here for our daily Thrillist email and subscribe here for our YouTube channel to get your fix of the best in food/drink/fun.
Lauren Yoshiko is a Portland-based writer and co-host of
Broccoli Magazine
's podcast,
Broccoli Talk
. She was among the first journalists to cover the commerce and culture of cannabis starting in 2014 and her work has since appeared in
Willamette Week
,
Forbes
,
Rolling Stone
, and
Broccoli Magazine
, among others. Follow her on Instagram at @laurenyoshiko for Portland breakfast sandwich recs, stoned nail art, and moderate cat content.