11 things you didn't know about Lucky Charms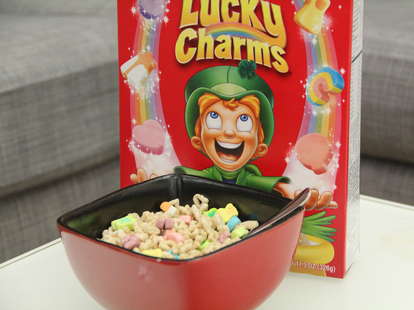 You likely spent your St. Patrick's Day weekend at an Irish pub (hopefully one of these), spilling Guinness and singing a very off-key rendition of "Danny Boy". And you should spend every hungover morning how you undoubtedly spent St. Patrick's Day -- with a bowl of the fake-Irish breakfast to beat, Lucky Charms. As if being magically delicious wasn't enough, the General Mills cereal is ringing in 50yrs of glory in 2014, and you really ought to pay it some respect by committing these essential facts to memory. No half-measures here either, lads: leprechauns don't forget.

1. It was one of the original frankenfoods
Lucky Charms hit the shelves in 1964 after some crazy food scientists experimented with Cheerios and Circus Peanuts marshmallow candy to form the cereal we love today. (Mercifully, all Bran Flakes and orange slice candy designs were dropped in the process.)
2. The original marshmallow roster was way simpler
Though nowadays you get rainbows, hearts, balloons, moons, shooting stars, horseshoes, hourglasses, AND clover hats in your cereal bowl, the first boxes of Lucky Charms had just four 'mallows: yellow moons, orange stars, pink hearts, and green clovers. The first newbie to arrive on the scene was the blue diamond, added in 1975... but the first newbie to actually stick was the horseshoe, forged in 1983. RIP, blue diamond.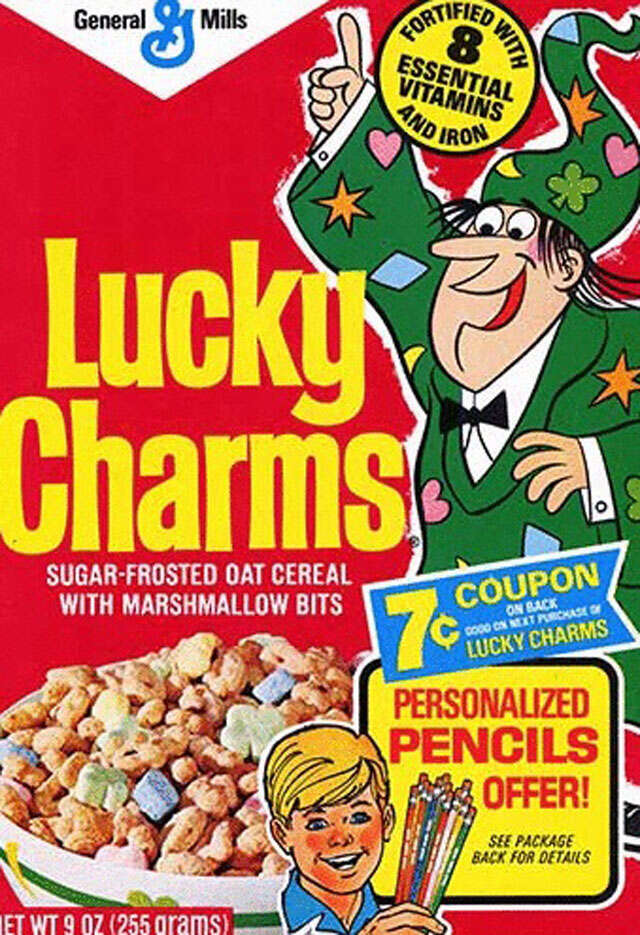 3. Lucky's supremacy was once challenged
For a brief, weird moment in breakfast history, Lucky the Leprechaun was impeached from mascot office. In 1975, General Mills tested out Waldo the Wizard -- a forgetful sorcerer who misplaced his Lucky Charms in every commercial and used the catchphrase "ibbledebibbledelicious" -- in New England markets. Boston kids apparently had no time for this absent-minded warlock -- Waldo was dumped even more unceremoniously than Nikki and Paolo less than a year later.
4. The oat pieces might not change, but the hidden treasure definitely does
Like any cereal worth its grains, Lucky Charms has been sneaking prizes into its boxes for decades. Over the years, these pots o' gold have boasted everything from flying "rumbo" jets (seen in the vintage '70s commercial above) to Darth Vader pens.

5. You know Lucky's brogue from other places
Arthur Anderson -- who provided the voice of Lucky the Leprechaun for 29yrs -- is a serious actor. His credits include Law & Order, Midnight Cowboy, and, most crucially, Courage the Cowardly Dog.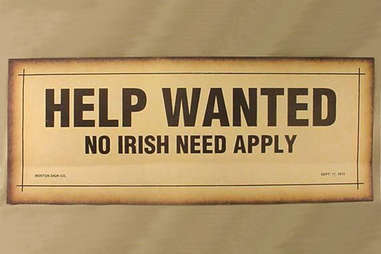 6. The advertising is a lie
Another thing about that Anderson fellow: he's not even a little Irish. We'll leave you to pick up the shattered remnants of your childhood.
7. It comes in gigantic, 'mallow-only bags
You can buy the only part of Lucky Charms that matters, the marshmallows, in bulk! This is apparently what $110 worth of charms looks like, but if you're in for a thriftier stash, go cruising for knock-offs here.
8. The actual charms are much more attainable in cereal form
They aren't Lucky for nothing: you have an estimated 1 in 10,000 chance of finding a four-leaf clover in real life.
9. It got (possibly) dissed in your favorite St. Patrick's Day horror flick
On top of featuring a knock-off called "Lucky Clovers", the seminal 1993 classic Leprechaun got a child to yell, "F*&% you, Lucky Charms!" as he fired a shamrock at the the eponymous monster using a slingshot. Rumor has it this was a dig at General Mills, as the company allegedly gave permission for the movie to use their cereal but then backed out when it saw the scene in question.
10. Britain wasn't ready to ride the rainbow
Lucky Charms made its way to the UK grocery chain Tesco just last year, but apparently the Brits were not prepared for the sugar rush. Outraged parents complained about their "very giddy", marshmallow-hoarding children loudly enough to net trend pieces in The Daily Mail.
11. The Cake Boss is celebrating Lucky Charms' birthday in the best possible way
Though it's hard to believe Duff Goldman missed out on the ultimate synergy of creating Lucky Charms Charm City Cakes, Buddy Valastro thankfully picked up the slack by rolling out limited-edition 50th anniversary vanilla cupcakes featuring marshmallow buttercream and actual cereal bits. Follow your local leprechaun to Hoboken for one of these beauties.
Kristin Huntis a food/drink staff writer for Thrillist and just realized the pots of gold charms got discontinued. She may never recover. Follow her to Lucky's hiding spot at @kristin_hunt.