Back in the 1920s, an ad for the dairy wholesalers that were occupying 134 Reade Street in New York proclaimed "We require the fanciest qualities to maintain the standard of our 'BURMECO Quality.' " The wholesaler is gone, the building long since renovated, but a century later, two things remain the same. The first is that people can still find excellent butter, milk, and cheese at that address -- they just happen to be ingredients in fantastic dishes at the restaurant now residing there. The second is that a devotion to quality is equally important to the current tenant: Chef Marc Forgione.
That devotion was destined: Forgione's parents were two chefs who met at culinary school. His father, Larry Forgione, was a member of the inaugural class at the Culinary Institute of America, and revolutionized farm-to-table sourcing in his restaurants. By establishing relationships with the farmers themselves, Larry was able to perfectly marry the nuances of their ingredients with his cooking. After a while, the elder Forgione's restaurants -- as well as his practice of developing great relationships with producers -- spread across the country. "My father more or less created the food market scene in America," says Forgione.
The immense culinary knowledge and passion possessed by his parents bloomed in Forgione. "I have always been intrigued by cooking" he says, "from the moment I learned how to make an over-easy egg until now."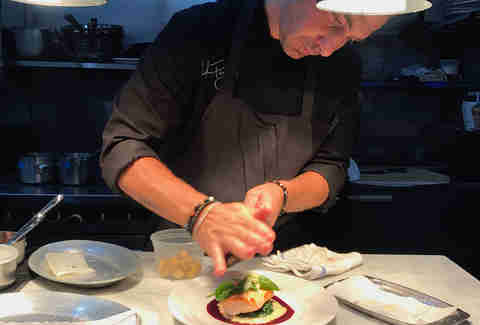 From teenage years working in his father's kitchen to stints abroad in England and France, Forgione made enough of a name for himself that he could put it on the signage. Restaurant Marc Forgione opened in 2008. Two years later, his long history in the kitchen paid off in a unique achievement -- he became the youngest American chef to ever win a Michelin star in consecutive years. Just in case you thought he was slacking, he defeated nine other contestants to win The Next Iron Chef. A slew of high-profile openings continue to follow.
But amidst all of this, Forgione focuses on quality throughout. When asked about the biggest difference between him and other big chefs, he keeps it pretty simple: "You'll actually see me in my kitchens." (That's a hotter burn than you'll get from even a restaurant-grade oven.)
He's also taken his father's farm-to-table mentality to the next level -- obsessively hunting for new products, new providers, and new flavors. While a normal restaurant might buy their produce, dairy, and meat from one major distributor, the younger Forgione doesn't settle for anything -- which means he has "a guy" for almost everything. A normal restaurant might take half an hour to call in orders with their producers and distributors. With all of the particular producers that Forgione prefers, that process takes closer to two hours at Restaurant Marc Forgione.
Forgione doesn't do this to spite his chefs -- it's just his nature to find the best ingredients he can. The advantage he has over his father is that the modern availability of great products is booming. (Though he has dad to thank for his role in that.) But Forgione doesn't lose anyone in the mix -- even though more farmers than ever can reach him with great products, he doesn't lose faces in the crowd. "I'm on a first name basis with most of our farmers. They stick around and they start to become like family."
Dairy is no exception, although it is a pleasant surprise for Forgione just how much nuance exists in products we all think we know. "When I was a kid, we had a milkman," he says. "And now we have someone bringing you something as simple and everyday as milk and saying 'Hey man, you gotta try this!' --  it's almost like there's a boom going on of people trying to be as local as possible -- and I think that's a great great thing. Did you really think, growing up, someone would bring you milk and be so proud of it?"
In partnership with Undeniably Dairy, Forgione is making a special dish to showcase some of these producers and friends. "We're going to be making a fresh-as-possible cheese, and then making a ravioli with it," he says with gusto. "We're taking something from the early 1980s -- this creamed morel recipe -- it comes from An American Place, my dad's restaurant. We're using Dutch Hollow Farms half-and-half as the cream component -- so it's essentially a cream of mushroom soup with this fresh cheese ravioli that should explode in your mouth."
Forgione -- and by extension, the average diner -- is making the most of the growing availability of farm-fresh dairy. In turn, the farmers and vendors are growing more passionate in their presentation. Recently a yogurt vendor even told him to close his eyes before taking a taste.
The chef might not have predicted the confidence that leads wholesalers to offer ingredients as experiential dishes even on the stockroom floor, but he very much believes in it. "People should associate farm to table with dairy as much as they do an heirloom tomato," he says. After all, 97% of dairy farms are family owned, and most milk is made within a two-hour drive of where it's sold.
Even if what's found at a restaurant or grocery appears to be going through a revolution, he points out it's not because the farmers suddenly appeared out of nowhere. "Most of the farmers have been doing it right for a long time -- it's just getting the accessibility and to the markets was the challenge in the beginning. Right now, the best part is that the consumer is asking for it -- and that's how to get supply and demand moving."
Every time a farmer blows Forgione's mind with a delicious product, he then turns around and does the same with it for guests of his restaurants. So even if you think you know what to expect of yogurt, milk, or any other dairy product, do like Forgione and the farmers do; close your eyes, then take a bite.
To see more stories from people who are undeniably devoted to dairy, head to UndeniablyDairy.org/devoted.