Elena Veselova/Shutterstock
Elena Veselova/Shutterstock
When I say Mardi Gras, we all see drinks, gold, green, and purple beads, and maybe Tiffany Haddish zip-lining over Bourbon Street. But what if I told you: Mardi Gras is also pastries.
Picture it, a Mardi Gras Pastry Crawl. You and your friends hopping from bakery to pastry shop, sinking into one soft, sugary confection after another. Now that's the true Mardi Gras spirit. Why? Because Tuesday is the last indulgent hurrah before Lent begins.
Oh yeah, Lent. For many cultures around the world, the party gets started with Epiphany in early January. This begins the extended period of feasting known as Carnivale, which culminates in Fat Tuesday (as in what you eat, as in generous), also known as Shrove Tuesday. In an earlier era, people would celebrate with pastries in order to use up all the lard, butter, and eggs in their homes before Lent, a period of gustatory restraint. Fewer people are observing Lent these days, but the pastries live on.
"Mardi Gras a celebration of excess," says Brooklyn Kolache owner and baker Autumn Stanford, who grew up in Texas near the Louisiana border. She says that Mardi Gras is all about "debauchery and excessive drinking and beads and dancing and parades." And since the flagship dessert of this celebration, king cake, is basically a giant cinnamon roll, she's selling individual-sized cinnamon rolls decorated like king cake at her bakery. Her full-sized king cake will be served by the slice throughout the Fat Tuesday celebrations at the Brooklyn natural wine bar, Tailfeather.
But Shrove Tuesday is about more than king cake. There are also pancakes. And Rosca de Reyes. And potato doughnuts. For nearly every Carnivale-observant culture, there's a pastry for Fat Tuesday. Which means whether you're religious or you have a strong affinity for debauchery, you could celebrate Tuesday with a pastry crawl. Here are some of the highlights you'd want to hit.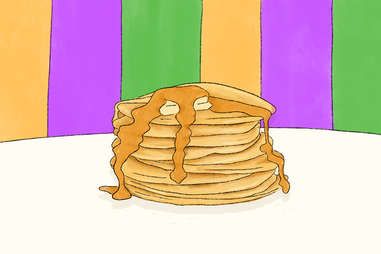 British Isles and Canada: Pancakes
Among the Anglo-Saxon Christians of the Commonwealth countries (England, Canada, Australia, etc.), it's Shrove Tuesday. That's when you confess your sins, after which you are "shriven." But the important thing for you to know is that it's Pancake Tuesday. The English like theirs thin and fried. Are pancakes actually pastries? It's debatable. But sugar, butter, and flour are involved.
New Orleans: King Cake
The king cake is a twisted sweetbread arranged into a ring shape, coated in a sugary frosting, with purple, green, and gold coloring. According to legend, mid-20th-century baker Don Entringer of McKenzie's bakery ran into a traveling salesman who had an overrun of tiny porcelain babies—Entringer baked one inside each of his cakes, and the tradition continued with little plastic babies (though bakers now typically provide the baby separately, out of concerns over toxins, womp womp). In earlier days, a nut or bean was usually inserted. The baby symbolizes hope, luck, and prosperity. Whoever finds the baby is queen or king for the day and has to buy the next king cake and host the next Mardi Gras party.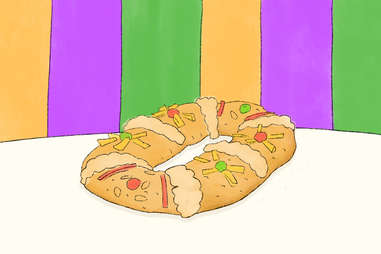 Latin America: Rosca de Reyes
Latin American cultures take that wreath of sweetbread and give it a different spin. Inside you'll find a hint of orange blossom water or orange extract; outside, it's decorated with a sugary streusel (the same kind you'll find on concha-style pan dulce) and candied fruit. Fany Gerson of La Newyorkina made black-and-white cookie-inspired roscas. This tends to be more of an Epiphany treat, so you may have trouble tracking one down. But we've spotted packaged versions at Latin markets.
Poland: Paczki
You could describe a paczki as a jelly doughnut, but it's more than that. It's a doughnut enriched with egg and butter, typically filled with jam, but there are other fillings. Bakeries throughout the midwest, especially Detroit, sell these treats yearround. The rest of us may have to do with an ordinary jelly doughnut (sigh), but it's worth looking to see if there's a bakery in your city selling Paczki.
Pennsylvania Dutch: Fastnacht
Fastnacht refers to the night before the fast (Lent). And the Germans and Pennsylvania Dutch feast on doughnuts made from potato flour, named after the feast. Sometimes they're square, sometimes they're round, sometimes they have no holes. And if you're lucky, you'll find one spread with molasses.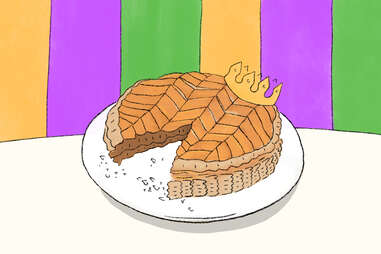 France: Galette de Rois
Of course the French are in on this Mardi Gras pastry game. The galette de rois is made up of two rounds of puff pastry filled with almond cream, and sometimes there's a baby Jesus hiding somewhere in there as well. This is a cake that wears a literal crown, albeit a paper one. Check your local French pastry shops for their versions.
Italy: Galani
Also known as crostoli, also known as chiacchiere, depending on where you are in Italy. Different regions have their specialties, but it all comes down to pastry dough, usually cut into ribbons, fried and coated in sugar or honey. In Venice they're spiked with grappa, which makes them a nice nightcap for ending your day of pastry indulgence.