Jelly-filled donuts, caviar blini, and 10 other awesome global Mardi Gras foods
There's more to Mardi Gras than stuffing your face with Popeye's on the parade route and grabbing beads that were intended for somebody far more buxom than you. Traditionally, Carnival season was a chance for Catholics to use up and indulge in all the good stuff -- butter, alcohol, meat -- that they couldn't enjoy during Lent, the period before Easter. While rules coming out of the Vatican are a bit more lax these days -- 51 casual Fridays a year! -- Catholic regions have mastered the art of Carnival indulgences after centuries of practice. Here are some of the best overindulgent treats from around the world.
Flickr/elPadawan
La Galette des Rois 
(Northern France)
Like fellow historic foodstuffs
Brie
and
donut cheeseburgers
, the French are also responsible for the
original king cake
. Southern France's gateau de rois has the round, yeasty bread style of the US version, but Northern France's bakers specialize in rounds of puff pastry layers and almond filling that are a little too delicate to be pelted with beads on Bourbon Street.
Flickr/Mover el Bigote
Tortell de Reis (Catalonia region of Spain)
Catalans celebrate Three Kings' Day (January 6th) with this marzipan-stuffed, fruit-topped round that typically has a fava bean and a king figurine (that may or may not look like Ice Cube) baked inside. Whoever gets the figurine is "king" for the day, and the poor sap with the bean has to "serve" him. The cake is very similar to the rosca de reyes cake eaten in Latin American countries, and looks like a bagel and a fruit cake had a baby that's decidedly more awesome than its parents. 
Flickr/Lindsay Attaway
King Cake (New Orleans, LA)
From January 6th until the end of the Mardi Gras season, New Orleanians and other Gulf Coasters devour the Americanized version of the galette de rois and tortell de reis. The subtly sweet dough is shaped into a round cake, traditionally filled with cinnamon, and topped with icing and purple, green, and yellow sprinkles. Rather than a king figurine, a tiny, plastic baby is inside the cake -- whoever gets it has to buy the next cake and is supposed to have good luck for the year. Or maybe they just choke on a fake baby.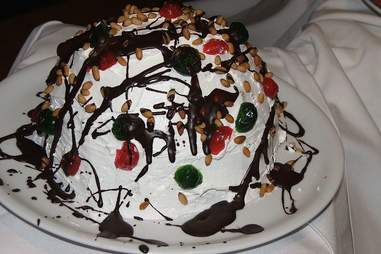 Flickr/Peter Grima
Prinjolata (Malta)
Before the Lenten fast, the Maltese make this decadent dessert by cutting up pieces of sponge cake, molding them in a bowl, and coating the entire thing with sugary-sweet white frosting, candied cherries, pine nuts, and chocolate. Kind of like that gingerbread house you made as a kid. But, you know, edible.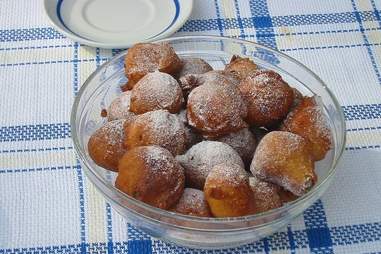 Flickr/Goran
Fritule (Croatia)
Masked parades in Rijeka, the Karneval kapital of Croatia, come to a climactic end on the Sunday before Lent, but Croats across the country mark Fat Tuesday with deep-fried balls of happiness that are basically delicious donut holes dusted with powdered sugar.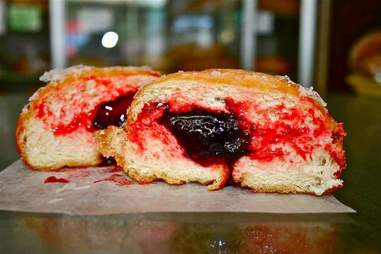 Jeff Waraniak
Paczki (Poland)
This Polish treat is so important it gets its own day: Paczki Day. The gluttonous celebration is the Thursday before Lent in Poland, giving them a five-day jump start on the Croats, those other donut lovers. It may look like a normal jelly-filled donut, but these deep-fried wonders are loaded with more lard and egg than Dunkin' Donuts could handle. Which is to say: a lot. 
Flickr/Bolshakov
Blini with sour cream & caviar
(Russia)
Not satisfied with debaucherous parades, Russians celebrate Maslenitsa -- the last week before Lent in the Russian Orthodox calendar -- with
organized fistfights, dancing bears
, and
buttery blini, which are a lot like crepes, but piled with fatty sour cream and red caviar.
And, of course, vodka, which explains the fights, but not the bears.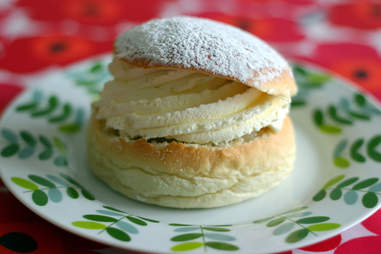 Flickr/Frugan
Semlor (Sweden)
Semlor (singular semla) do look a bit like the dinner rolls and fancy butter pats you used to fill up on before dinner, but they're so much more. The cardamom-flavored wheat bun is cut in half, piped full of almond paste and then whipped cream, and topped with its sugar-dusted other half.  
Twitter/Toomeymardigras
MoonPies
(Mobile, AL)
The
epically named Maids of Mirth debuted these marshmallow sandwich snacks as parade throws in 1974
, after Cracker Jacks were deemed dangerous because of their pesky pointy corners. No one wants to lose an eye to a box of caramel-covered popcorn. MoonPies are so associated with Mobile -- which also claims to be the original home of Mardi Gras -- that a giant, sparkling banana MoonPie is raised in the air for the city's New Year's celebration.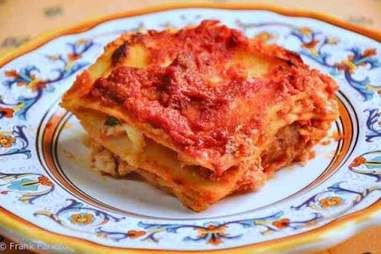 Twitter/Franfajr
Lasagna di Carnevale (Naples, Italy)
Rather than gobbling up all the lard and eggs around the house before Lent, Neapolitan tradition calls for a carnivorous indulgence since tradition also requires that meat is given up for Lent. Recipes vary, but expect meatballs, prosciutto, and Italian sausage crammed between lasagna noodles -- and, of course, mozzarella, Parmesan, and, sometimes, a bit of lard.

Twitter/Helena_Lem
Tsikna Thursday (Greece)
Apokries, the Greek Lenten period, translates into "abstain from meat", and the second Thursday of Carnival is a day to do the opposite. Like a slightly eerie, but totally-delicious-smelling suburbia where everyone has a perfect grill-out by their pristine backyard pools, Tsikna Thursday -- tsikna is that awesome smell of meat cooking on the barbecue -- is when Greeks are supposed to cook meat so the air is filled with that aroma. 
Wikipedia/Podzemnik
Zabijacka (Czech Republic)
Greece can keep its puny smoke-fest and Italy can enjoy its tasty lasagne: the Czechs are busy having full-out, traditional pig slaughters called zabijacka. Although the EU began to reign in these events in 2009 due to animal cruelty, the Carnival season still ends with the public events, which include making sausage, preparing headcheese, and butchering the rest of the pig for its prime cuts before the meat-free season hits.