Peeps: good for eating, better for building intricate candy scenery. Since we've reached that point in the year where people are posing their 'mallows as world leaders and movie characters for local competitions, we rounded up a second collection of commendable Peeps dioramas. This batch covers exercise fads, Dutch painters, and novelty TV shows, but it's the scarring sci-fi recreation that's going to leave the biggest impression. Check out the sugary scenes below.
Depending on your preferred alliteration, these are either protesting Peeps or pinko-pansy Peeps.
If Vincent van Gogh's ears were made out of marshmallow the whole time, his story suddenly makes a whole lot more sense.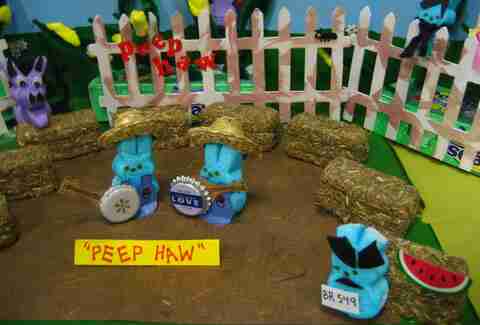 In this tableau, we have a scene from a classic TV show that your Grandma maybe used to watch?
You mean the yellow brick road was made of corpses?! Dear God, Dorothy. DEAR GOD.
A glimpse into a typical Nobel Peace Prize ceremony, which apparently features just as much flora as flags.
At this rate, it's probably safer to stick to CrossFit. (Speaking of which, where's that diorama?)
Don't let the impressive pipe-cleaner work distract you from the secret star of this show: the National BoPeepian Beer ad in the back.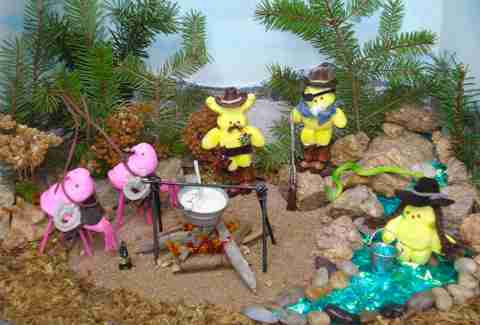 This True Grit diorama single-handedly makes the case for a rooster Peep, though the artist did a commendable job making due with a regular marshmallow rabbit and teeny eye-patch.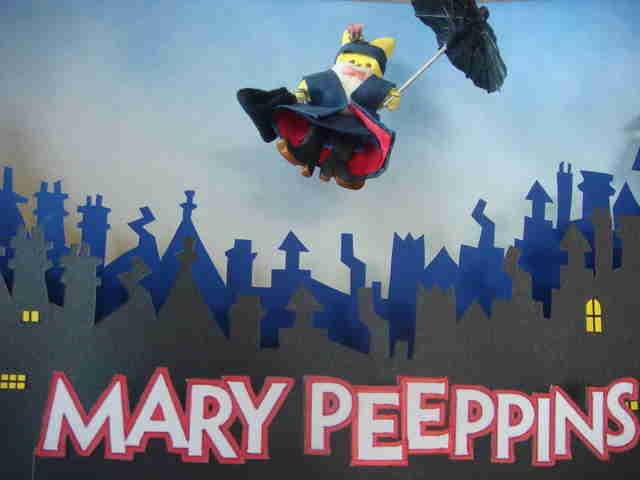 Off to help another splintered British family with much more than a spoonful of sugar.
Kristin Hunt is a Food/Drink staff writer for Thrillist, and feels validated in her wariness of hot yoga. Follow her at @kristin_hunt.